Community Newsletter
Commemorating ANZAC Day together
It is so nice that ANZAC ceremonies can go back to being in-person this year. 

I was honoured to attend the Forestville Sub-Branch RSL event last Sunday and the Lifecare RSL event in Narrabeen on Wednesday to commemorate the 106th anniversary of the troop landing at Gallipoli and pay my respects to those who served and to those who are still serving for our country. I will be attending several more ceremonies over the weekend.

 

For those wanting to commemorate at home this ANZAC Day, the "Light Up the Dawn" service where you can stand at the end of your driveway at 6am on Sunday morning, is still running. More information can be found HERE

To see what ANZAC Day events are happening in the coming weeks, please see this website: https://www.rslnsw.org.au/ 

For events in Warringah on Sunday:

Manly Dam – ONLINE ONLY
Dawn Service
Commemoration Service commencing at 5:30am. 

Harbord Diggers
80 Evans Street Freshwater  Carpark off Evans Street. 
Commemorative Service at 8am at the Eastern flagpole.

Balgowlah RSL Memorial Club
30/38 Ethel Street, Seaforth
Dawn Service at Bagowlah RSL at 6am

Beacon Hill RSL
Oxford Falls Peace Park
6am

Mosman RSL
Old Parade Ground Georges Heights Mosman
5.30am - 7.00am

Neutral Bay Club
3 Westleigh Street, Neutral Bay
11am

Forestville RSL
22 Melwood Ave, Forestville
Dawn Service from 5.25am

Manly Life Saving Club
9am
For more information, please click HERE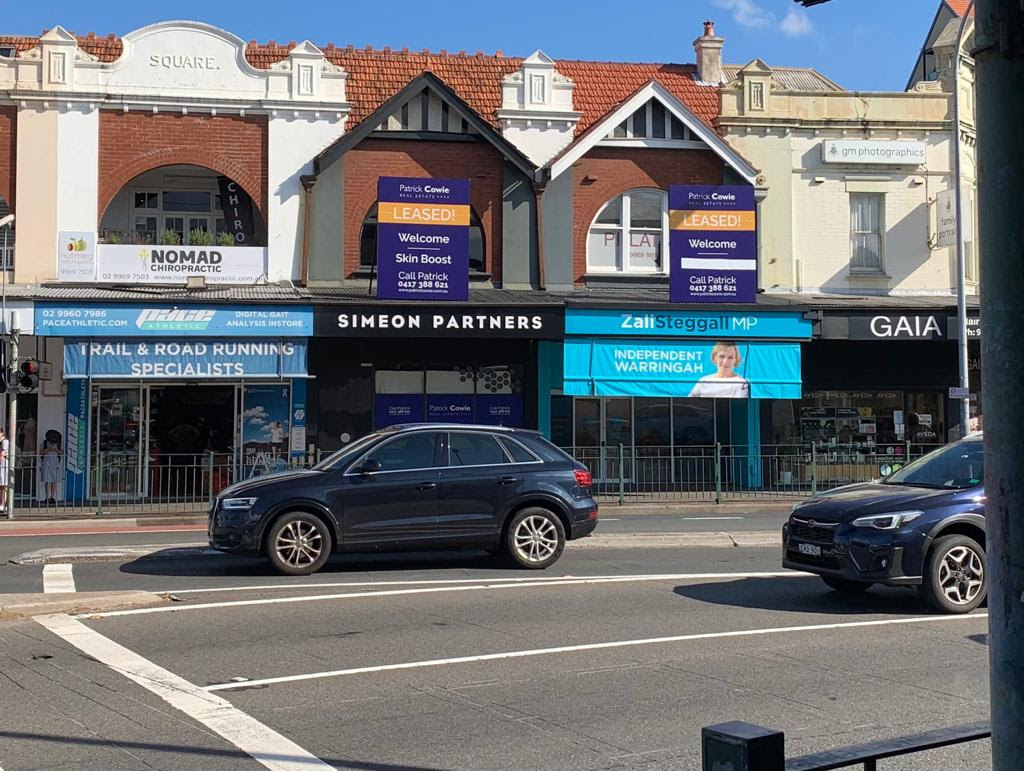 INDEPENDENT MOSMAN HUB OPENING

You may have noticed the new Independent Mosman Hub at the Spit Junction intersection!

Next Saturday (May 1) we are having an official opening for the Independent Mosman Hub that is funded and staffed by supporters and volunteers.

I am thrilled to have such a welcoming space on the Lower North Shore where Warringah residents can drop in and find out more about what is happening locally and in federal politics.

The office will be open:
10-4pm Tuesday, Thursday, Friday 
9-2.30pm Every first Saturday of the month

The official Warringah Electorate office remains in Manly at Level 2/17-19 Sydney Road, where you are always welcome to drop in.
 

EARTH DAY SUMMIT

It has been exciting and reassuring to see world leaders commit to ambitious targets and effective policies this week for Earth Day, but equally frustrating that Prime Minister Scott Morrison is not doing the same.

I have been calling on the Morrison Government to follow in the steps of the US, the UK and the EU to step up and double our 2030 target. The UK has committed to 68% emission reduction targets by 2030; the EU 55% by 2030; and the US 52% by 2030. That is in addition to 70 per cent of world economies that have now committed to net zero by 2050. It is clear that Australia is not committing to its share and is being left behind.

The Climate Change Bills remain on the table to legislate net zero by 2050 with five yearly emission reduction budgets. As with the UK and the EU with its latest announcement, it also establishes an expert-based Independent Climate Change Commission to oversee and advise on Australia's transition to net zero. This would be an independent statutory body like the Reserve Bank.

The Government continues with its slogans "technology, not taxes" when it is clear from expert evidence that all levers available need to be pulled to achieve net zero as soon as possible.

The Climate Change Bills are now in the report phase of the Parliamentary inquiry. You can show you support by signing up to www.climateactnow.com.au 

I spoke to the ABC about it this week HERE. To see all media statements, please go to THIS LINK


WARRINGAH YOUTH AMBASSADORS

We had another fantastic Youth Ambassador meeting recently where we discussed the issues of consent, gender and sexuality and mental health.

Following the Government's confusing "milkshake" consent video being released this week (and later removed), I believe these students could easily educate MPs on how to communicate what is consent and what is not appropriate behaviour. To watch a short, but inspiring, video of the meeting, please click HERE

I look forward to our next meeting in early May.
 
    
HARBOUR TRUST BOARD VACANCIES

The Department of Agriculture, Water and the Environment is seeking input on vacancies for the Members of Sydney Harbour Trust Board and are inviting nominations. There are four positions available and nominations close on May 5.

For more information go to THIS WEBSITE.
 
COMING UP
 
MOSMAN COMMUNITY FORUM 


May 17: Save the date for a community forum in Mosman, more details to come


 
WIG WARRIOR MONTH
A new cancer charity, Northern Beaches Community Cancer Charity has been launched recently to support people being treated for cancer at Northern Beaches Hospital. They are running a #WigWarrior campaign this month. For more information go to: https://www.nbccc.org.au/wigwarrior