18 September, 2020
It has been a busy fortnight back in Warringah where I have had the opportunity to visit a number of businesses to hear how they have been coping during this difficult time.
The government also announced their energy plan for the next 30 years which will rely heavily on new gas plants. This is a short-sighted decision that will lock in fossil fuels rather than fund new renewable technology. I made two statements about the gas announcements, which you can read
HERE
NATIONAL FAMILY BUSINESS DAY
Today is National Family Business Day where everyone is encouraged to support small family businesses that have been particularly feeling the impact of the pandemic. I spent some time recently with three family businesses that have adapted their business practices.
PILU
I met Giovanni Pilu from the Freshwater restaurant
Pilu
that first opened 16 years ago. During COVID-19, Giovanni made the decision to reduce their menus and re-organise their seating arrangements to allow for NSW restrictions. 
HOUSE OF SAMARA
Sara Bowtell's, business
House of Samara
in Allambie Heights is part of the Sustainable Salons initiative, which encourages salon owners to think about their environmental impact and offers practical suggestions to make small changes that have a big effect. House of Samara is a perfect example of businesses using sustainable practices that we are encouraging for Warringah's Roadmap to Zero. To sign up to the Roadmap head
HERE
BRACTON INDUSTRIES
Bracton Industries
in Brookvale employs 40 local staff from the northern beaches. The business invented Pine-O-Cleen many years ago and have substantial experience in the field of disinfectants. Upon the start of COVID-19, Bracton Industries, turned its attention to the production of hand sanitiser and disinfectants.
Bracton Industries has the rights to a hand sanitiser which they claim kills the COVID-19 virus in one minute and are awaiting TGA approval. I have written to the Health Minister asking for this process to be expedited by the TGA.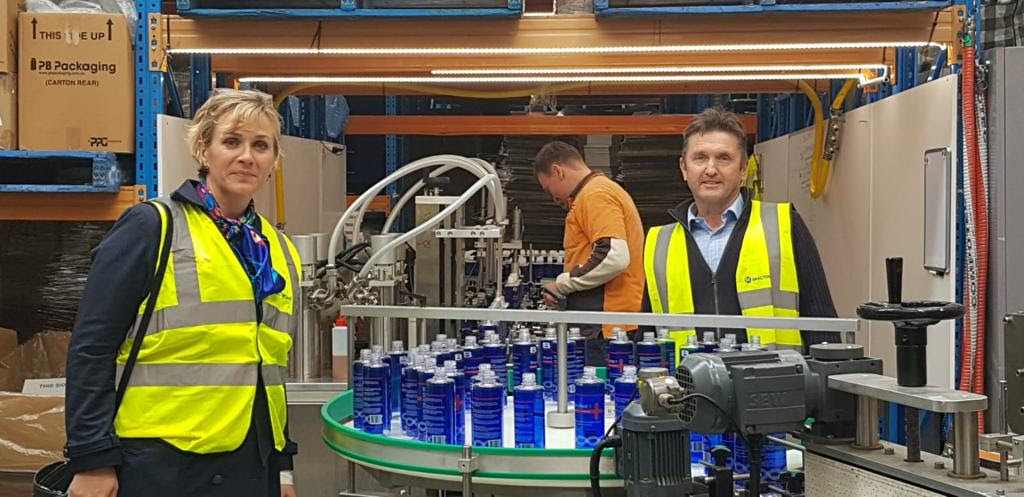 VISITING BUSINESSES IN KILLARNEY HEIGHTS
This week I also caught up with some local businesses in Killarney Heights including
Kazbah Creative
and
Mikey's pizza
. It was a good chance to check out the new playground at Tramore Place. It's a great community hub and I encourage you to get along and take a look!
I am continuing to meet Warringah businesses and would love to hear from you if you would like to organise a visit. Please get in touch with my team at
zali.

steggall

[email protected]
or call my office on (02) 9977 6411.
BUSINESS GRANTS
There are some key business grants available. The Entrepreneurs' Grant and the Manufacturing Modernisation Fund are two great grants that businesses in Warringah have had success with. There is also a Cooperative Research Grant where a business joins with a research organisation.
Please check out the
Grants page
 on my website. 
20 YEAR ANNIVERSARY OF THE OLYMPIC TORCH RELAY
Can you believe it's been 20 years since the Sydney Olympics? I'll always remember the pure joy on the faces in the crowd as I ran beside the Pathway of Olympians along the harbour in Manly. As a Winter Olympian, this was as close to a home crowd as I was ever going to get!
The sense of excitement was palpable as this was all in the final hours leading up to the Opening Ceremony. And then to ride with the torch on the iconic Manly Ferry, surrounded by a flotilla of boats, crammed with happy crowds. It was such a brilliant time for our community, our city and our Nation. 
SKILLING UP ON NBN
NBN is offering 15 minute one-on-one online sessions for any individuals seeking some education or guidance around the NBN network and home connectivity. The session is available Monday to Friday via video link or phone, to arrange a one-on-one session, and to find out more and book a 15-minute one-on-one session, visit 
nbn/events
. If you would like to request a session outside of normal hours, please let them know by emailing 
[email protected]
.
COMING UP
THURSDAY 24 SEPTEMBER
Royal Far West Community Information Session
The Royal Far West organisation in Manly is one our nation's most enduring and respected charities, providing services to improve the health, education and well being of children and young people who live in rural and remote communities across Australia. As you may be aware, they are about to embark on a redevelopment project of their buildings on Manly beachfront at South Steyne.

As part of their consultation process, they are running a virtual community information session on Thursday 24 September from 6:30pm. To find out more about the school's plans for the site or to register for the information session, please visit

 

https://www.rfwcampus.com.au/

THURSDAY OCTOBER 15
Business Forum 
We are hosting a Business Forum on 15th

 

October with guests from the Australian Tax Office to discuss Tax Support for small businesses. To register please email

 

zali.

steggall

[email protected]



My team and I are constantly working to find solutions for you, your family and friends and our general community. You can keep up to date at our website www.zalisteggall.com.au and get in touch by emailing zali.

steggall

[email protected]

 or calling the office on 9977 6411 if you have concerns.

Please forward this on to your network of family and friends in Warringah by sending them this link:

 

https://www.zalisteggall.com.au/sign_up

Stay safe,
 


Do you like this post?