Community Newsletter
We're all feeling it. It's time to wrap up 2021. 

I am so proud of Warringah. We have managed to stay safe and get double vaccinated at record rates. This year, our community and local businesses have, at huge personal and economic cost, done everything necessary to keep us safe and connected so thank you. To remain that way, please book your booster shots asap!

In light of a tough year, let's celebrate a huge win! Our coastline is safe from gas and oil drilling! It just goes to show how powerful our coastal communities are when they raise their voice. As your Independent in the House of Representatives, I was able to put forward political solutions to this threat on your behalf – I took your petition to Stop PEP11 to Parliament in February 2020, I questioned the Prime Minister in question time, I met with and wrote to Resources Minister Keith Pitt and moved my "Stopping PEP11 Bill" in October. While they voted against debating that Bill at the time, the pressure from communities and community-minded candidates was enough to get the Government to hand down a notice of intention to refuse the PEP11 licence. This is our win!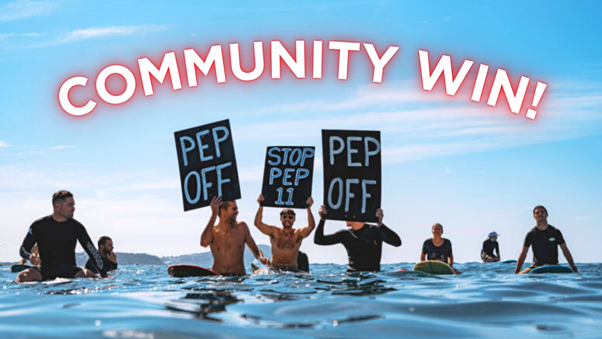 Just as we moved the dial locally, we can do it nationally with the Climate Change Bill. It's time to make the most of our natural advantages, from clean energy resources to can-do people and smart tech. The great news is, Warringah has inspired many others - with strong professional independent candidates announcing in other electorates to move the dial on climate policy. 

Catch the New Wave! Team Zali 2022
What an absolutely marvellous turnout for our Team Zali volunteer launch! I can't quite express how electrified I am by the sheer amount of energy the members of Team Zali bring to the campaign. These volunteers take community issues and political representation so seriously, but manage to make it so FUN. We had around 300 people gather together to kick off the volunteer team for 2022. Integrity in government and climate action got some deafening cheers. All I can say is... bring it on!  

If you're keen to join Team Zali we'd love to welcome you onboard – just visit www.zalisteggall.com.au and click on "Volunteer".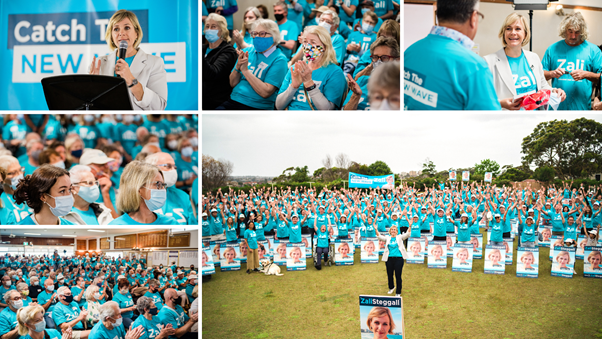 Women Leading Change Forum
On Friday 10th December, I hosted the Women Leading Change Forum. Our panel of influential women including Christine Holgate, Yasmin Poole and Georgie Dent reflected on 2021 and shared their hopes for meaningful change in 2022. Women are speaking up, standing together and supporting one another in striving for gender equity in society, business and politics. Our conversation was expertly moderated by Christine Kininmonth. Thanks to all who attended! To view the recording of the event, click here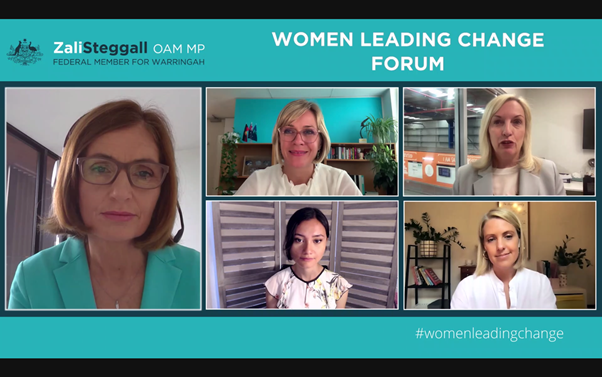 Book Your Booster
I encourage you to book in for your COVID-19 Booster vaccine as soon as you are possible to. Booster doses are recommended to maintain immunity against COVID-19 and will continue to protect you, your loved ones and your community against the virus. Booster doses are free for everyone. You can check your eligibility and book you booster vaccine here or contact your GP.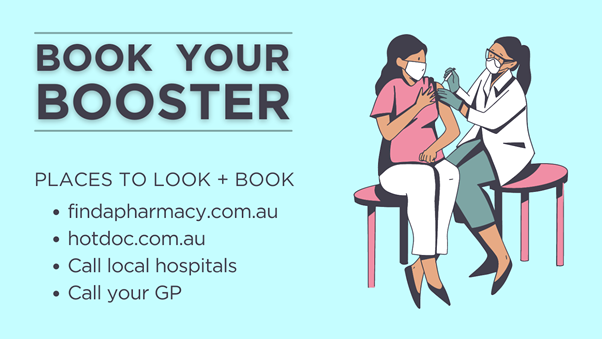 Warringah Goes to Mardi Gras!
I am delighted to announce that I will be joining members of our local LGBTQIA+ community in next year's Sydney Gay and Lesbian Mardi Gras parade, which will be held on Saturday 5th of March 2022.

Warringah has come a long way from having our 75% 'Yes' vote ignored in 2017. I am truly excited for the opportunity to celebrate our local LGBTQIA+ community in Warringah. I'm committed to ensuring better recognition for diverse and underrepresented groups in our community. 

Be sure to follow my social media for more information and to find out how you could have the chance to join the Warringah float!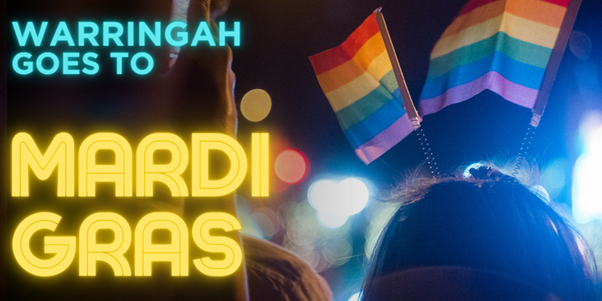 Out in the Community
After lockdowns eased and Parliament wrapped up for the year, it was great to get out and about in the community over the past couple of weeks. Here's how I've spent some of my time in Warringah over the past fortnight.

• Visiting a number of local schools, both 'in person' and online. I'm always so inspired meeting the youth of Warringah. From science and English to music and environmental studies, they are achieving some incredible results. They are asking tough questions and in many cases are leading the way. I look forward to visiting even more schools in 2022. In the meantime, to all the teachers, support staff, parents and students - have a terrific Summer break and a well-earned rest.

• Attending the launch of "Project Rachael" at the Dalwood Spilstead Centre in Seaforth. "Dalwood" is a much loved and valued part of our community but some of its facilities are in desperate need of an upgrade. This project seeks to do just that with professional renovations to the kitchen, bathrooms and community areas. To find out more or to support the project, visit the project's GoFundMe page

• Joining with the Country Women's Association Manly Branch for their annual Christmas Store on Manly Corso. This is one of the oldest branches of the CWA and I am so proud of the amazing work they do for our community.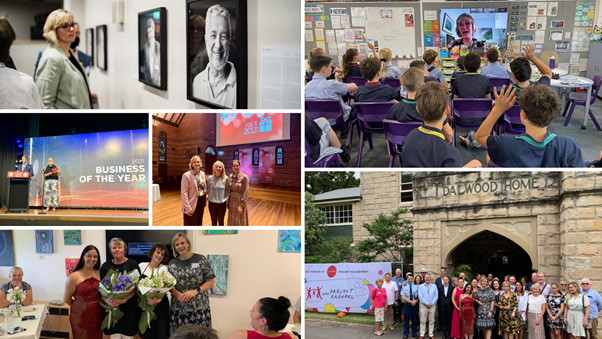 • Visiting the team at Lifeline for one of their famous local book fairs. The services of Lifeline Northern Beaches have been desperately needed again this year and they do some incredible work. It was a pleasure to meet with some of their members and to pick up a bargain book or two - best Christmas shopping ever!

• Recognising our wonderful business community at the Northern Beaches Business Awards – a wonderful night to celebrate with local businesses after a very challenging year. Congratulations to all the nominated businesses and thank you for all that you do for our community. A special shout out to all the winners – you should be rightly proud of your awards!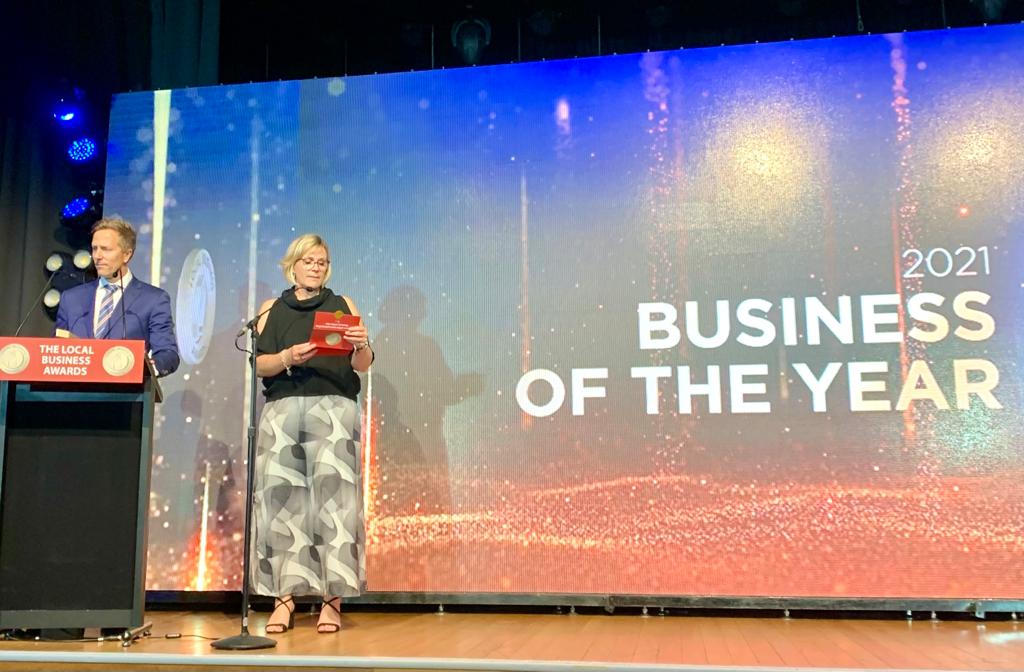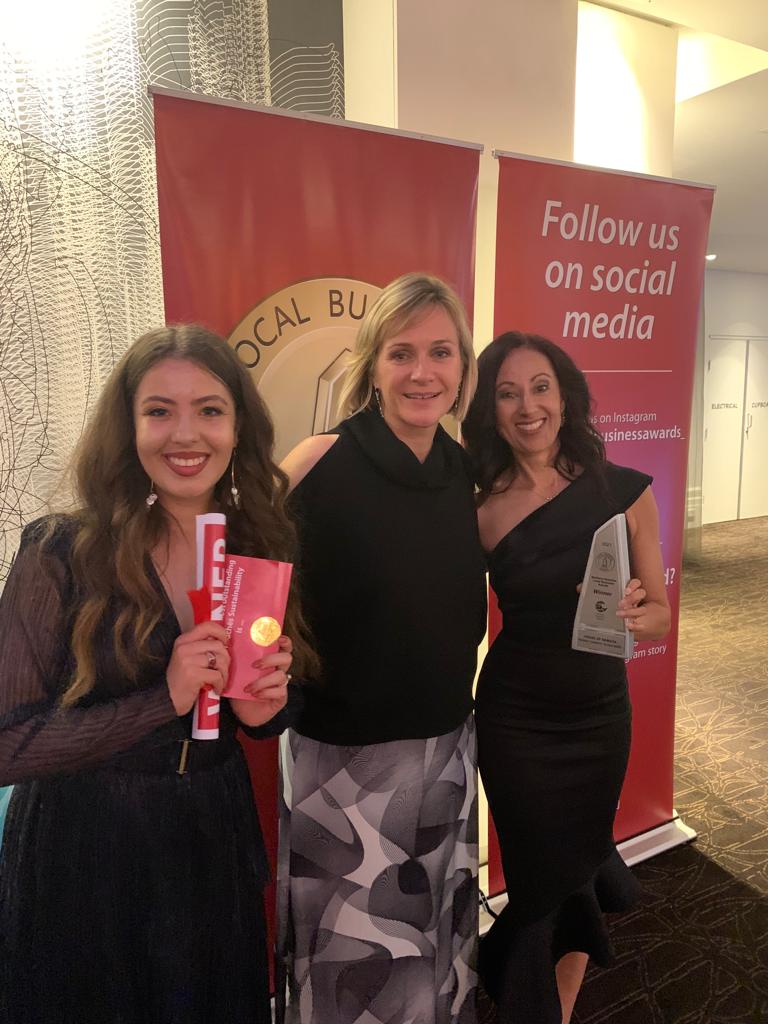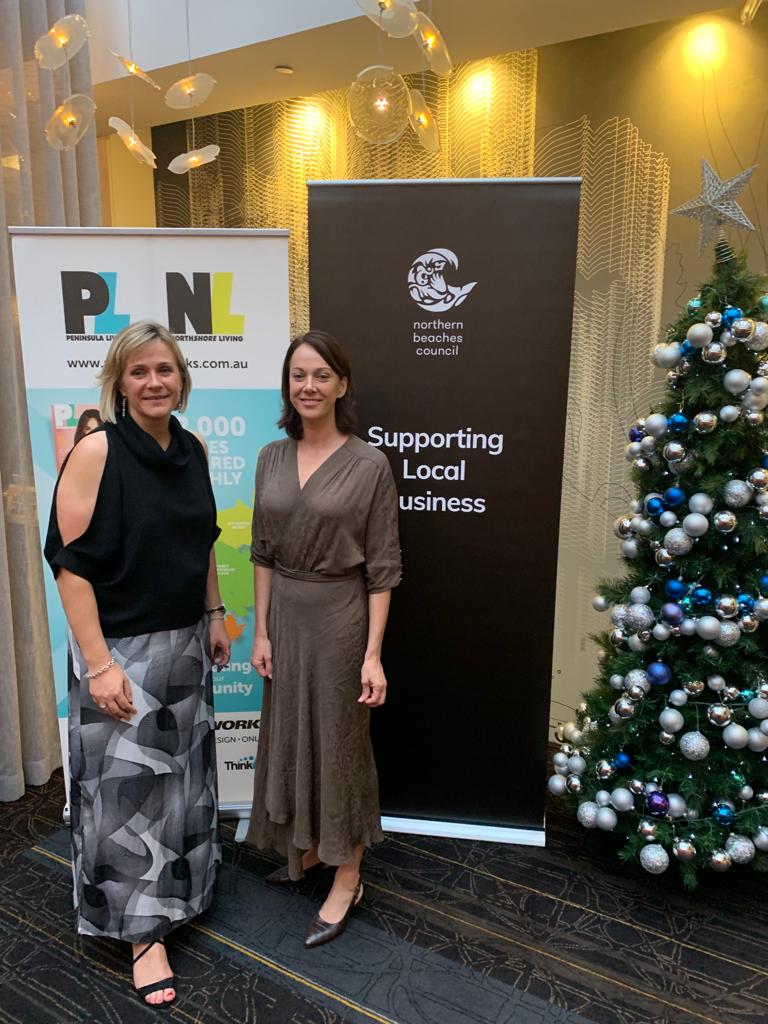 • Catching up with members of some of the local Chambers of Commerce and listening to business owners about the challenges and opportunities they are facing. It's been another tough year for local businesses so please use the Summer break to shop local and spend local. These businesses are at the heart of the community in Warringah and need our support.

• Officially opening the very moving commemorative project "Saluting their Service", initiated by the Mosman RSL Sub-branch. The book and photographic exhibition is a collection of 30 portraits and recollections of Veterans who have a connection to Mosman. I thank all those who contributed their stories and all those who played a part in producing this beautiful collection.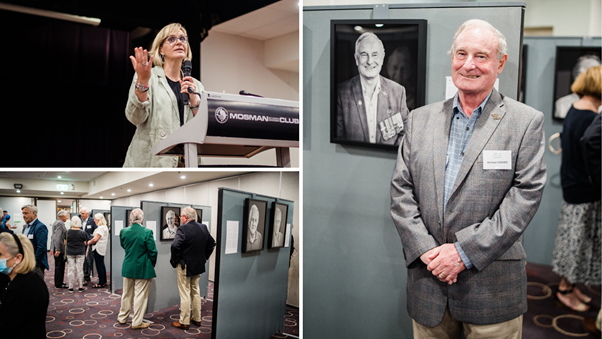 • Attending the Australian Health and Medical Research Awards - an inspiring night celebrating the trailblazers of the medical industry. This year, more than ever, we have seen the value of quality health advocacy and medical science. Throughout the pandemic, we all looked to the health advocates for their guidance and leadership so it was an honour to thank them personally on behalf of the Warringah community.  

• Celebrating a sustainability milestone with Colormaker Industries in Brookvale. It's riveting to see a business's journey toward sustainability. We celebrated the 2nd anniversary of Colormaker's solar array. And their battery is on the way! An electric car is in their driveway. They've saved over 300 tonnes of CO2 in 2 years, and their electricity costs have dropped by 83%. By next year, their solar array will have paid itself off. So many businesses in our electorate stand to do well from the journey to carbon neutral - or even carbon negative, in Colormaker's case. Maybe by following the Colormaker Industries journey other industry and businesses can plot their own roadmap. To get started, you can always sign up to Warringah's Roadmap to Zero.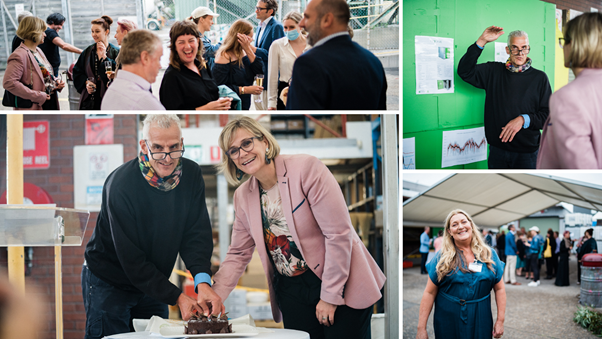 • Volunteering on Monday at One Meal in Brookvale. What an important operation they run! My staff and I helped the big-hearted folks at One Meal Northern Beaches to sort and package food donations so they can deliver food relief to the community. 

One Meal provides a range of services including weekly Community Meals in Gilbert Park (Manly) and Beverley Job Park (Narraweena). These meals are open to anyone in need. In addition, on Monday to Thursday their Delivery Program provides fresh fruit & veggie hampers, pre-cooked hot and frozen meals, meat, bread, pantry staples and personal care packs to people referred by local social service and community agencies. With all the end of year events happening, there can be perfectly good, untouched fresh and packaged food left over so please consider One Meal. Or you may want to donate to One Meal as a gift to the community this Christmas.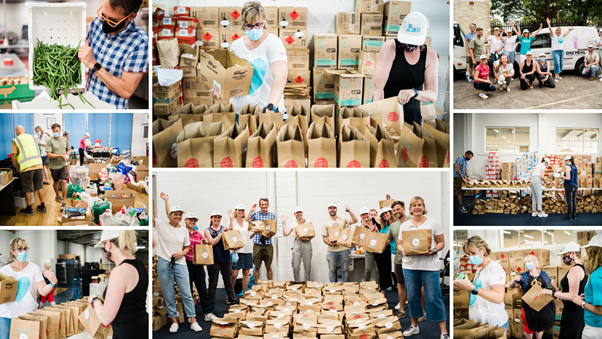 34 grants for non-profit groups in Warringah
More good news on the grants front as 34 non-profit organisations within Warringah were awarded Volunteer Grants this month under the Federal government's Families & Communities Program, in recognition and support of the vital role volunteers play in our community. A Reserve Round of funding was announced for January, with 5 additional organisations within Warringah being eligible to apply.

To learn more about other funding opportunities, please go to the grants link on the website.


Upcoming event – 5 & 6 February - Sun Run & Cole Classic - Join me and Team Zali! 
The Sun Run and the Cole Classic are iconic Northern Beaches sporting events. If you need an incentive to stay fit over summer, or just have a great time outdoors, register now and join Team Zali for a run or a swim. I'll be running 10km and swimming 2km, but you can choose whichever distance suits you best. The event will be raising funds for charities. 

Team Zali is entering a team for each event; people - volunteers and supporters can sign up.
Sun Run - Dee Why to Manly HERE 
Saturday 5th February, run or walk, register

Cole Classic Ocean Swim - in Manly
Sunday 6th February, swim, register HERE







                                              
As we all wrap up for the year, I also wanted to thank all of the students, parents and school staff for the way they've handled this challenging time. You've all adapted and supported each other, and absolutely deserve a holiday. You can view the video here


Getting ready for a Federal election
Before we know it the New Year will bring a federal election - one of the greatest opportunities Australians have had in decades to change the climate in Canberra. We need accountability and a Federal integrity commission with real powers. We need effective climate legislation and emissions targets. We need the right of all Australians to equality and safety.

Together, we can do this. That's why today I'm asking you, if you haven't already, to make a contribution towards my 2022 Election Campaign. Please click here to support my 2022 Election Campaign.
 
Thank you so much for your ongoing support. Together, we're creating a new way of doing politics in this country.      

Season's Greetings
After all 2021 has thrown at us, we all deserve a holiday! Be safe on the roads, in gatherings and in the sun over the break - and give yourself a pat on the back for making it through 2021. Bring on 2022!

Speaking of a holiday break, our office will be closed from 23 December until the morning of Monday 10 January. We appreciate your understanding that over that time, we won't be monitoring emails but the team will be working hard again when back on deck to ensure your correspondence is responded to.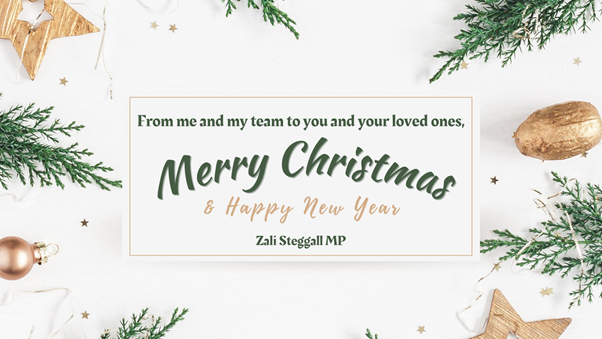 Finally here's a hilariously cheesy family photo my team gifted me for Christmas. I hope it brings a smile to your face, the same way it did for me!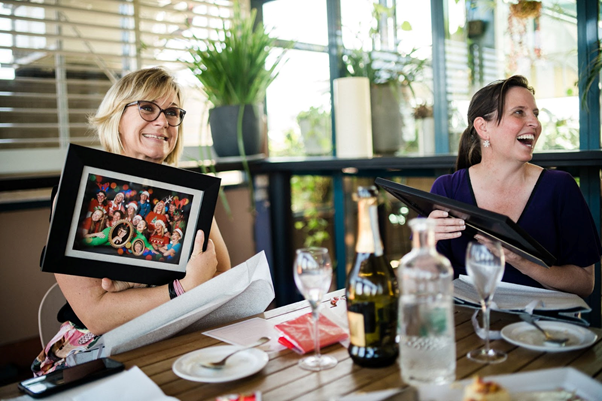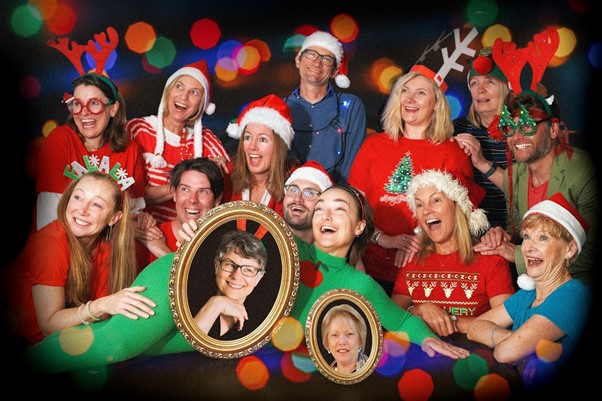 My amazing team are here to help you. If you're in the Warringah electorate and need our assistance please contact us when the office reopens on Monday 10 January – you can call us on 9977 6411 or email me at 

[email protected]

. 
 
Please share this email with your friends and family to keep them in the loop, or encourage them to sign up on my website
 at
www.zalisteggall.com.au
 

Wishing you all a very Merry Christmas and best wishes for 2022.

Stay safe,