Community Newsletter
2022 - Challenges and Opportunities Await
I think it's fair to say that 2022 has not got off to the fresh start we were all hoping for. I am proud of the way our community in Warringah has been following the health advice – getting tested when you need to, receiving the vaccinations when you can and adhering to recommended health measures like social distancing and mask wearing. Please continue to monitor both the State and Federal Departments of Health for advice, especially as there are regular updates and changes to things like Booster timeframes and eligibility.

I'm also proud of the way that you've continued to look out for each other and support our local businesses. It's such a challenging time for local retailers and hospitality venues – please support them safely when you can.

I hope you all managed to have some sort of a rest over the Christmas and New Year Period, my team and I all took some time off to recharge ahead of a busy year ahead. 

But we're all now back on deck working for Warringah. Here's a quick snapshot of the last few weeks:

Meeting with Healthcare professionals
Our frontline healthcare staff are struggling and it was important to hear from them directly. I've been meeting with nurses and midwives, doctors and mental health specialists. They all spoke of the huge demand on systems and on workforces that were already stressed – even before the pandemic hit. We need to objectively look at our healthcare system and assess what is needed. I will be hosting a forum on Friday 11th February, looking at modern healthcare – see the details below under "upcoming events" or register HERE to receive the Zoom link.

Meeting with local businesses 
Businesses in Warringah have endured another challenging summer, with workforce issues and a drop in customer confidence. I've met with the Manly and Mosman Chambers of Commerce and have written to the State and Federal Treasurers. We need a campaign to raise consumer confidence, sensible restrictions and measures to flatten the curve of infections and give consumers confidence. We need clear communication about boosters, RATs and medical advice to alleviate some of the fear and anxiety that is now causing a self-lockdown. The attitude from the Government of "She'll be right" is not good enough. The NSW Government has just announced a support package that is very much welcomed but the Federal Government needs to step up as well. For the details of the State Government package, click HERE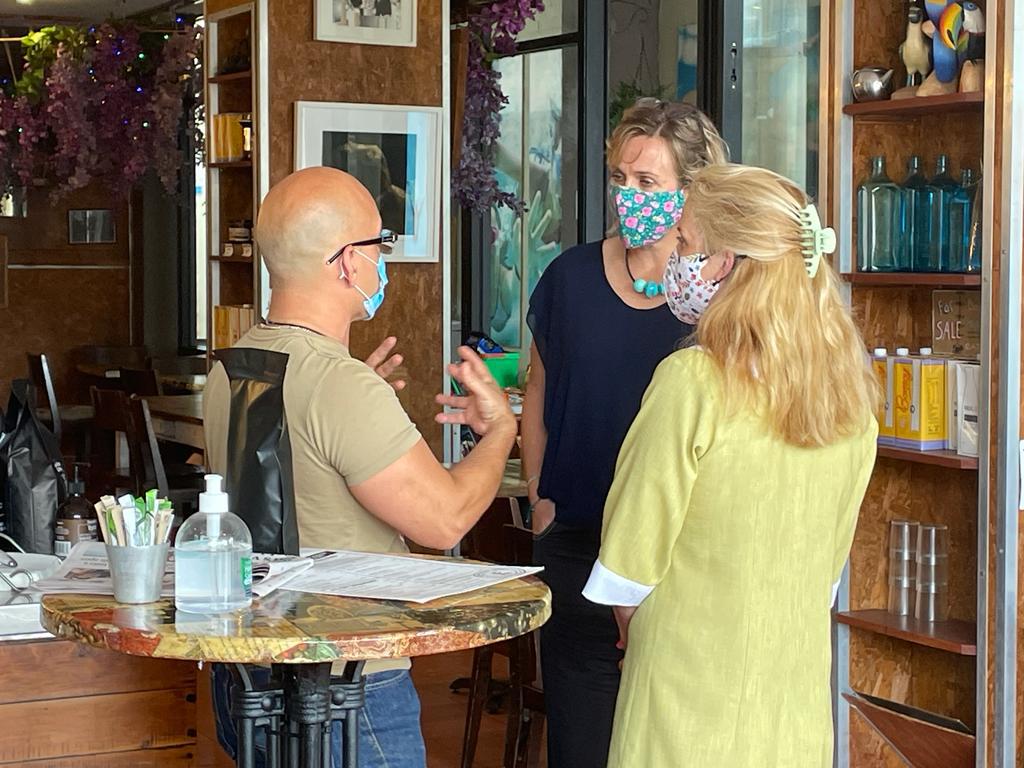 Enough Talk – My 5 Steps to Net Zero
As part of the "Enough Talk" event at the Sydney Opera House, I literally took to the soapbox to outline my 5 Step plan to Net Zero – it is simple and achievable and will deliver. 

The Government's 'pamphlet' for Net Zero by 2050 is missing an actual plan to achieve Net Zero and didn't even try to account for the final 15% of emissions! 

The "Enough Talk" event was also a great chance to catch up with Kylea Tink and Dr Sophie Scamps, who are stepping up to give the communities of North Sydney and Mackellar a voice to really act on climate. We have the solutions, we just need new politicians.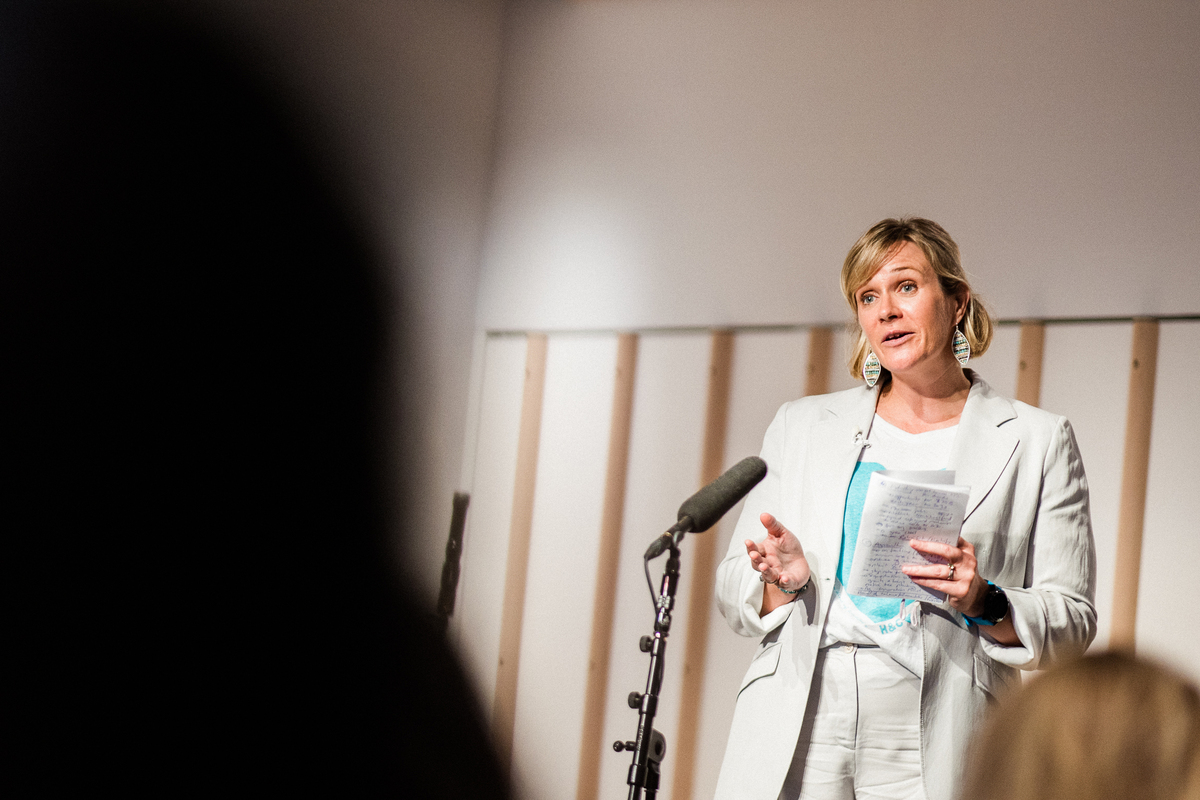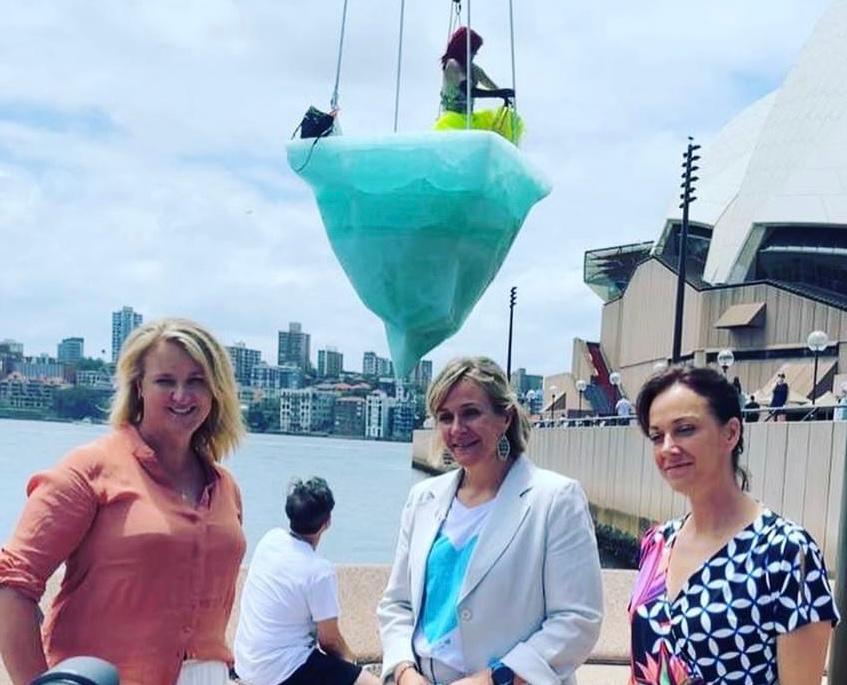 Australia Day 
The 26th of January provokes a range of emotions for many within our community as we grapple with all that this day represents. 

While it is true that changing the date of Australia Day will not change our history, I believe that the conversation about changing the date needs to be had in a structured way.

We must not forget that the 26th of January marks the commencement of European colonisation of this land. It also represents the commencement of violence, disempowerment and displacement of our Indigenous communities – creating sorrow, discrimination and hardship that has continued for generations.

For my full statement outlining my thoughts on the date, visit: https://www.facebook.com/100067183542517/posts/259788496270600/

We can reflect on and celebrate the fact that in Australia we have over 65,000 years of history that is still being uncovered and explored. There is much to learn from our First Nations. 

This Australia Day, I encouraged everyone in Warringah to take some time to explore our diverse history and learn something new about our Indigenous culture.

I had the privilege of visiting the 'Unsettled' exhibition at the Australian Museum the evening before Australia Day and found it to be a very thought-provoking experience. I encourage you to take their virtual tour.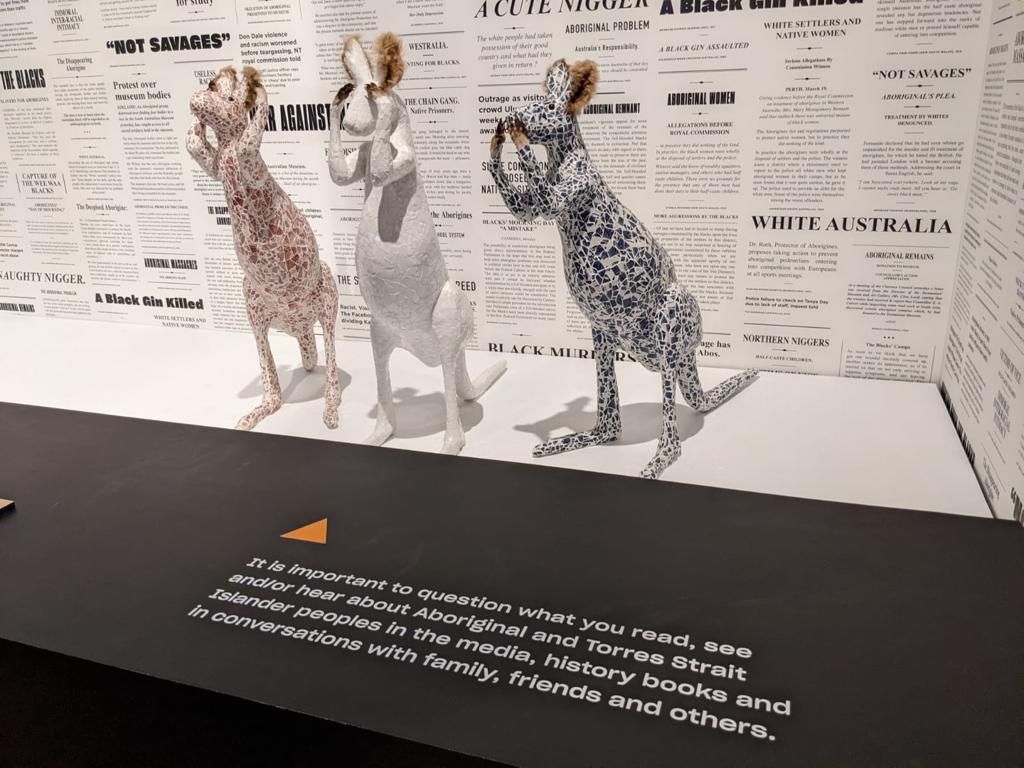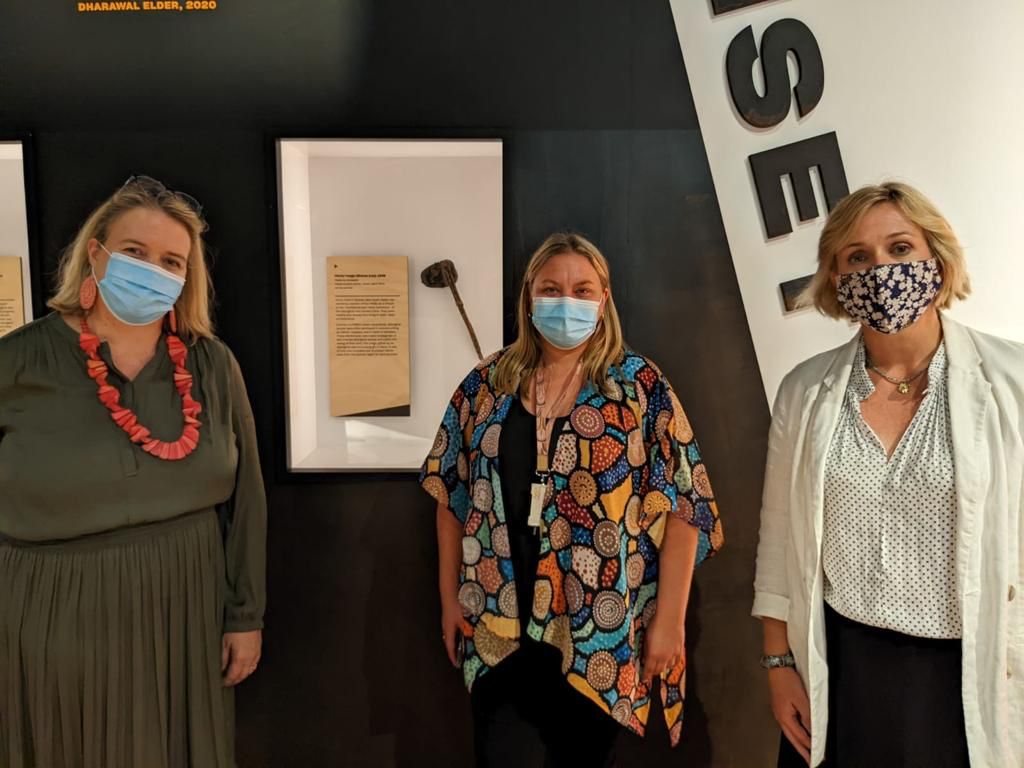 I attended the 'Ride With Aboriginal Peoples' from Manly to Church Point - it was a very moving way to start the day and I thank everyone who took the time to come and spend a few moments in reflection and respect.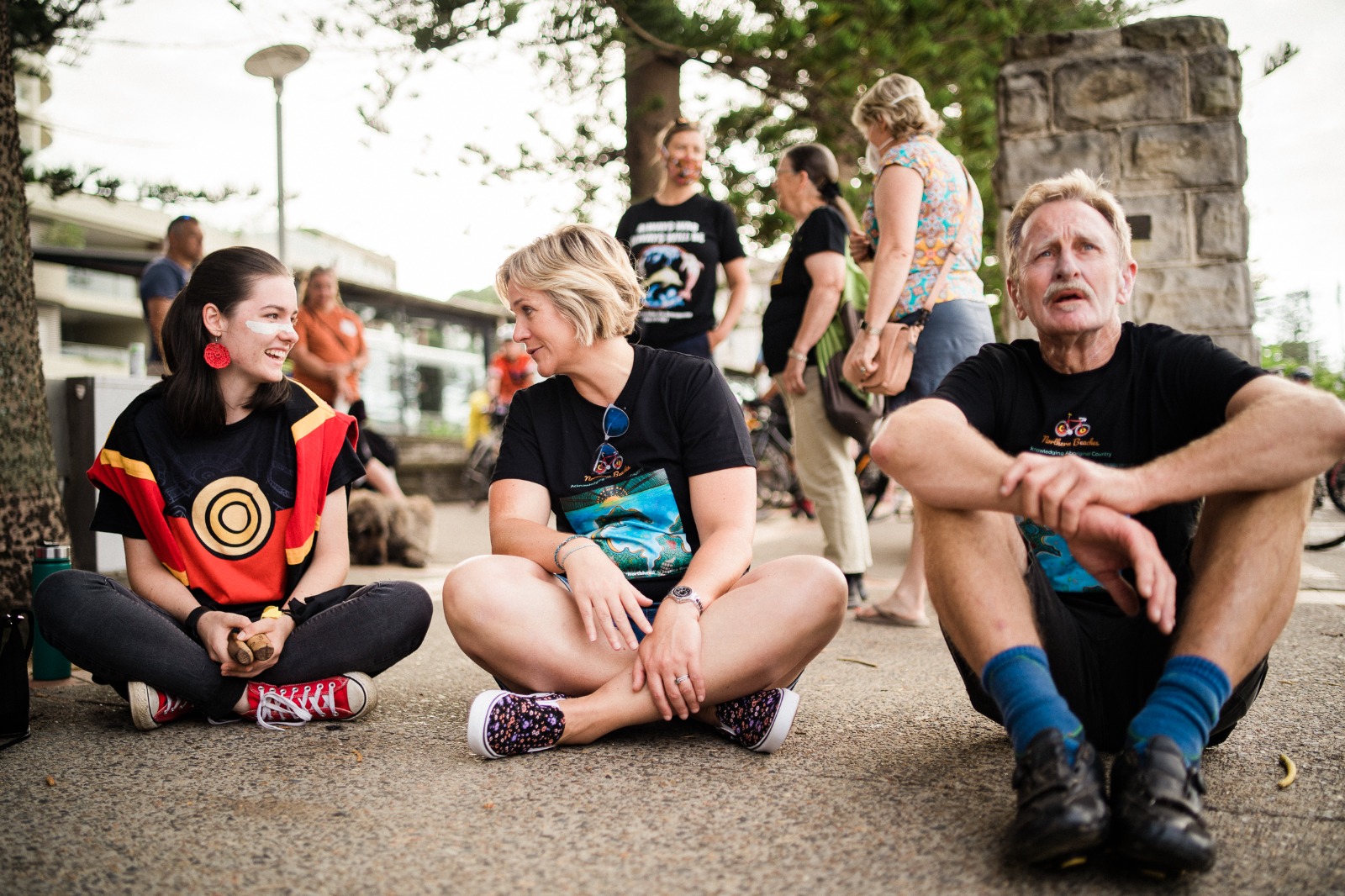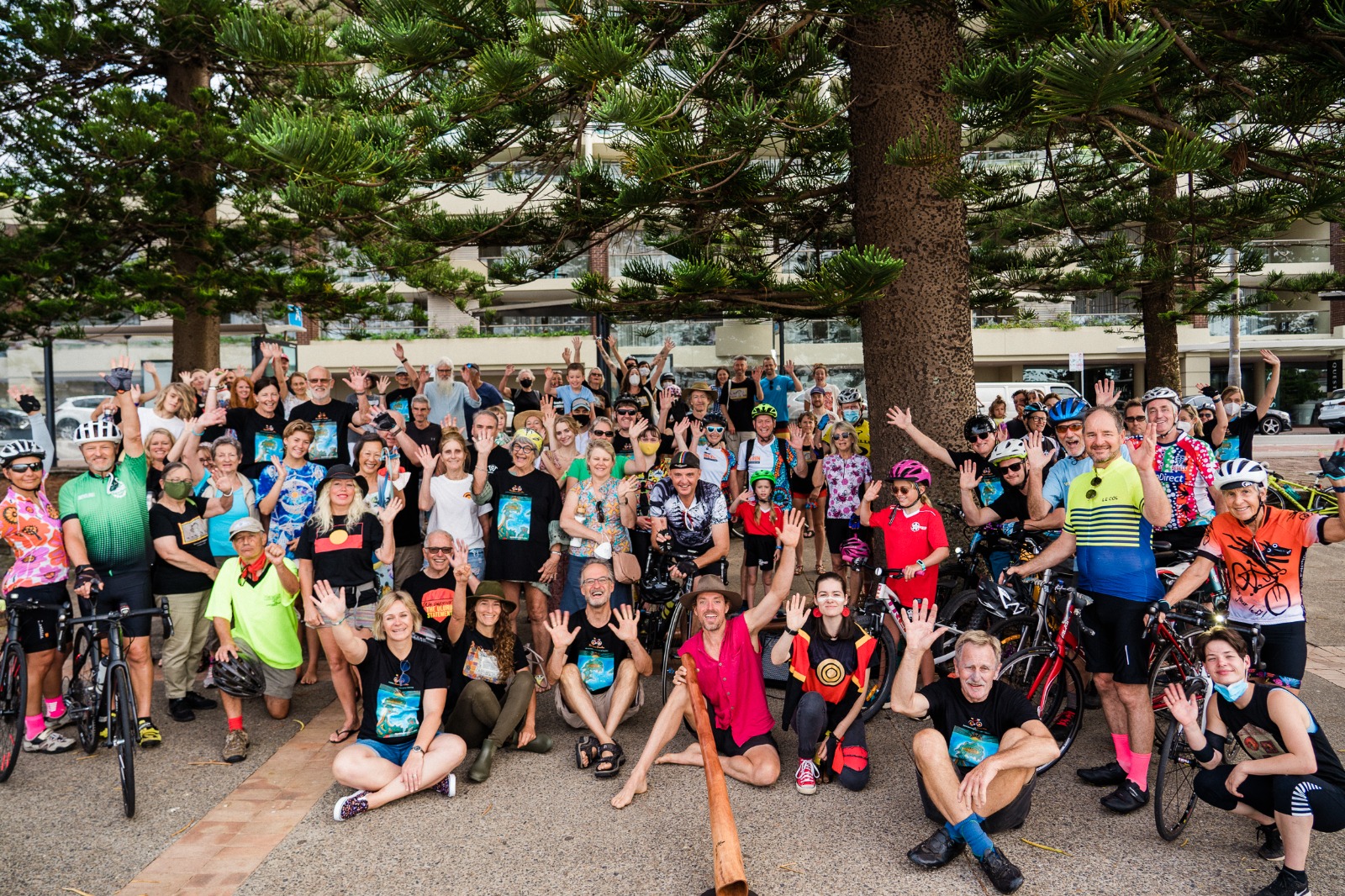 I then had the honour of attending Mosman Council's Citizenship Ceremony where we celebrated the 80 new citizens from 22 nations around the world who have decided to call Australia home. Under a stunning blue sky at Rawson Oval, we took time to reflect on and respect our proud First Nations peoples and culture.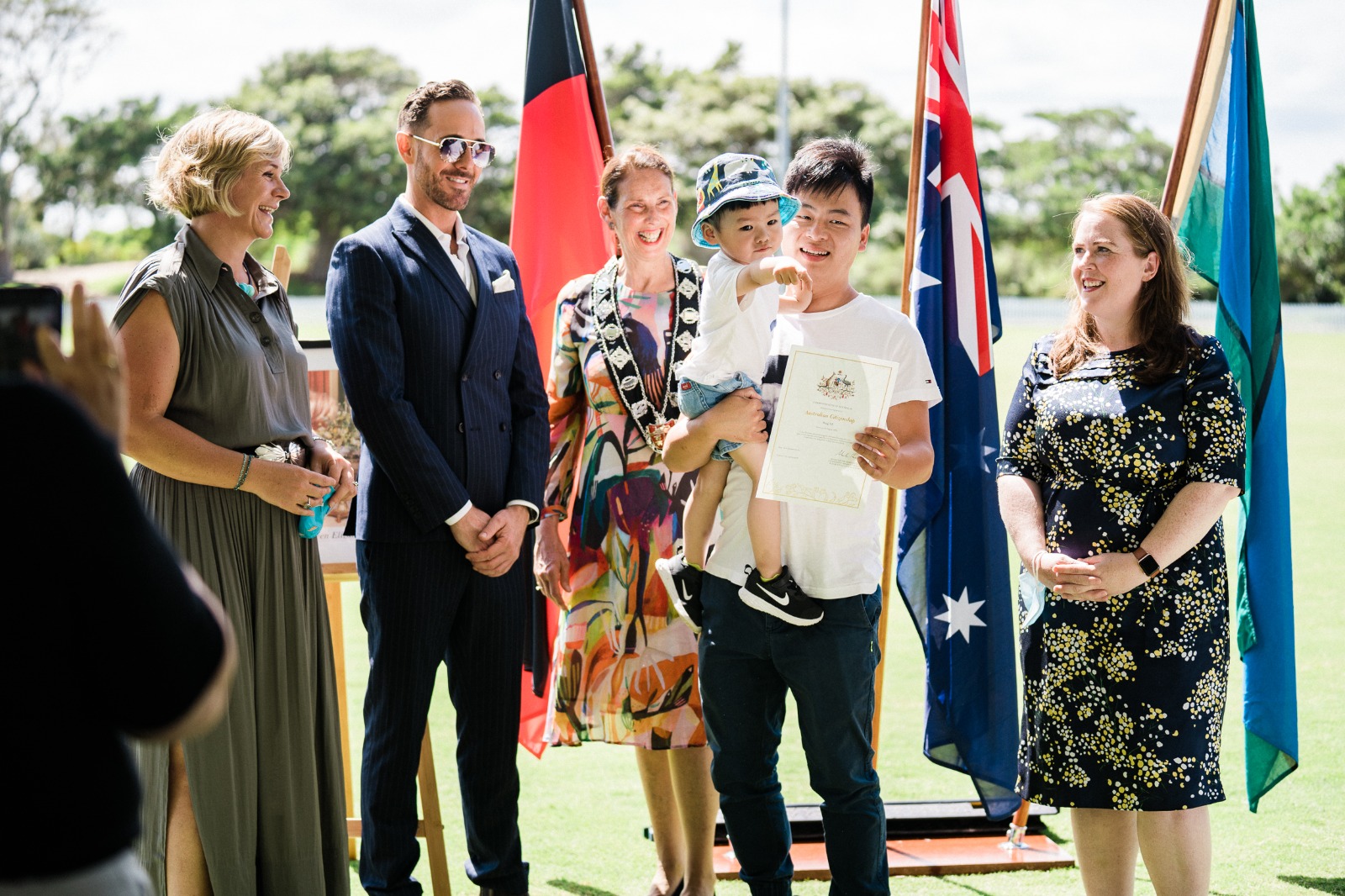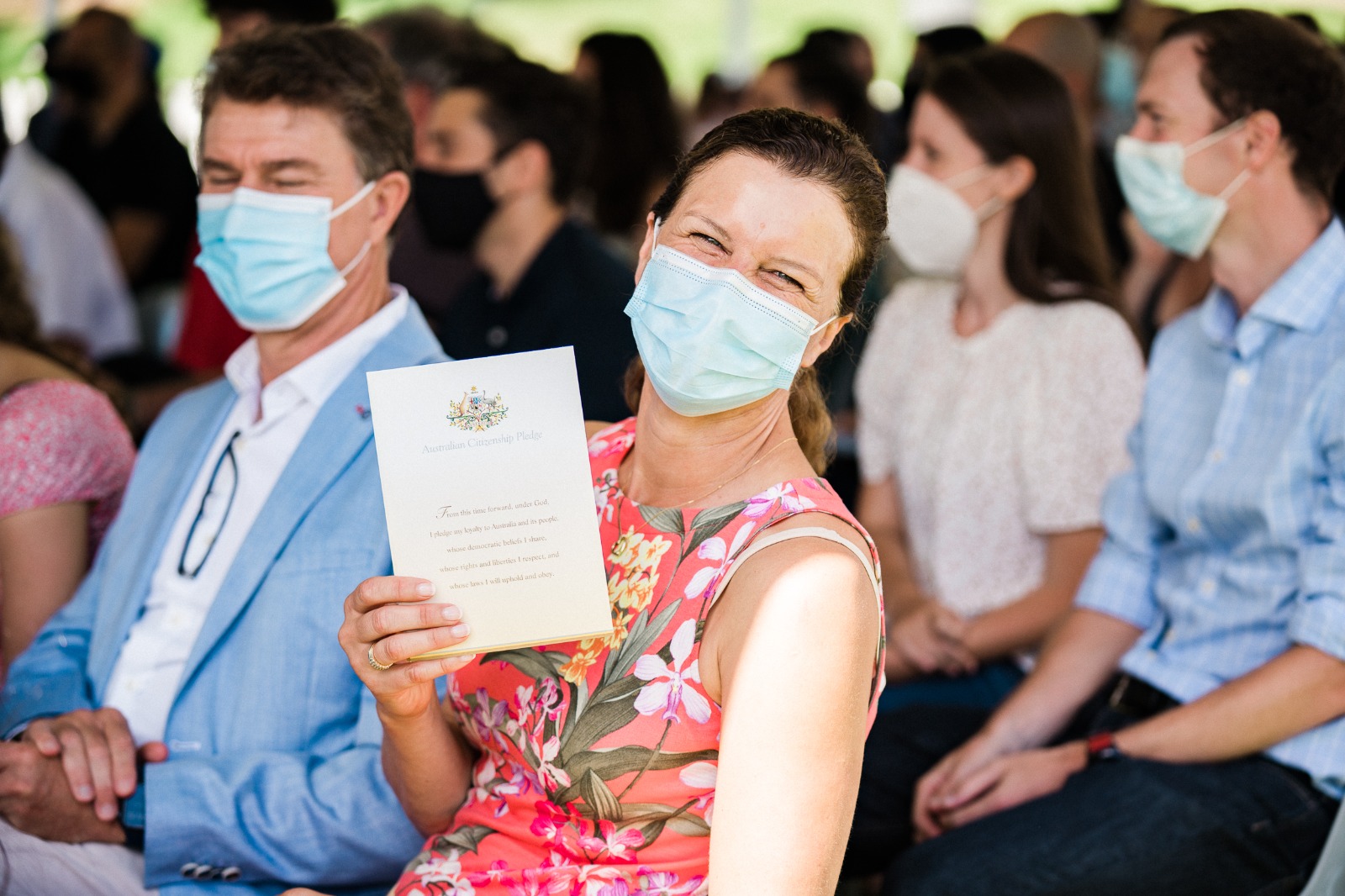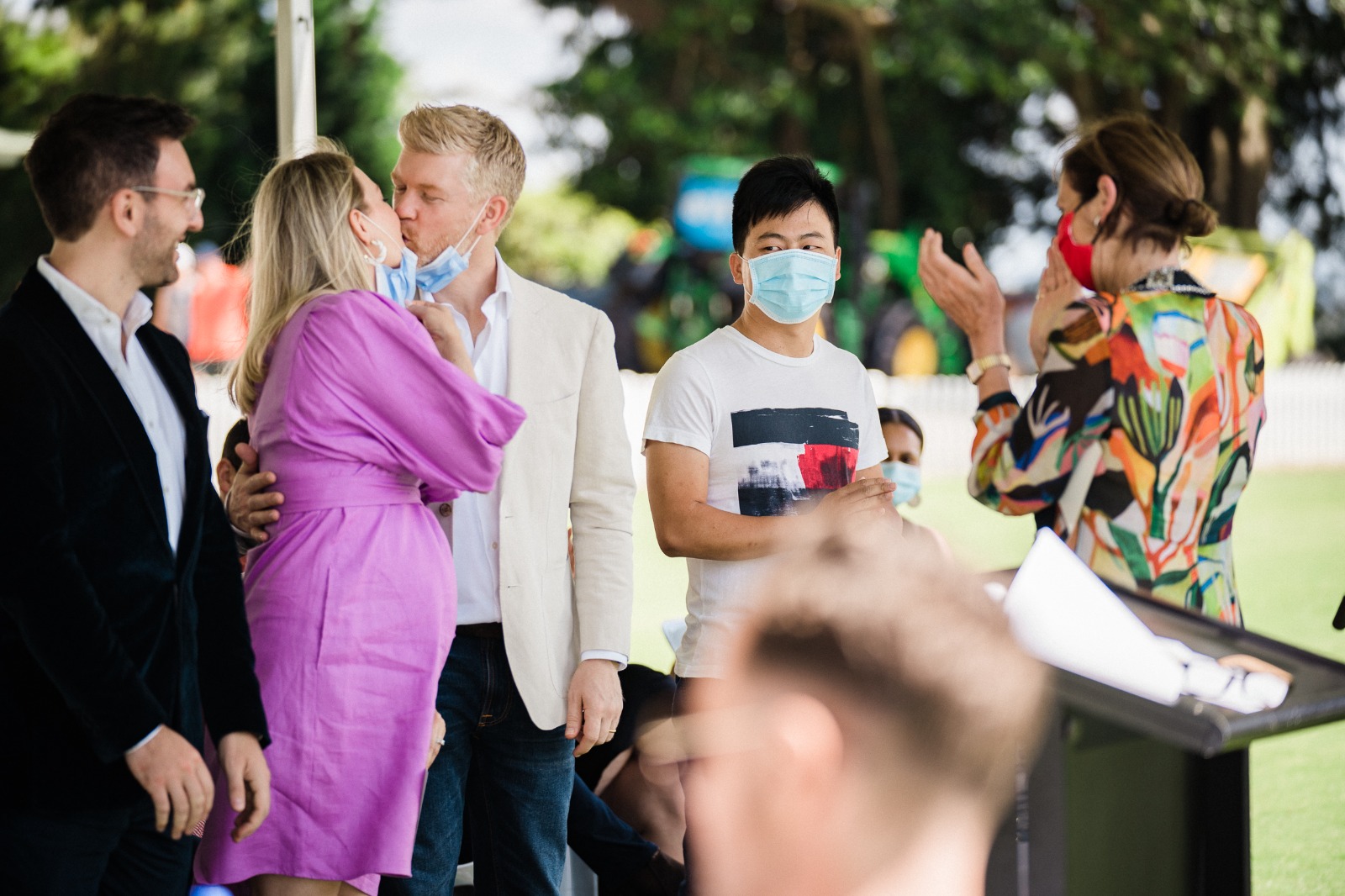 Northern Beaches Council Australia Day Awards
The night before, I took part in the 2022 Australia Day Awards hosted by Northern Beaches Council. It was wonderful to be able to acknowledge some hardworking people in our community and I congratulate them all:

- Citizen of the Year - Bobby Leharne
- Senior Citizen of the Year- Terry le Roux
- Young Citizen of the Year- Molly Parker
- Sports Person of the Year- Patrick Wood
- Community Event of the year- Northern Beaches Secret Rocks, created by Sarah Downes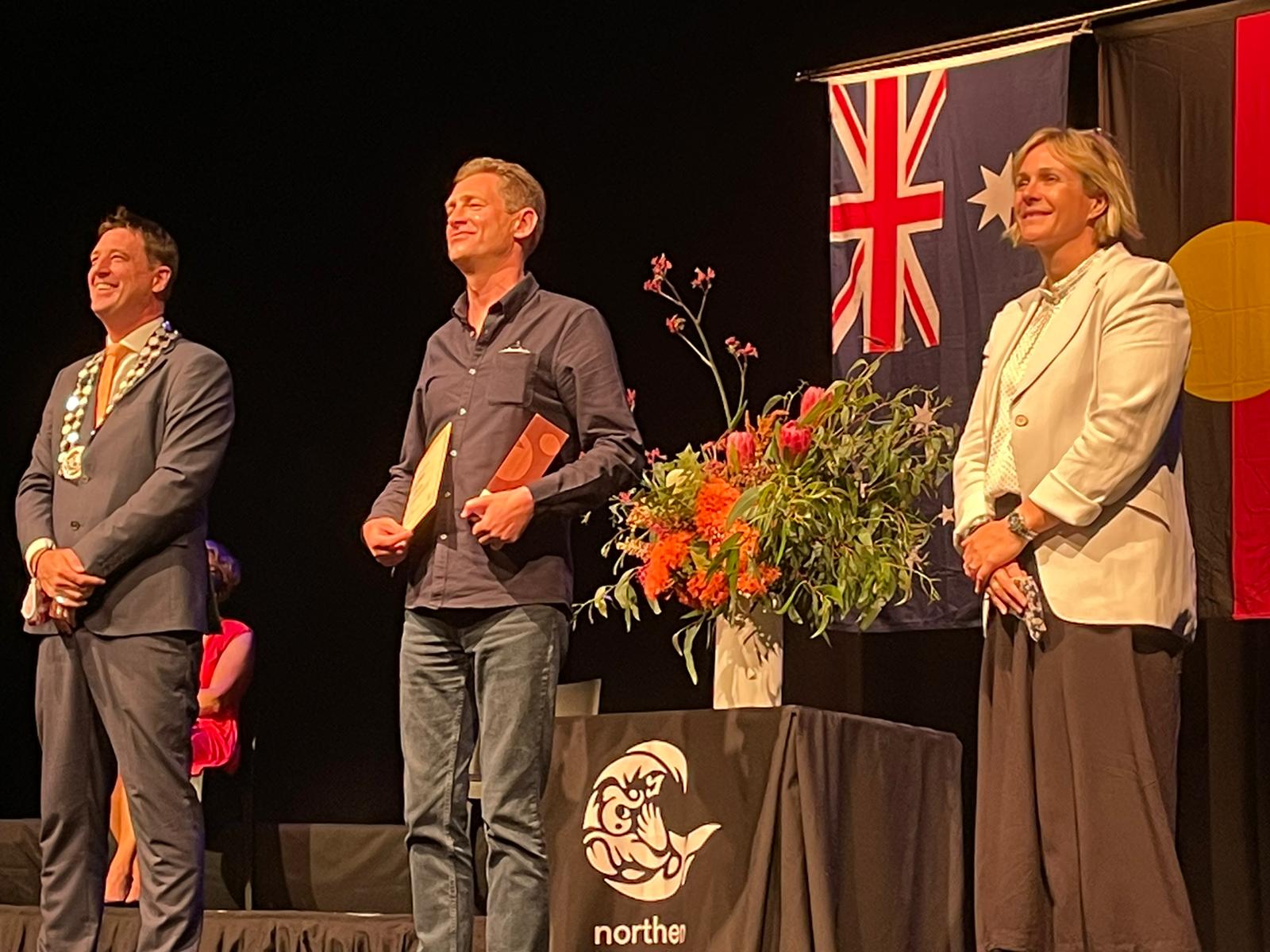 HSC Results are in!
A big congratulations to the Class of 2021. Despite the immense challenges you faced, your results were very impressive. Good on you for supporting each other, working in uncertainty and pushing on in a pandemic. No matter your result, you've gained skills that will help you to cope with stress, adapt to change and navigate the world like champions! Warringah high schools have done exceptionally well, we are so proud of you all – particularly those that came first in their subjects, see the photo below! Special mention to Northern Beaches Secondary College: Manly Campus ranked 7th in NSW, and top-ranking NSW comprehensive public schools with Balgowlah Boys Campus - Northern Beaches Secondary College in 2nd and Mackellar Girls Campus in 9th and Killarney Heights High School in 16th! Good luck to everyone for your next adventures!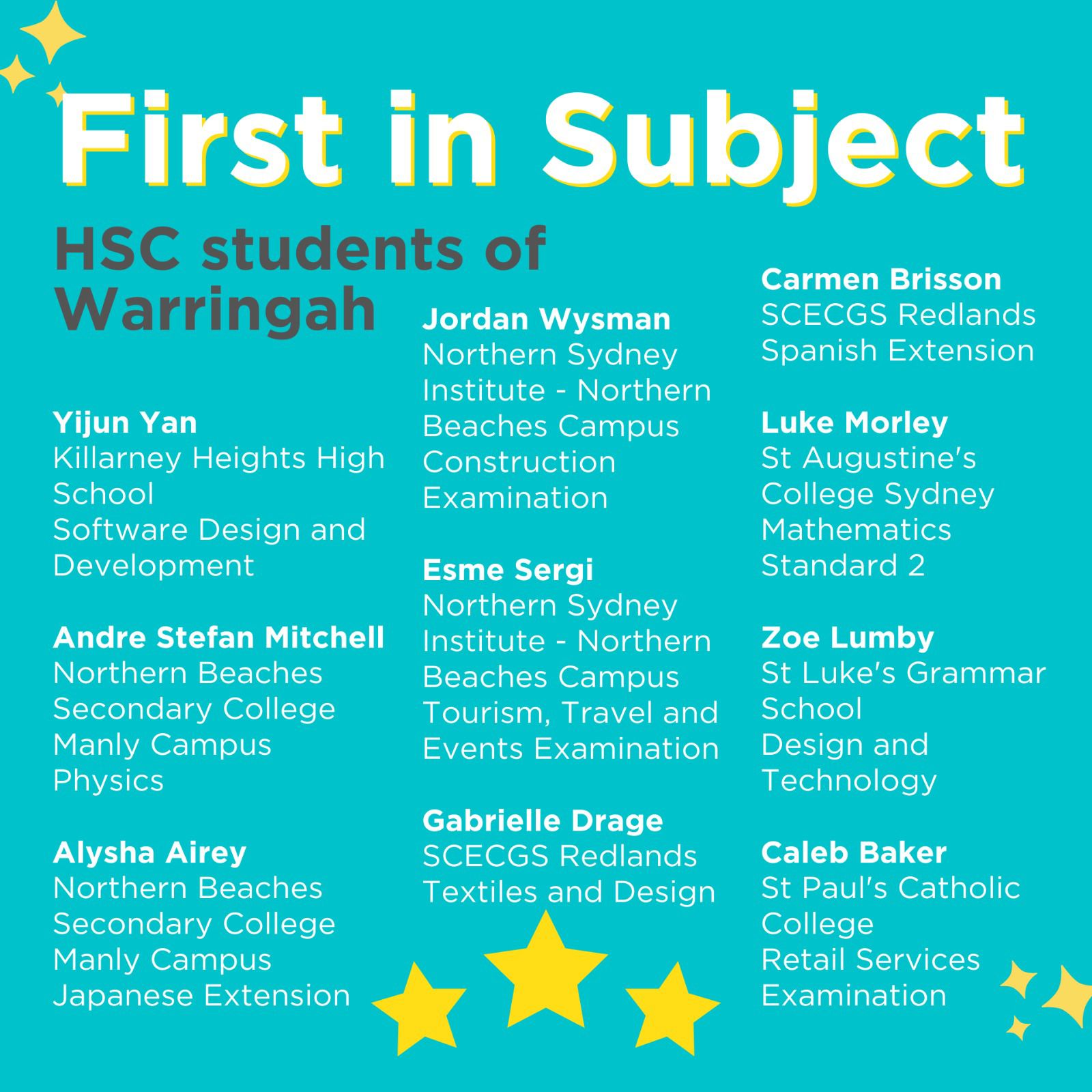 Border closures
 
It has brought us much joy to enable the reunions of many families and partners in the electorate over these past years and particularly over the past months as border restrictions have slowly eased. We have also written to the Minister for Immigration regarding the possibility of family reunions for bridging visa holders, temporary visa holders, siblings and adult children of Australian citizens and permanent residents.


Join the team for Mardi Gras 2022!
Are you a Warringah resident who is a part of the LGBTQIA+ community? I will be proudly marching in unity with members of the Warringah LGBTQIA+ community for the causes of inclusion, visibility and active representation. 

If you would like the chance to join me at this year's Sydney Gay and Lesbian Mardi Gras Parade on Saturday 5th March at the Sydney Cricket Ground please fill out this application*.

We hope to see you there!

*Warringah residents under 18 years of age can apply to join, and if there is availability on the float, will need to be accompanied by an adult.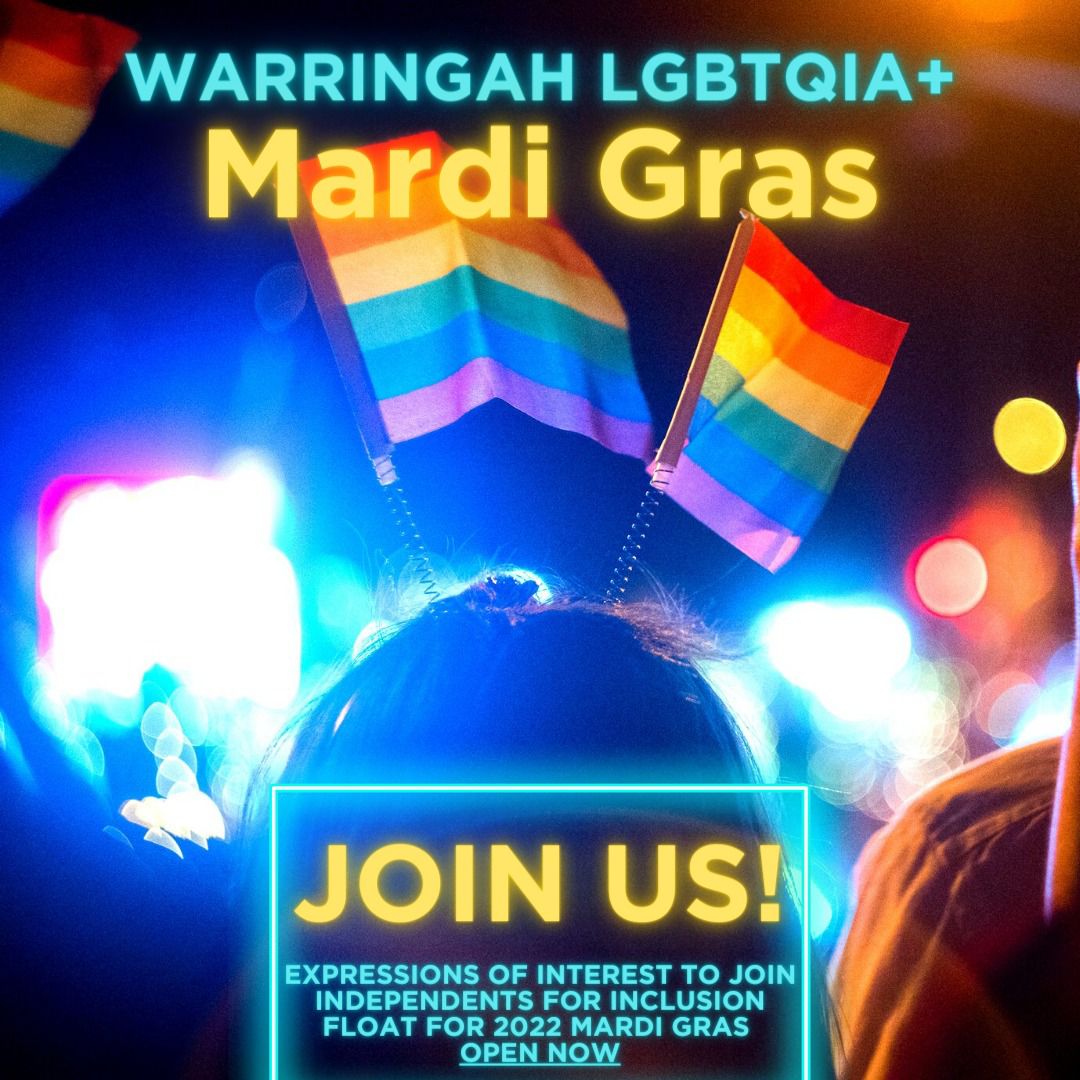 Upcoming Events 

5th & 6th February – Sun Run and Cole Classic – Come and Join Team Zali!
Come and join me for the Sun Run and Cole Classic swim on Saturday 5th and Sunday 6th of February!!

If your New Year's Resolution is to be more active, then come and join in the fun with Team Zali!

Sign up here for Team Zali for the Sun Run on Saturday 5th Feb (7km or 10km options) 

Sign up here for the Cole Classic swim on Sunday 6th Feb
 
I look forward to seeing you there!

Any queries about Team Zali singlets, contact [email protected]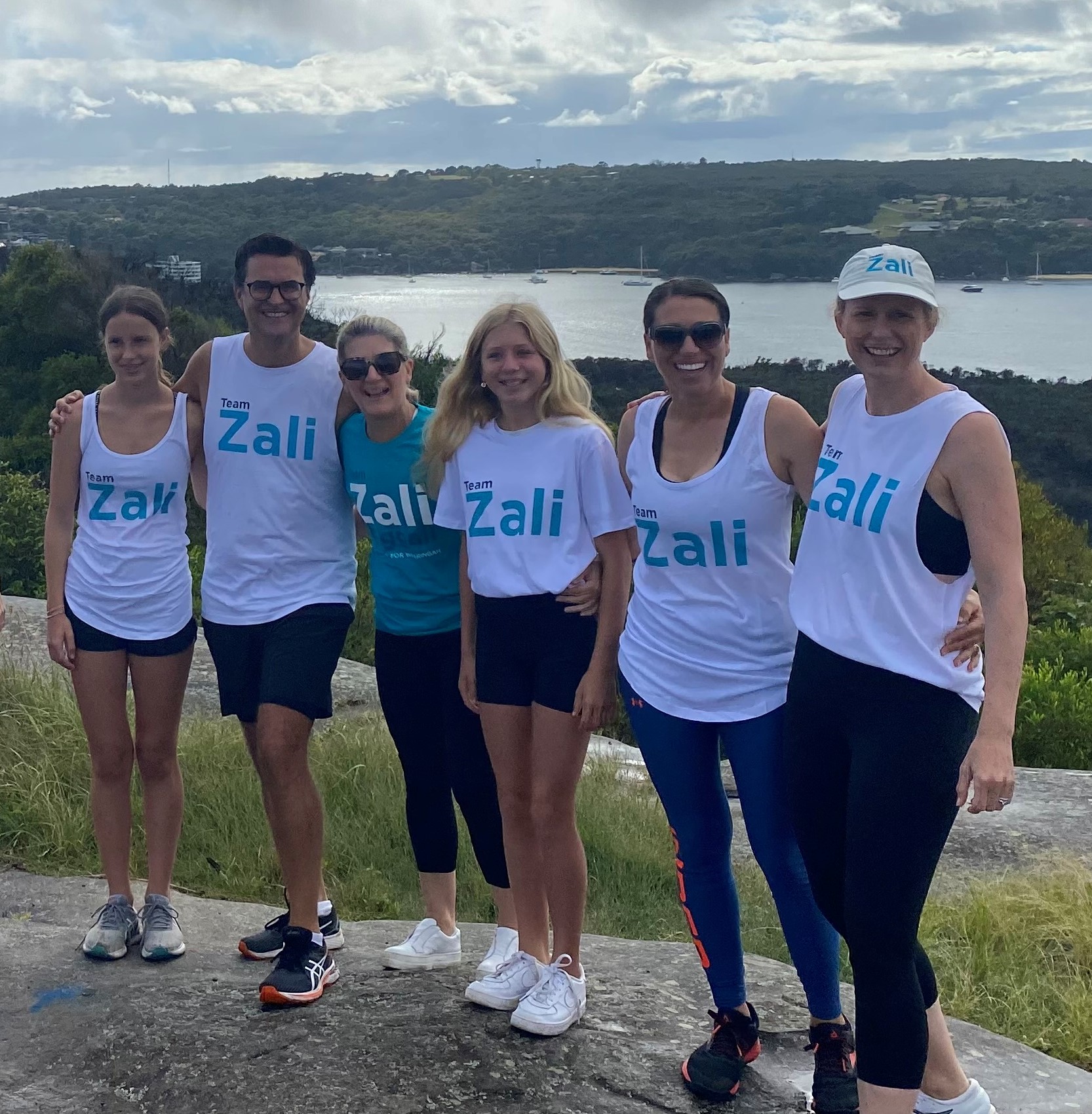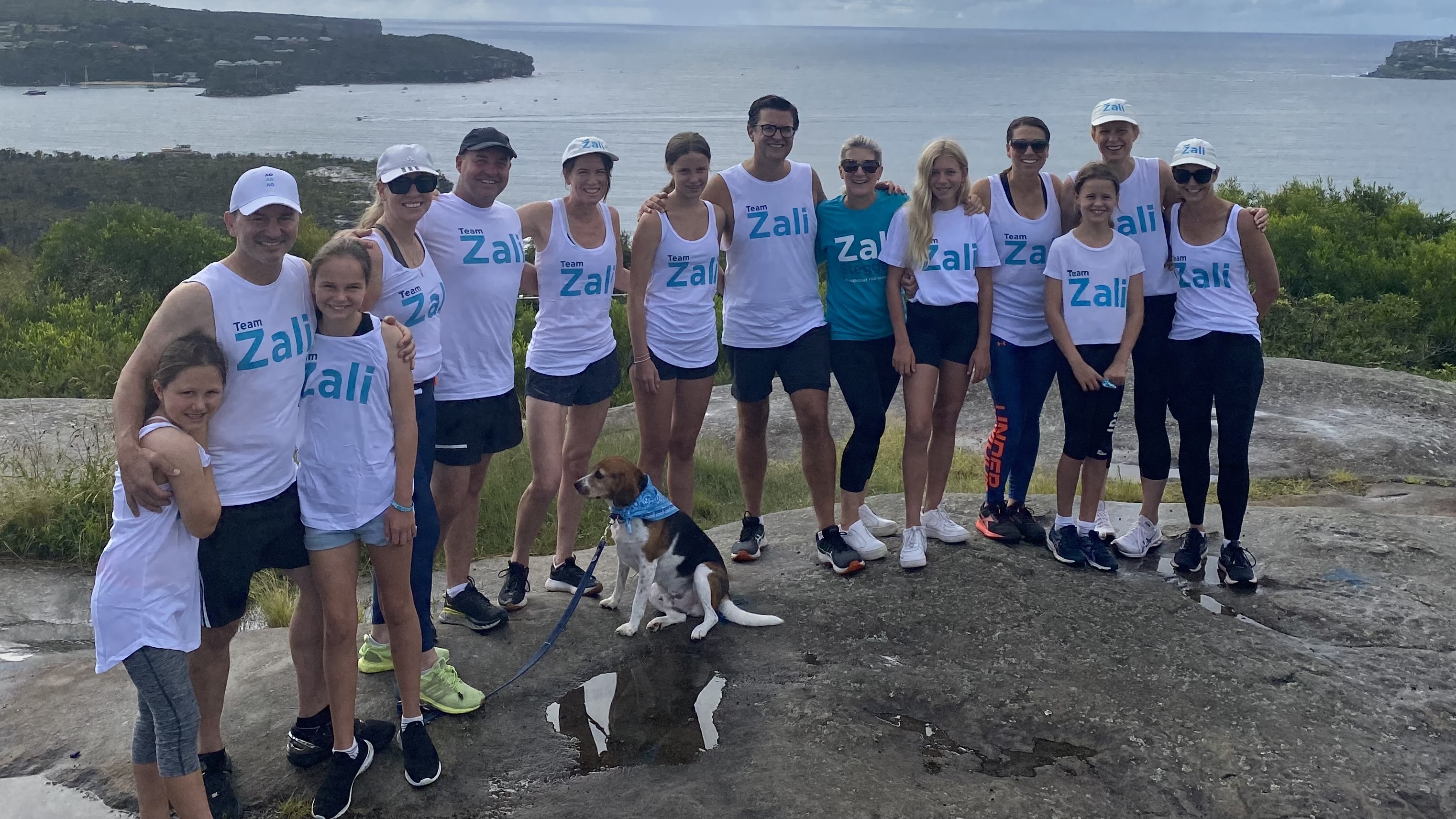 11th February – Modern Healthcare: COVID and beyond - Planning for a positive future
Join me and a team of health experts for an online forum looking at the future of healthcare in Australia. At the online forum we will hear from Associate Professor Annette Schmiede, Chair of Research Australia and Dr Omar Khorshid, President of the AMA. The forum will take place on Friday 11th February from 12pm – 1pm and you can register HERE to receive the Zoom link.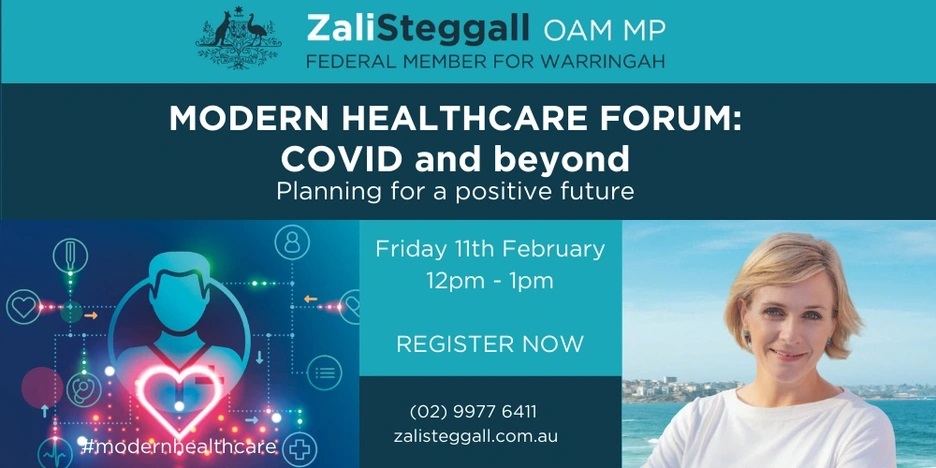 Ongoing Grant Opportunities
If you are part of a local service organisation or sporting group or perhaps a business owner or member of a school P&C, then please check my website regularly for grant opportunities. My Grants Officer, Rachael is happy to assist with any queries you might have. To learn more about other funding opportunities, please visit the grants link on my webpage. 


Finally, please remember that my amazing team at the electorate office are here to help you. If you're in the Warringah electorate and need our assistance please contact us – you can call us on 9977 6411 or email me at [email protected]  
 
Please share this email with your friends and family to keep them updated, or encourage them to sign up on my website at www.zalisteggall.com.au  


Stay safe,