16 October, 2020
It has been a quick week back in Warringah after the Federal Budget before we head back to Canberra. Here is an update on what my team and I have been doing:

MEETING BUSINESSES

I'm continuing to meet businesses across Warringah. This week I met with retailers One P Design at Stockland in Balgowlah and Budgy Smuggler in Manly that both rely on local manufacturing and are conscious of reducing their waste. 

At One P Design the co-owners only use fabrics that are sourced from Australia such as silk, cotton, linen and wool. While at Budgy Smugglers, their factory is in Sydney and warehouse is in Brookvale, employing locals and interns from ICMS.

I also met Manly Ocean Foods who employ 12 people and sell up to 150,000 meals a year, focusing on no waste.
For businesses wanting to reduce their carbon footprint and join our Roadmap to Zero, please sign up here.

The Mosman Chamber of Commerce has started the Think Mosman First initiative to help support local businesses. They are asking local residents to try and shop locally to support the small business economy in Mosman. I met with Troy Anthony who is the co-owner of Cafe Mosman who told me how grateful he is to the Mosman community for their continued support.

It is so important to me to get to know businesses in our community and hear how they have been operating since COVID-19. If you would like to organise a visit please email zali.steggall.mp@aph.gov.au.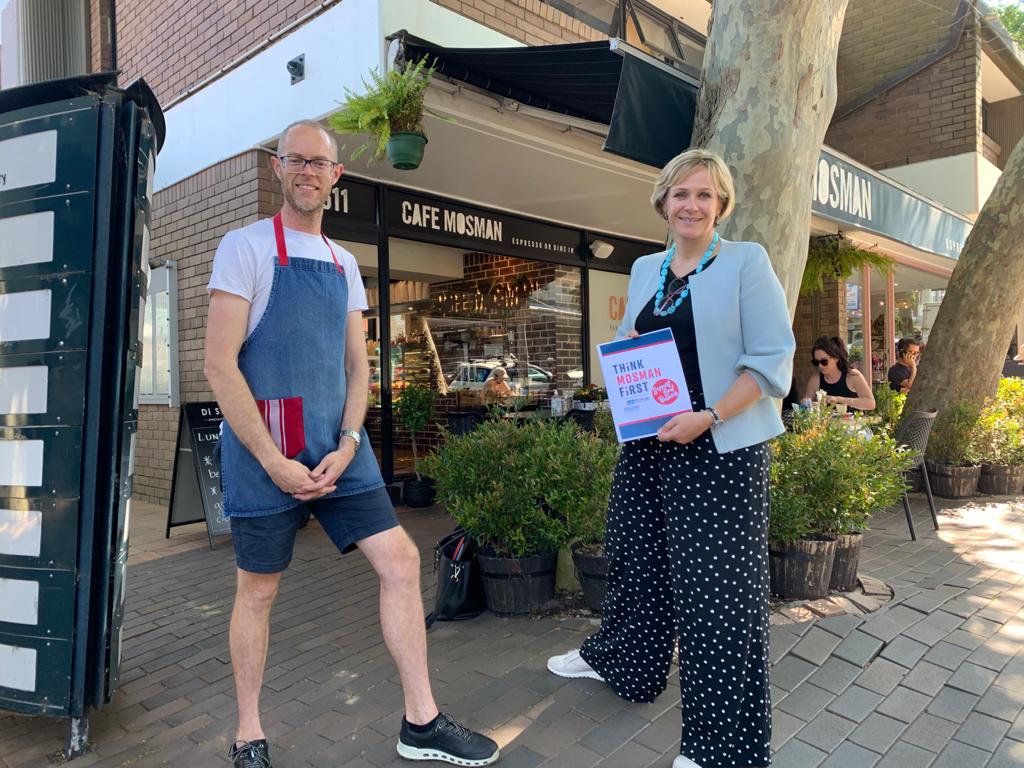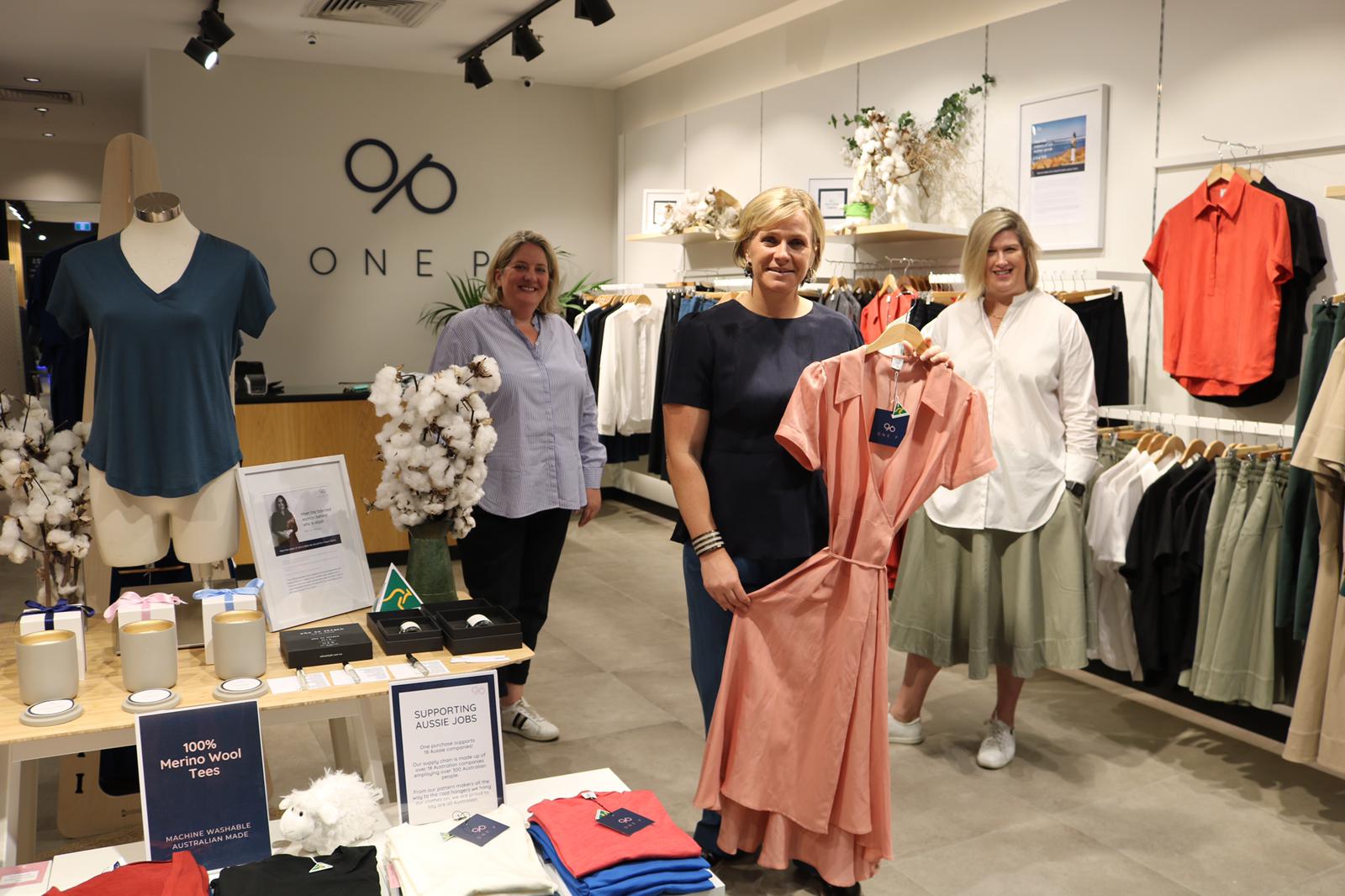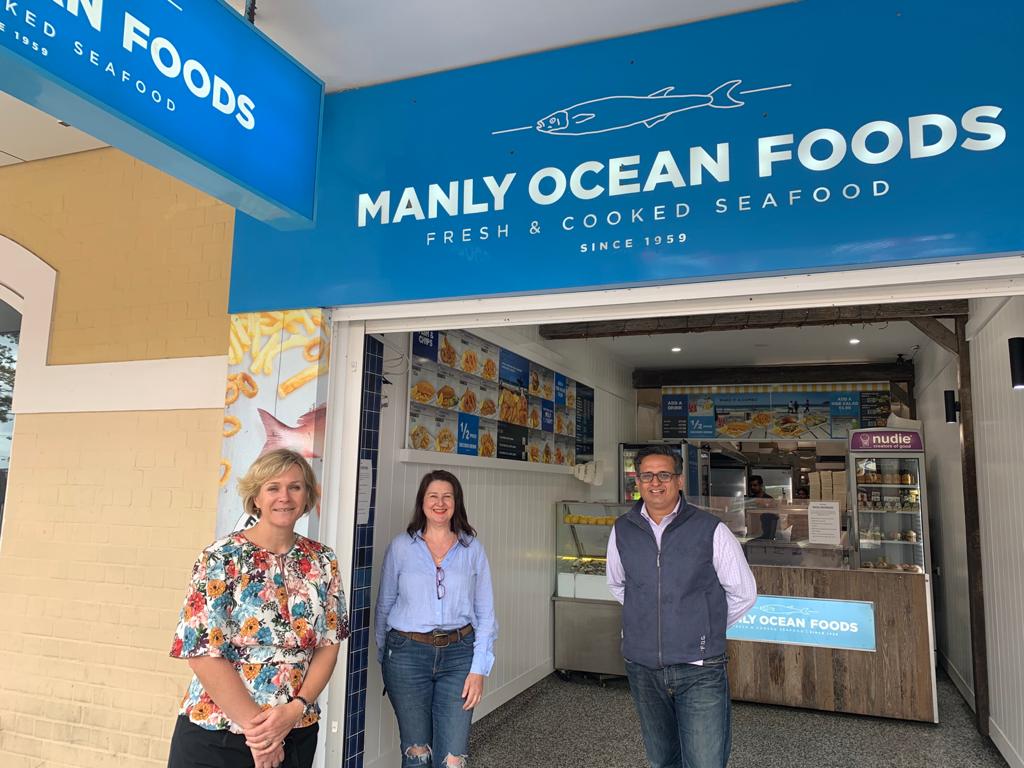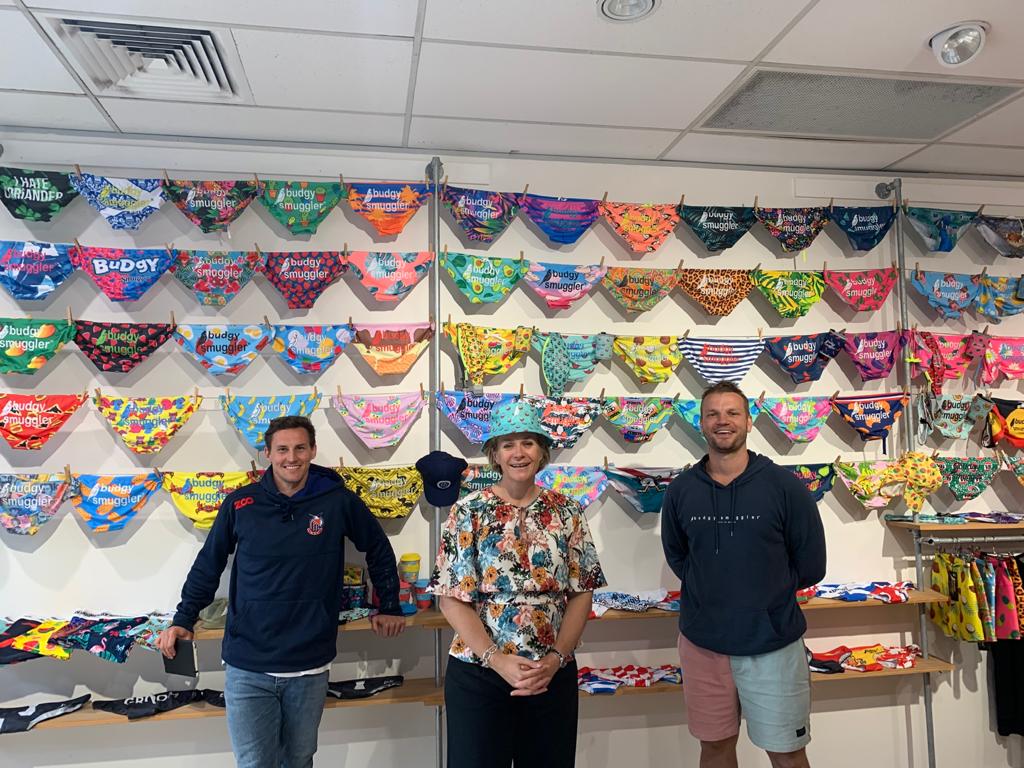 COMMUNITY EVENTS

Last weekend I met with the Freshie Community Garden, fished plastic out of Manly Cove with the Eco Pittwater Adventure's beach clean up and celebrated World Day Squash. Thank you to each of these organisations for having me!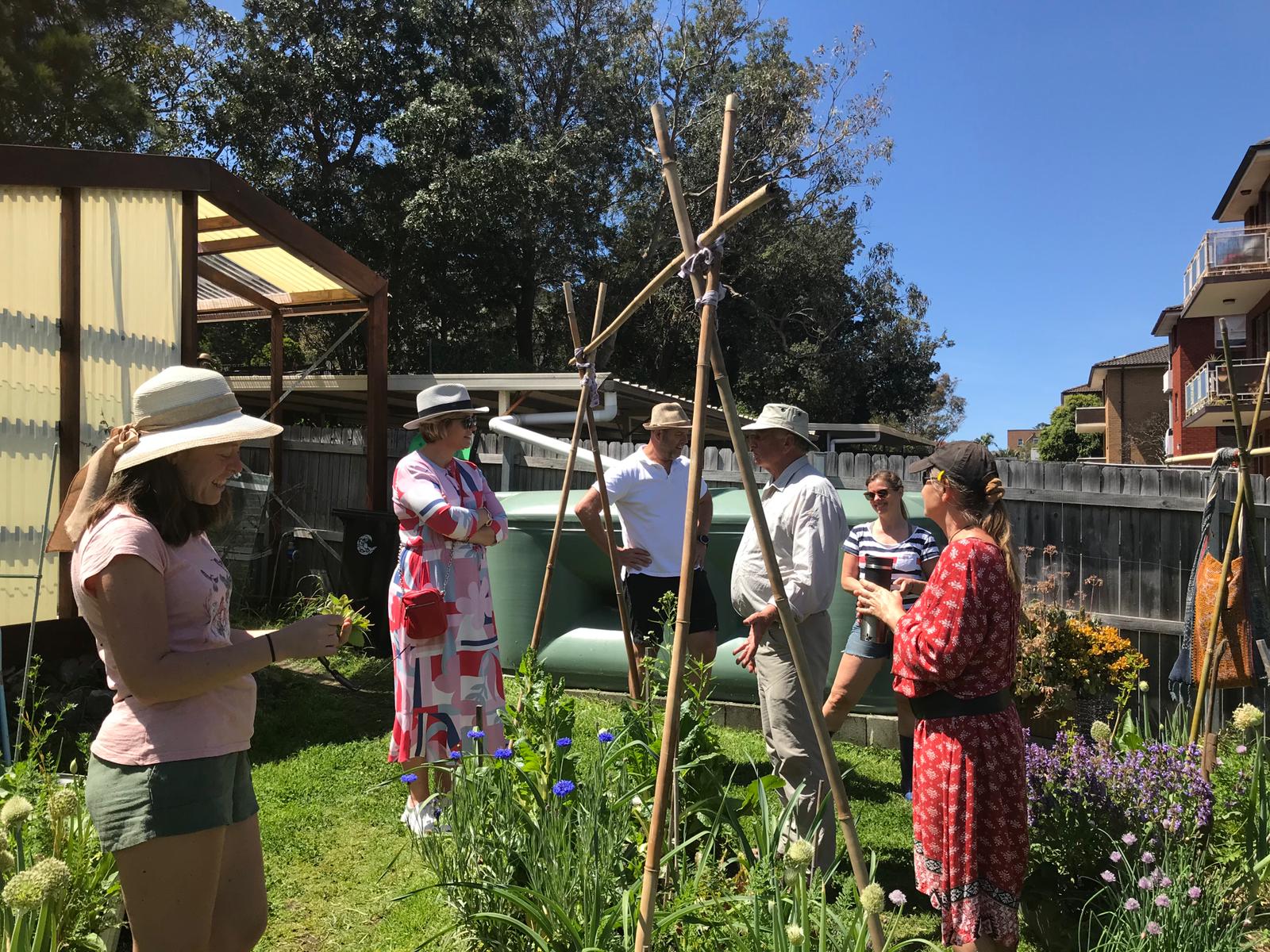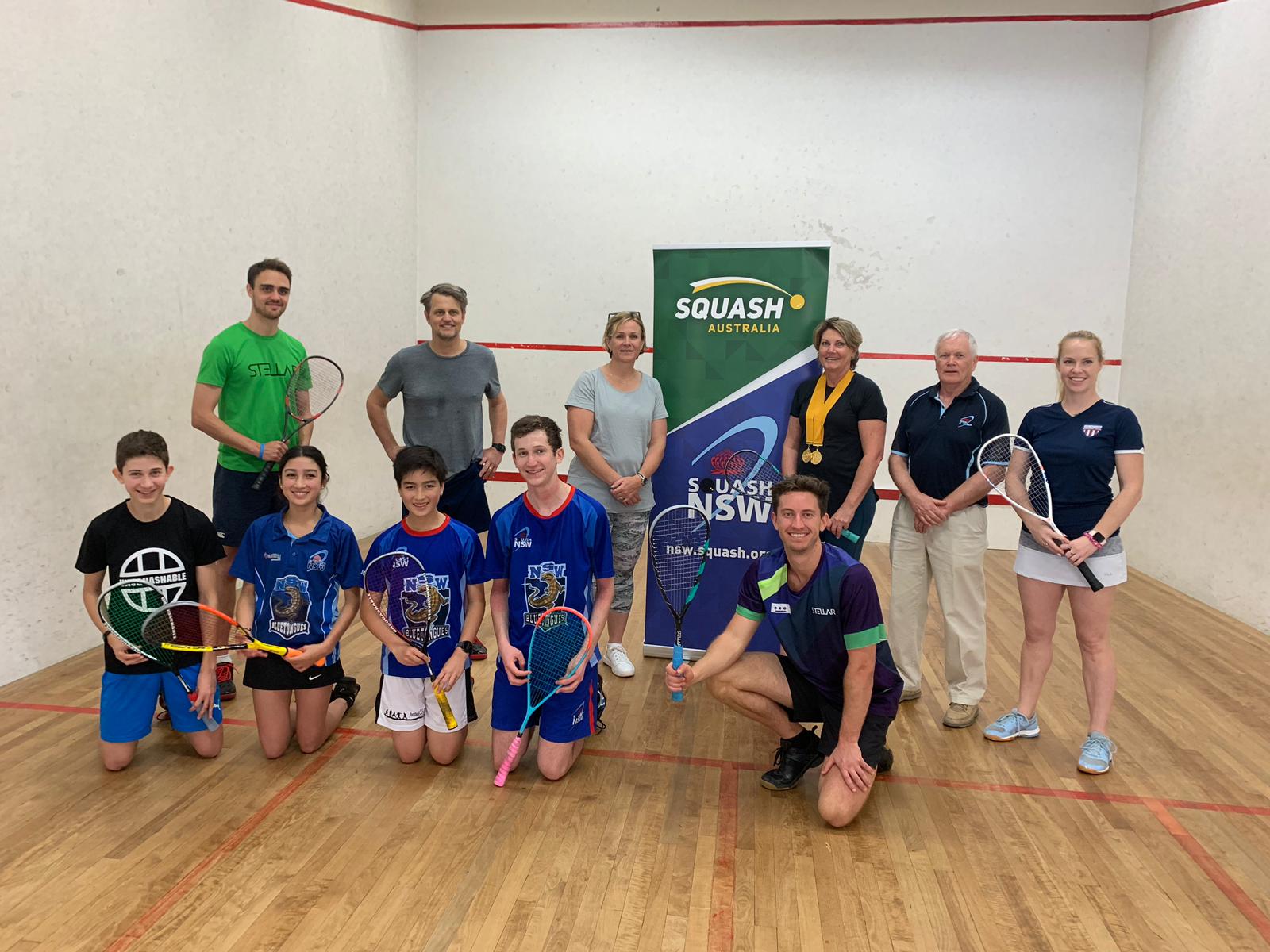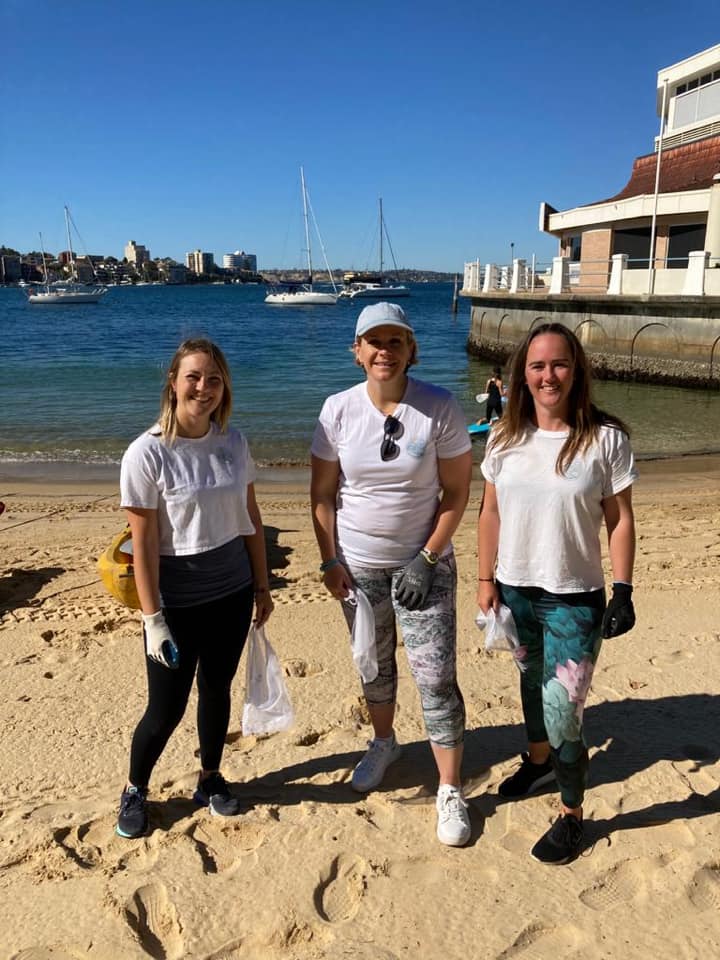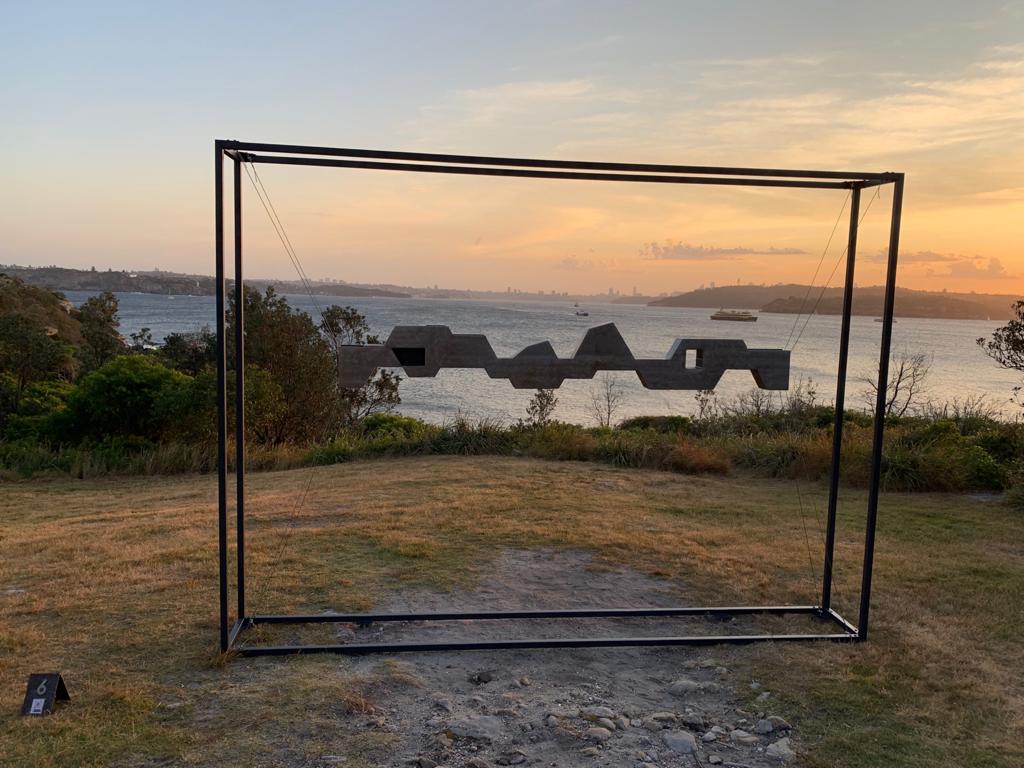 Les Sculptures Refusées

The inaugural Les Sculptures Refusées opens today at Q-Station, at North Head in Manly and runs until November 19.
This is an exhibition that takes the overflow of the Sculptures by the Sea event held in the Eastern Suburbs.

Last night was a spectacular evening at the opening night at the Q-Station. There are nine artists exhibiting and it's a free event, for more information go to their website.

LAUNCHING THE "SEABIN PROJECT"

Plastics in our oceans is one of students' biggest concerns when I visit schools. It was great to "turn" on the Seabin in Manly this week. The bin sucks up floating rubbish from the habour and beaches. There are now 23 Seabins across five locations in Sydney and 860 Seabins worldwide that have captured 1260 Tonnes of waste. For more information go to www.seabinproject.com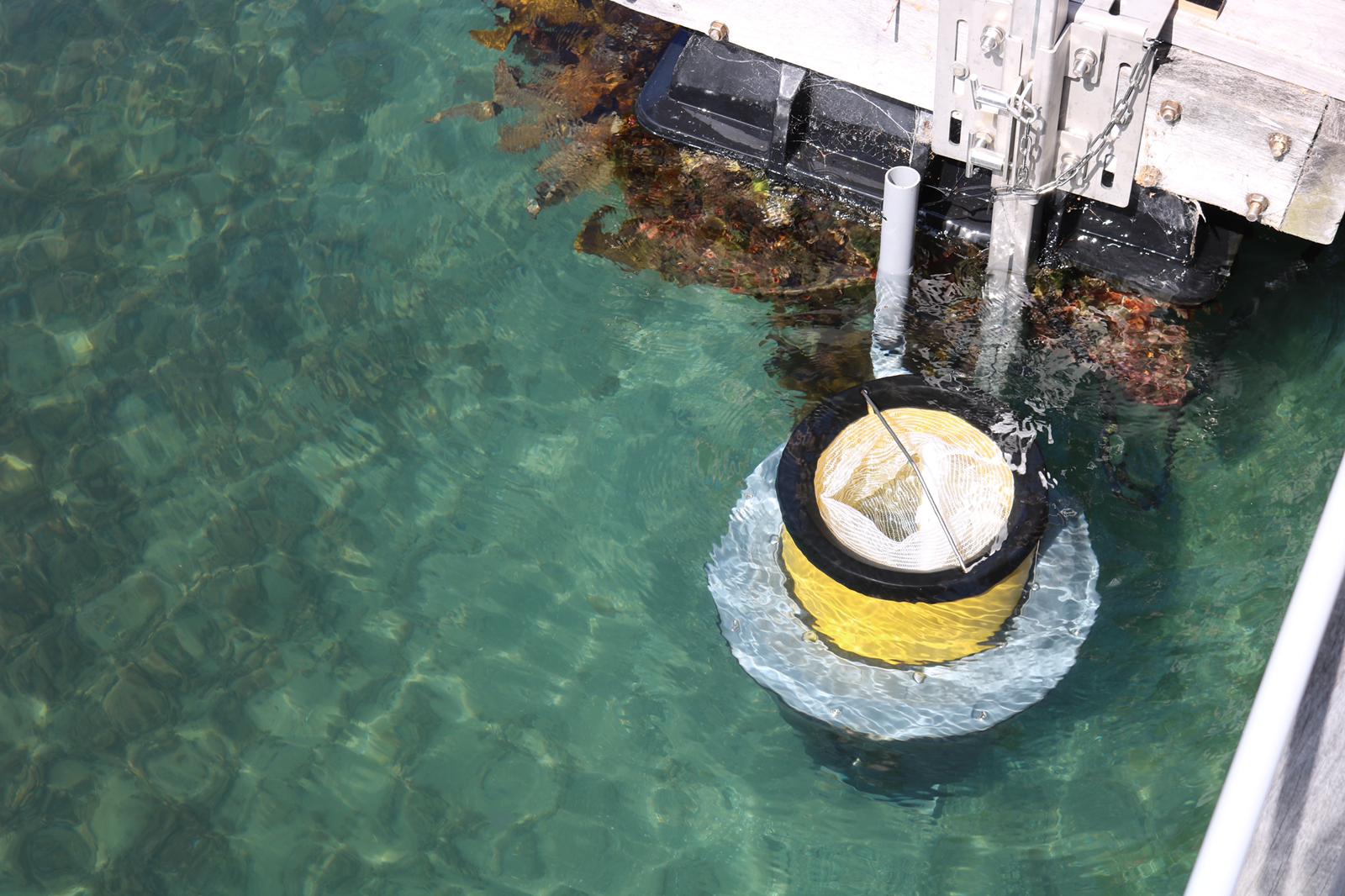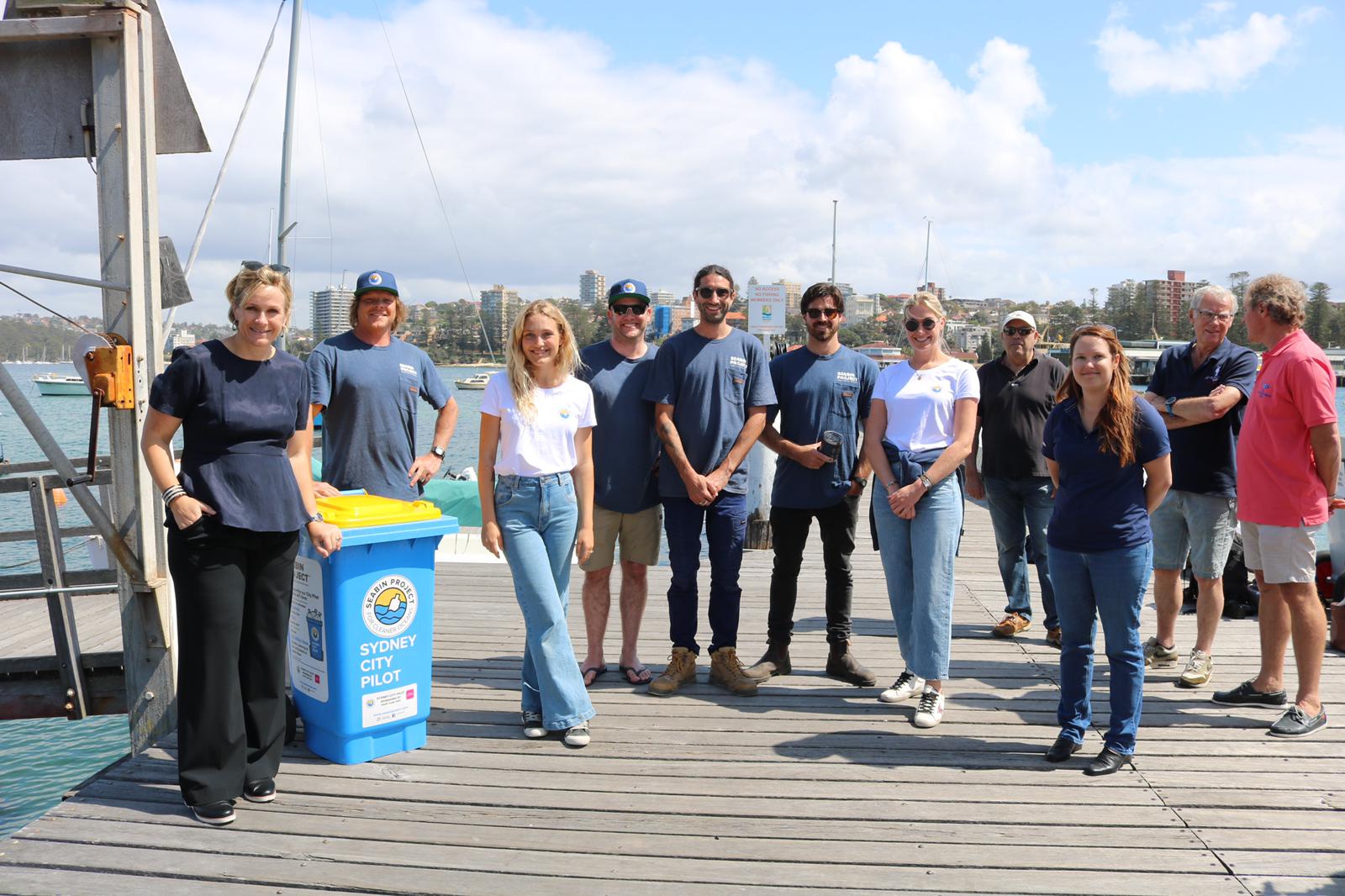 LAST WEEK IN PARLIAMENT

The Federal Budget was announced last week and we sent out of budget wrap that can be found HERE.
During the three day sitting week I spoke on:
Defence Legislation Amendment
NDIS support
Family Law System
And I asked a question to the Prime Minister about Integrity and the Australian National Audit Office funding
 
All speeches and transcripts can all be found here: https://www.zalisteggall.com.au/parliament_updates

TESTIMONIALS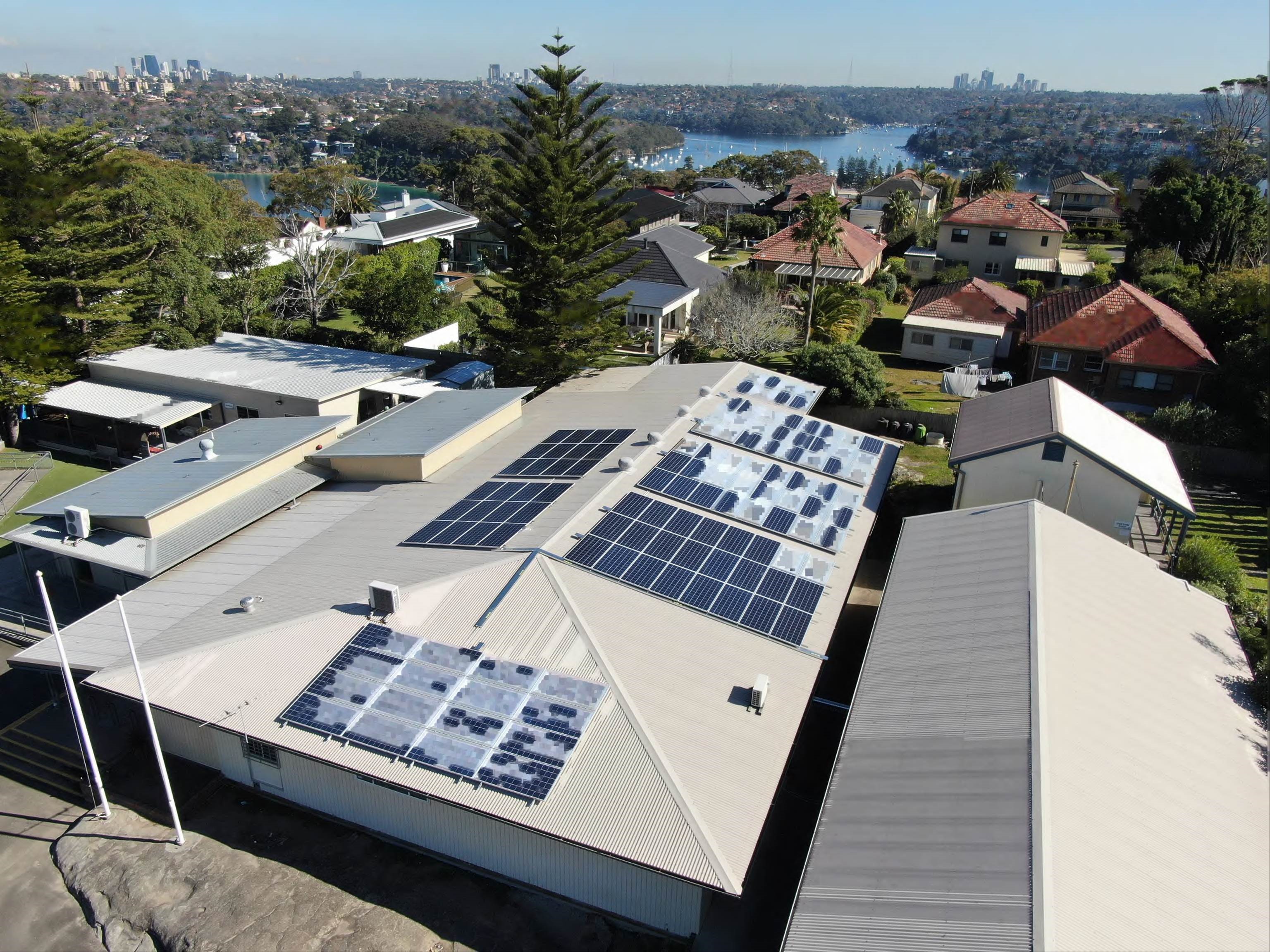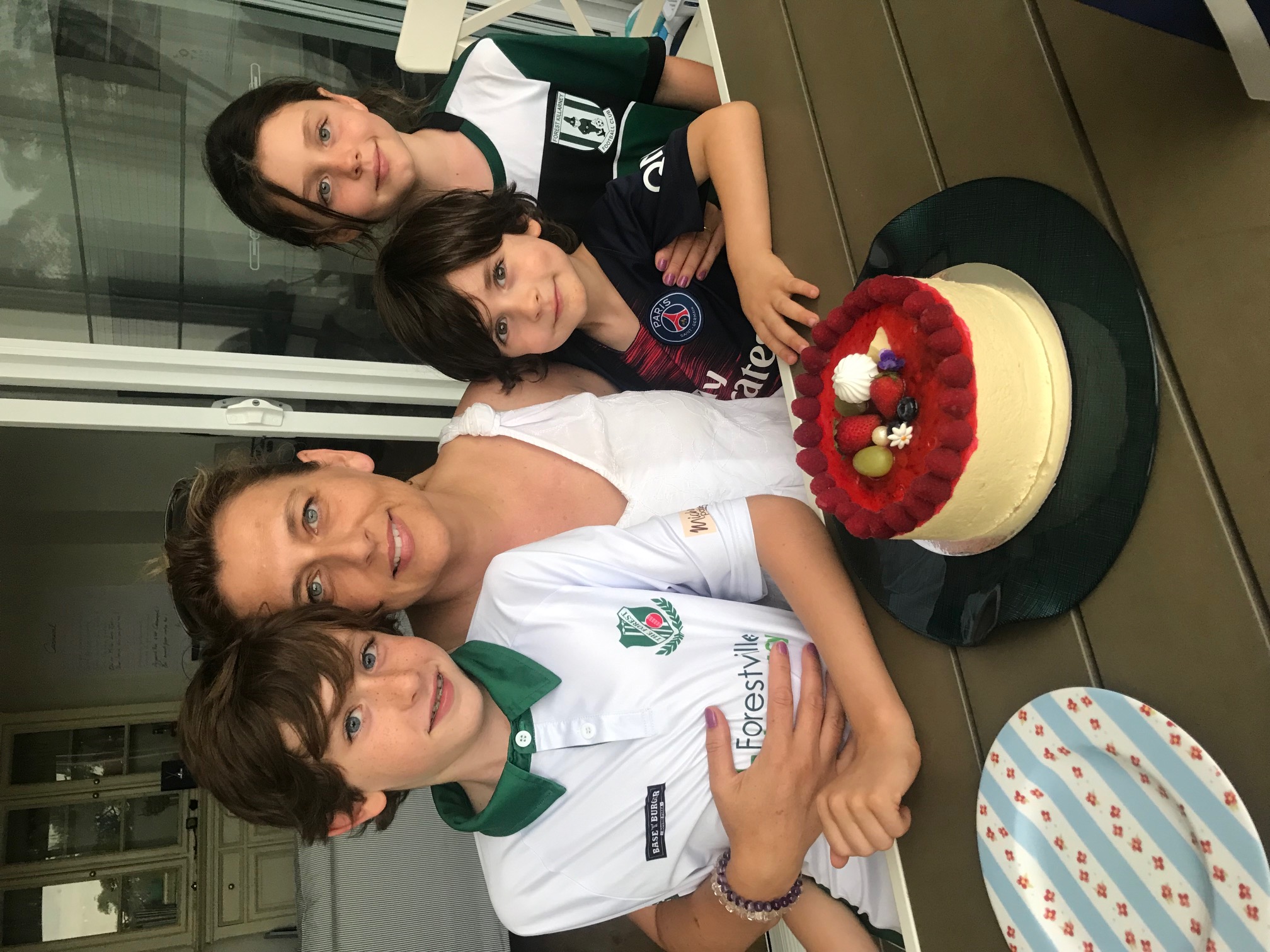 It's always lovely to get feedback from the community about the work we are doing.

"Balgowlah Heights Public School has a number of sustainability programs operating which we value highly. As part of our school's Sustainable Environmental Management Plan we are very appreciative of the P&C Association and the Commonwealth Government for funding of a new 30kw solar system. The system provides a 'real time' application allowing us to monitor our input/output at any time of the day which is an excellent learning tool for our students," – David Shuster Balgowlah Heights PS

"Thank you very much for your help in keeping us updated on the progress of our travel exemption request. Having your support throughout this process has been invaluable. I will let my network know how great Zali's team is." Isabelle Mac Innes, Forestville

COMING UP IN WARRINGAH
The Christmas card competition closes on 23 October. I'm looking for some festive home-grown designs for my Christmas Cards this year. We have a junior category for primary school students and a senior category for high school students - with the winners in each getting their design printed and distributed across Australia. Please email zali.steggall.mp@aph.gov.au or the details can be found HERE


Submissions for an inquiry into the commonwealth electoral amendment (banning dirty donations) Bill 2020 close on 6 November. For more information head to this website.


Mosman Markets are back on! The next Market Day will be the first Saturday of every month – meaning Market Day is on 7 November but will have a limited capacity


My team and I are constantly working to find solutions for you, your family and friends and our general community. You can keep up to date at our website www.zalisteggall.com.au and get in touch by emailing zali.steggall.mp@aph.gov.au or calling the office on 9977 6411 if you have concerns.

Please forward this on to your network of family and friends in Warringah by sending them this link: https://www.zalisteggall.com.au/sign_up 
Do you like this post?