Community Newsletter
14 April 2022
We all knew it was coming but what a relief to finally know the date – Saturday 21 May will be Election Day. Please note though that pre-poll voting will start on Monday 9 May and Postal Vote applications are now available. Please phone my office on 9977 6411 if you'd like advice or assistance on pre-poll or postal voting or visit my website for the latest advice from the Australian Electoral Commission.

We are so lucky to live in a democracy where we are able to express our political opinions and to cast a ballot on election day. Please check your enrolment is up to date to ensure your voice and your vote is counted.

Similarly, if you know someone who has recently turned 18 or who has become an Australian Citizen please encourage them to enrol. It takes less than a minute and all you need is your driver's licence or passport.

To check your enrolment or to enrol for the first time visit www.aec.gov.au

We all have until 8pm on Monday 18th April to get our names on the electoral roll!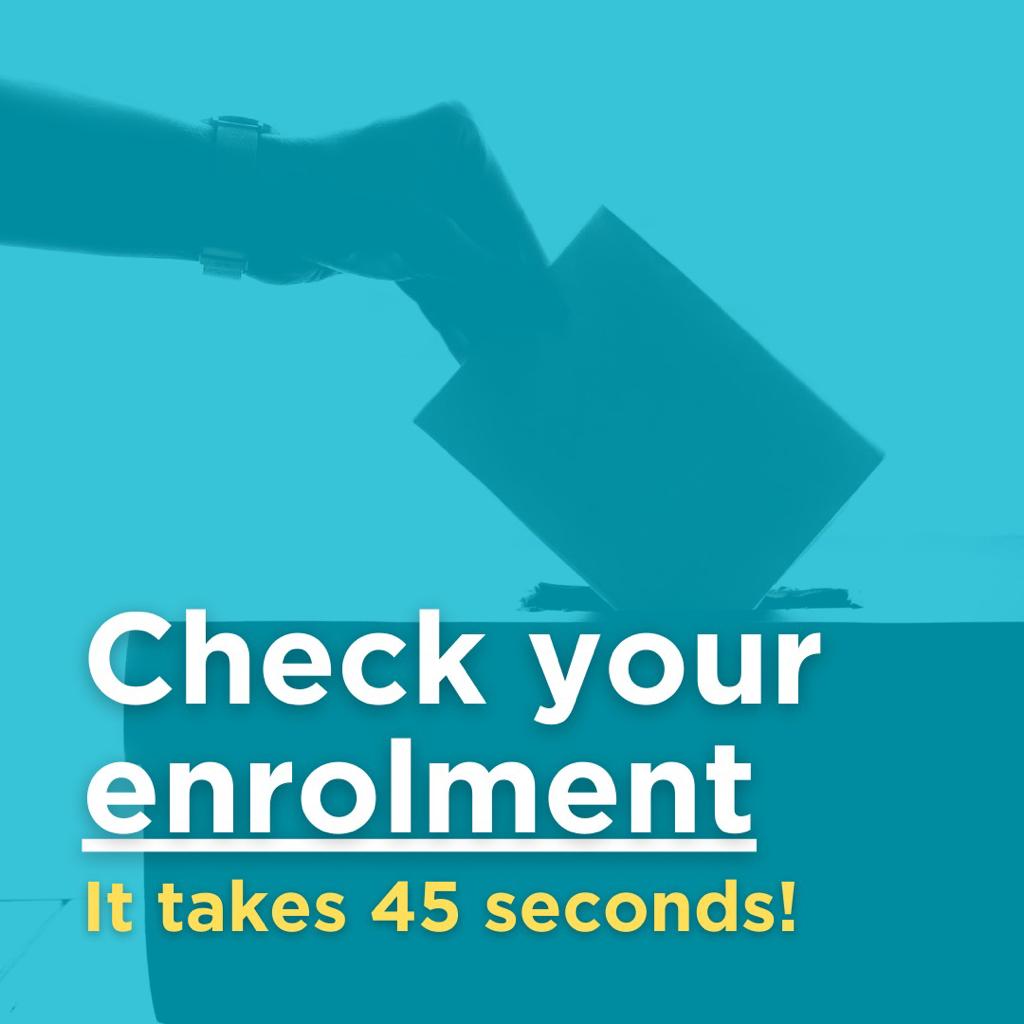 But apart from the Federal Election finally being held, there's been lots of other things happening in Warringah and lots to keep you updated about.
 
Happy Reading – and please feel free to share any of the information or details with your wider networks:

Town Hall Meeting: It was great to meet with members of the Neutral Bay and Cremorne community at our Town Hall gathering at the end of March. I was able to provide an update on the work my team and I have been doing and to hear from you about your issues and concerns. You can view a recording of the forum here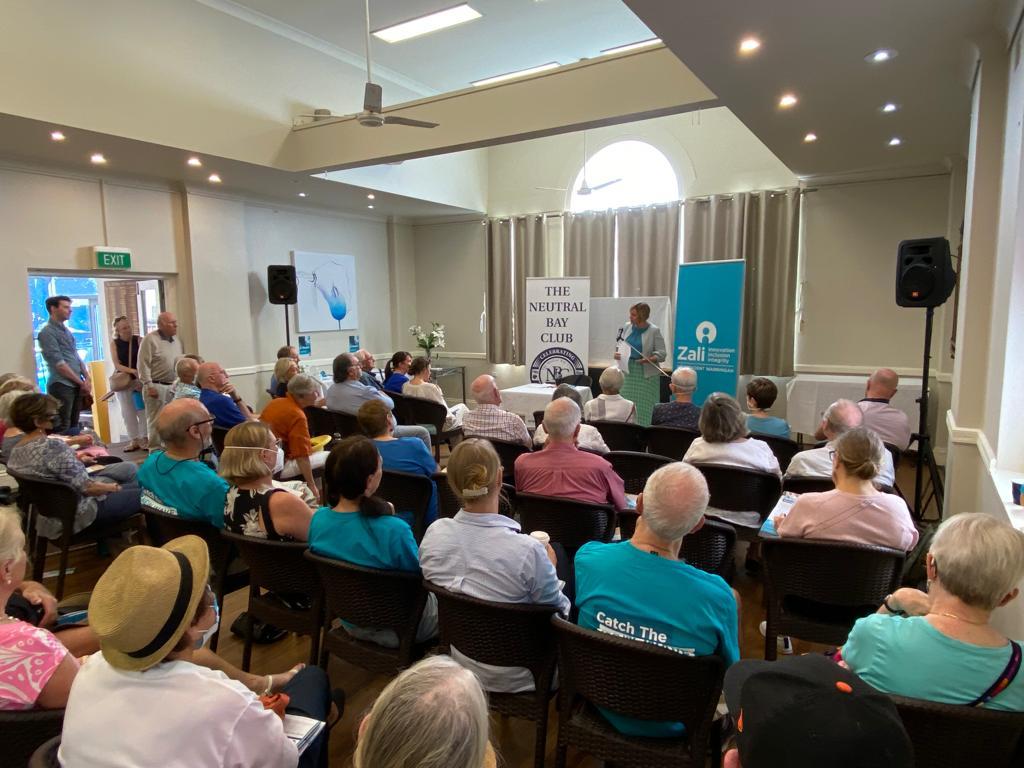 See below for details about our next Town Hall meetings on 21 April and 1 May
 

Youth Ambassadors Forum: What better way to start Youth Week 2022 than to meet with the incredible student leaders from our local high schools. Once or twice each term I convene a meeting of the Warringah Youth Ambassadors to hear about the many issues affecting our young people. It's so important that their voice is heard. Whenever I meet with our young people I come away so inspired. Special thanks to Etienne Gilbert (aka "ET"!) from Youth Up Front who came and spoke to the group about the challenges and opportunities transitioning from school to the workforce. Warringah's future is in very good hands!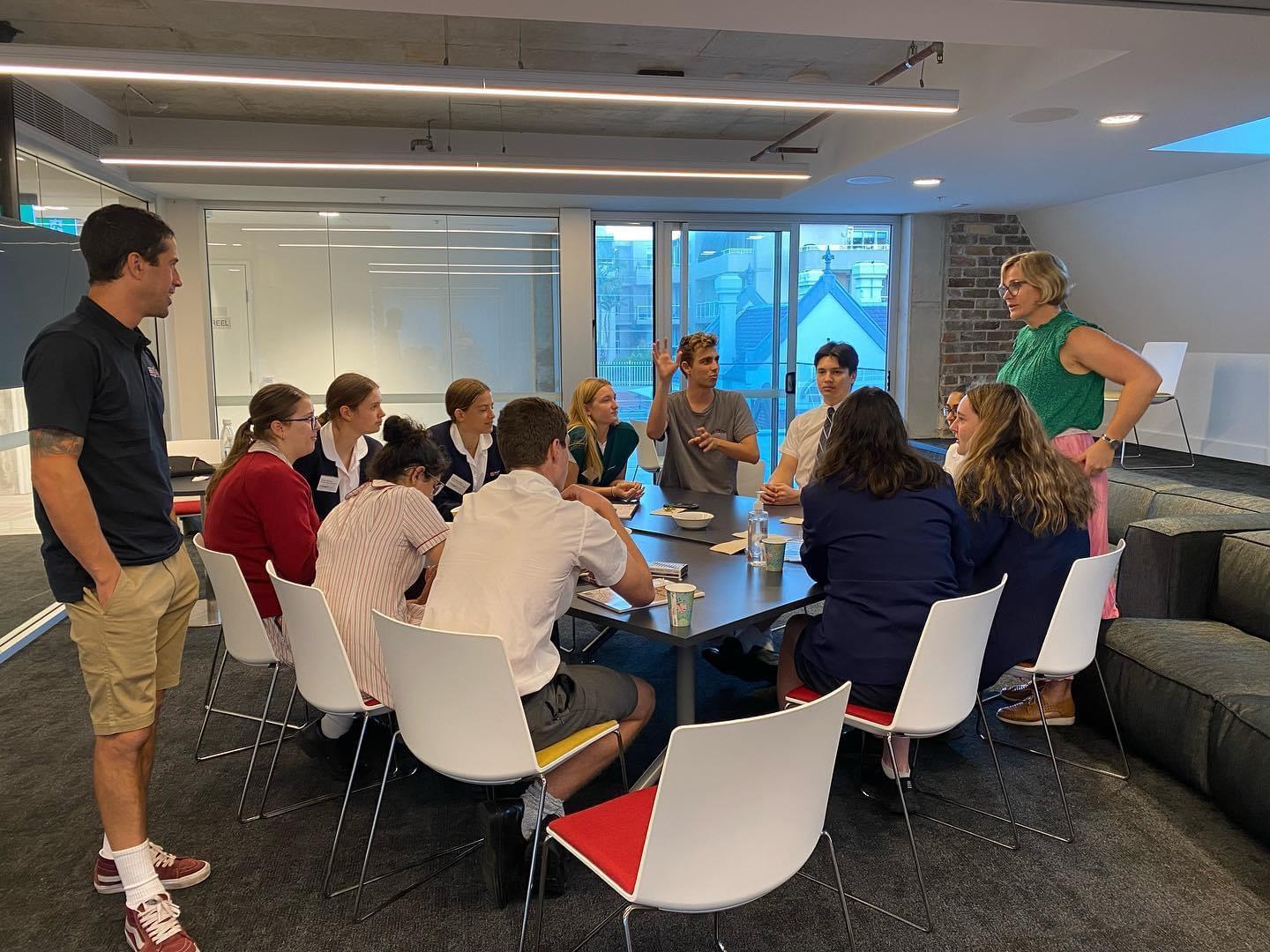 Woolworths visit: I recently had a "behind the scenes" tour of Woolworths at Warringah Mall to learn more about their efforts in sustainability and corporate responsibility. From packaging to energy consumption, from food waste to food transport, it's clear they are wanting to tidy up their industry. The big supermarkets have a long way to go but I was genuinely impressed by the progress they are making. Next time you pop to the shops, don't forget to take your green bags and to drop off your soft plastic recycling. I was pleased to see that Woolworths now take old batteries and mobile phones as well – It's the little things that all add up to a sustainable future. Together we can do better!!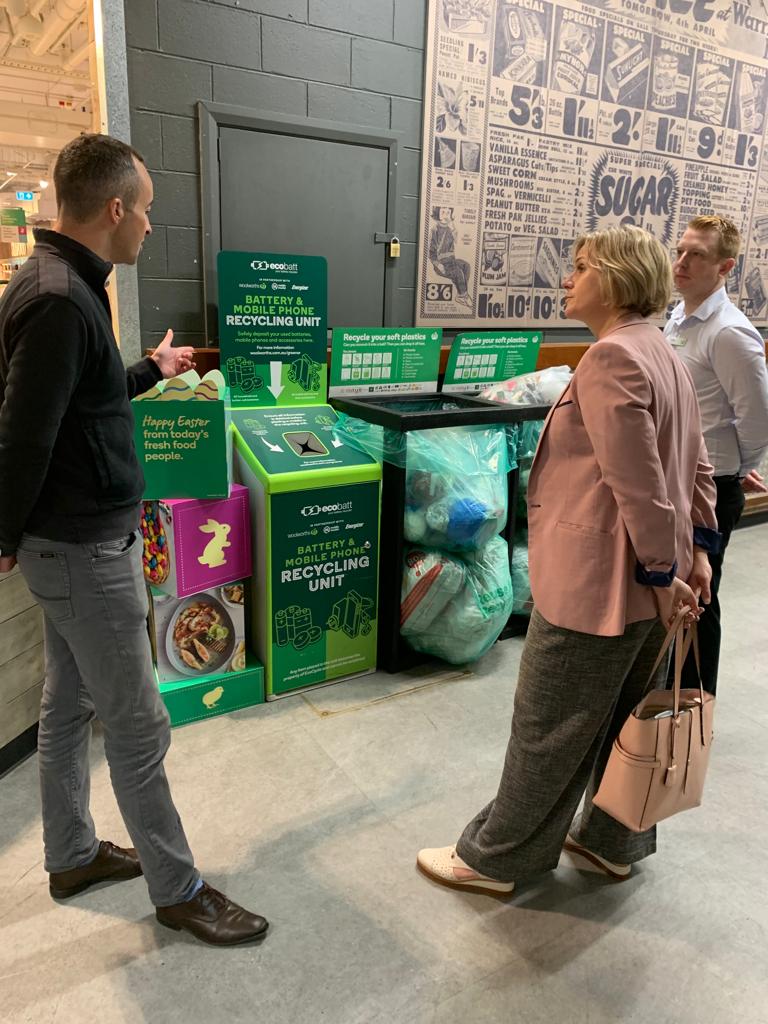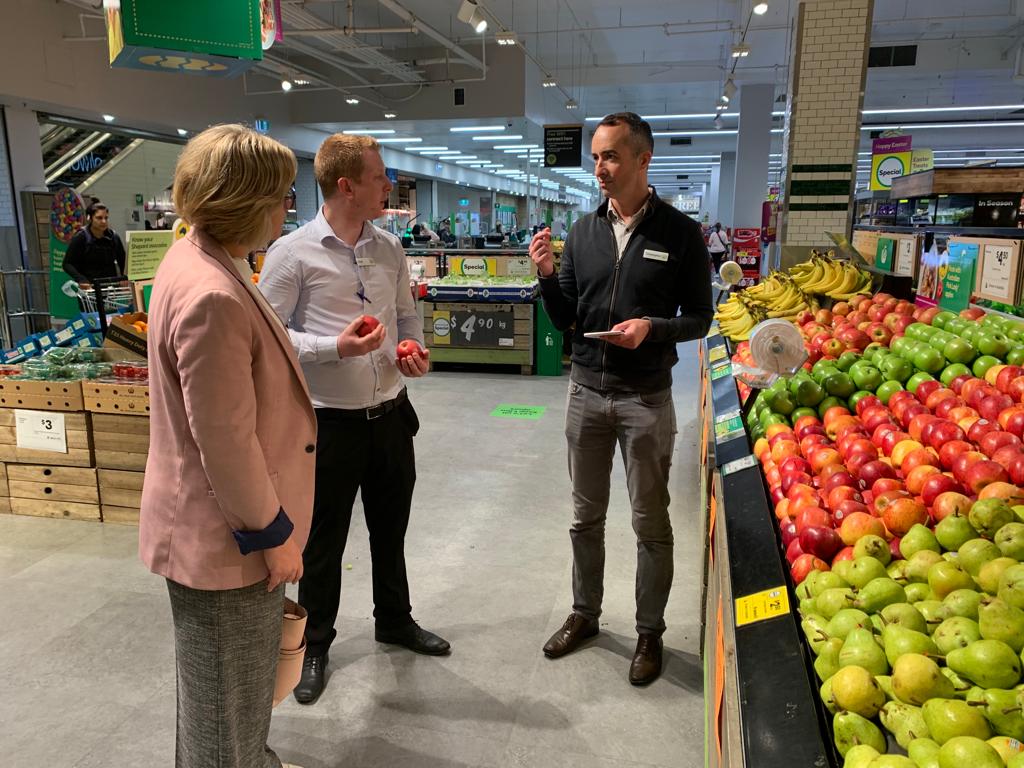 Launch of Youth Up Front: Some of you may be aware of the organisation previously known as the Business Education Network or "BEN". Well in exciting news, they have relaunched as "Youth Up Front". They are a Northern Beaches based group who help teenagers and young adults transition from school into adulthood. They help to equip and guide young people, drawing on the values of collaboration, empathy, respect, integrity, responsibility and teamwork. It was an uplifting event to attend their relaunch and I wish them all the best on their new journey.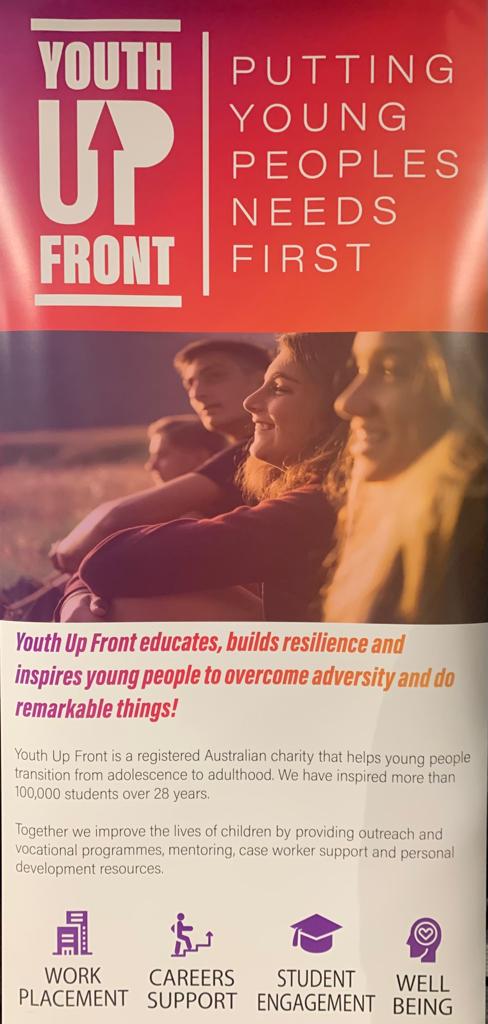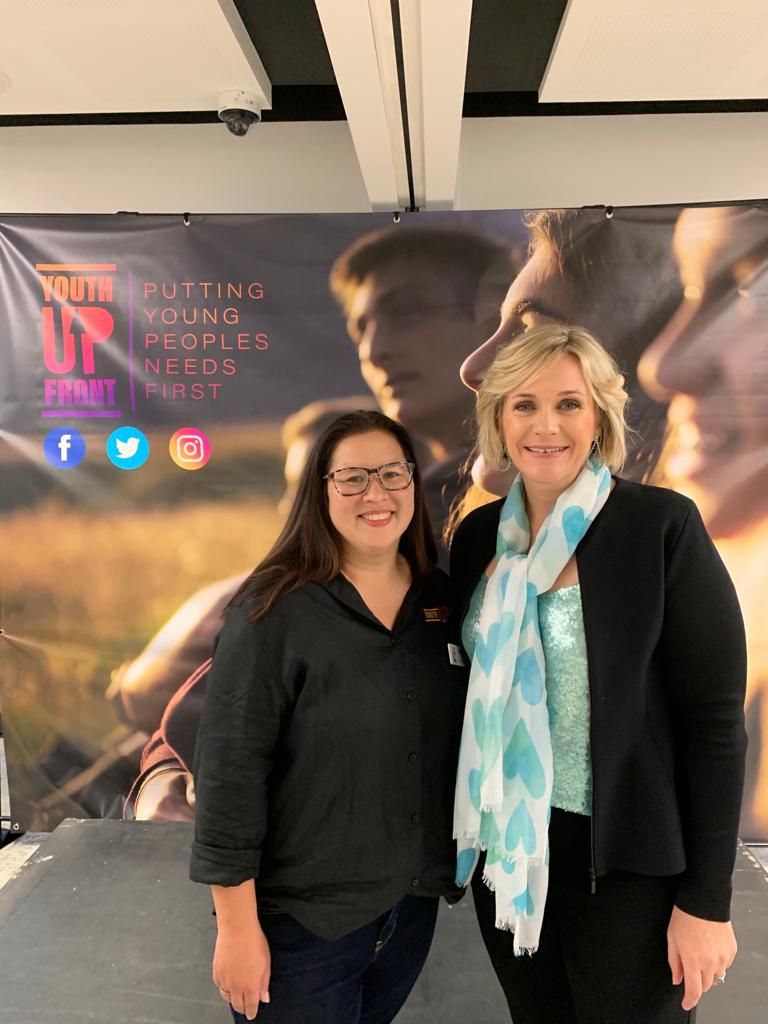 Ukraine Fundraiser: A huge and heartfelt thank you to the members of the Warringah community who helped organise the recent "Help for Ukraine" fundraiser at the Mosman Art Gallery. The war unfolding in that devastated country is just heartbreaking and at a time when we all feel so helpless, it was nice to be able to contribute in some small way. On the night, the community raised thousands of dollars – money that will now go towards much needed medical supplies being transported in across the border.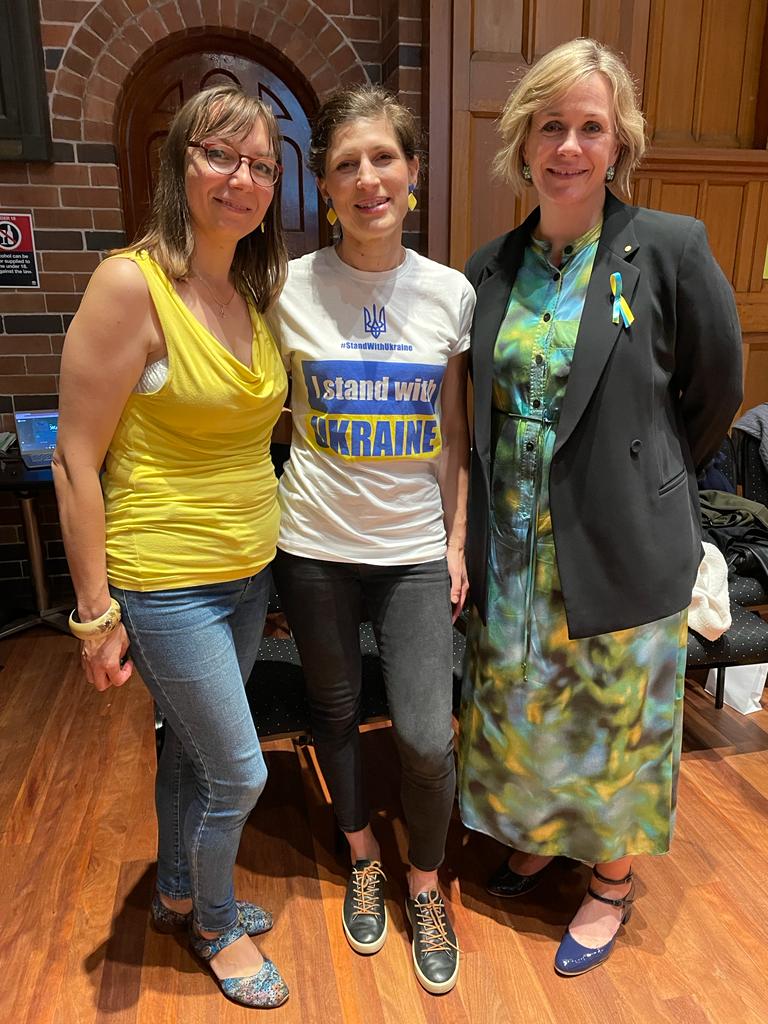 In late March, I had the immense honour of representing the community of Warringah when His Excellency Volodymyr Zelenskyy, the President of Ukraine, addressed the Australian Parliament. It was an incredible example of fearless leadership, the kind of front line bravery that we would wish to see in our own leaders. As a nation we now need to show our ongoing support for Ukrainian refugees and stand in solidarity with them against violence.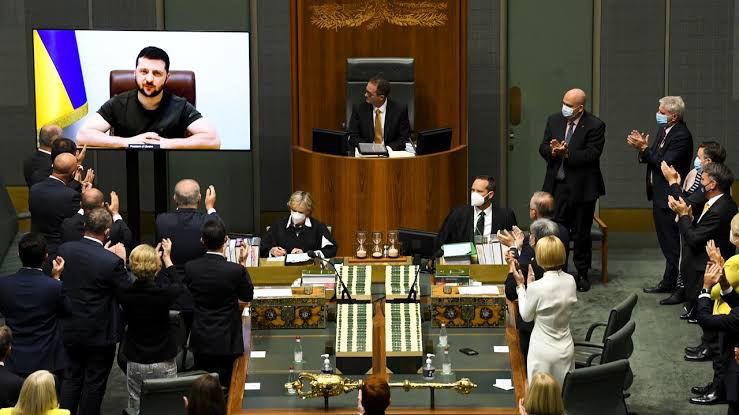 I encourage you to consider donating to one of the following international aid groups providing refuge, assistance and hope to the people of Ukraine:

Red Cross
UNICEF
CARE Australia
World Vision Australia
Caritas
Save the Children
 

ANZAC Services: ANZAC day is only a few weeks away and I'm so pleased that after two years of some restricted services and not being able to gather together, this year public ceremonies will once again be held across Warringah. Already, I've had the honour of attending ceremonies hosted by the Balgowlah, Seaforth, Clontarf RSL Sub Branch and the Mosman RSL Sub Branch.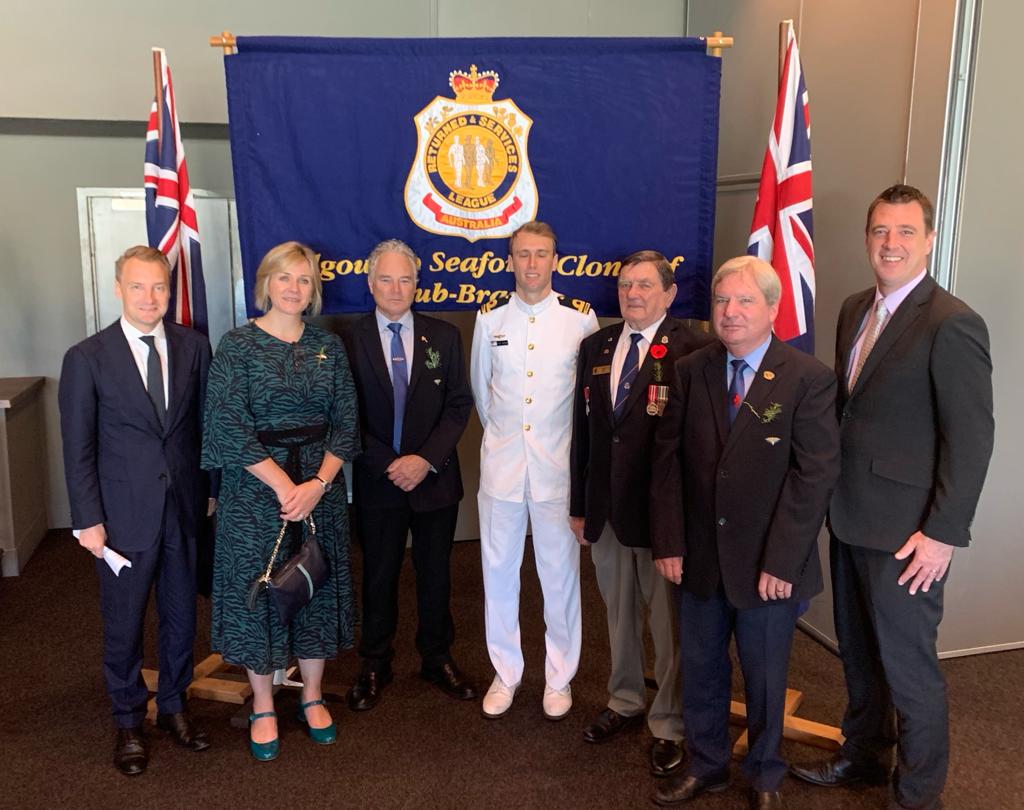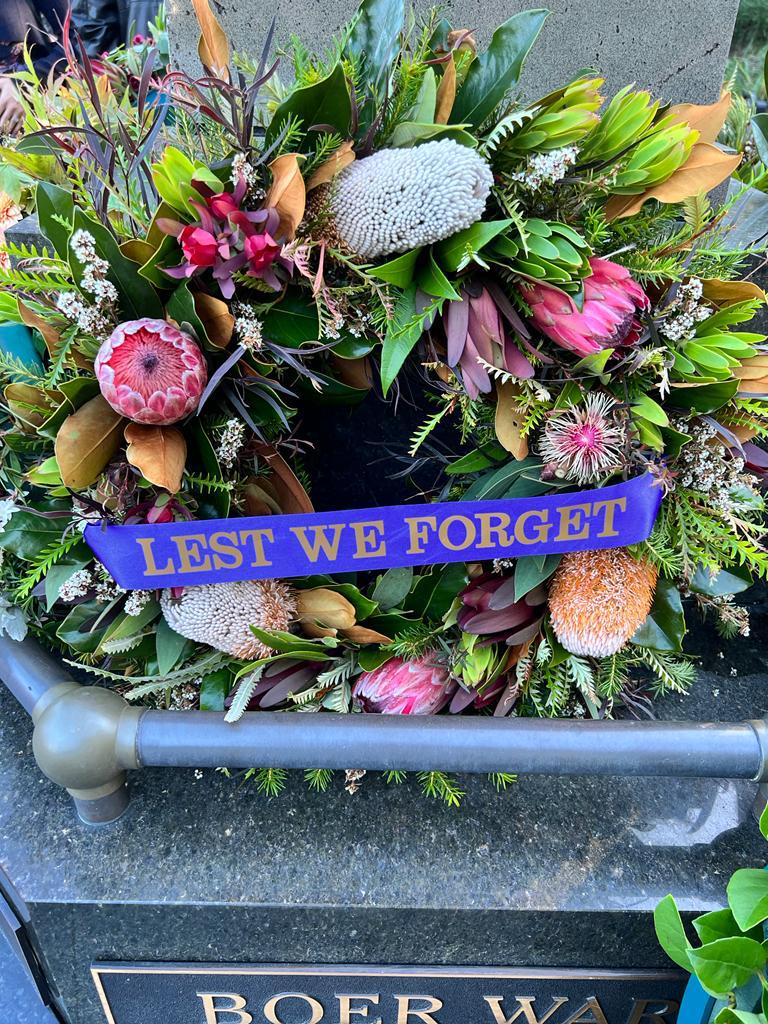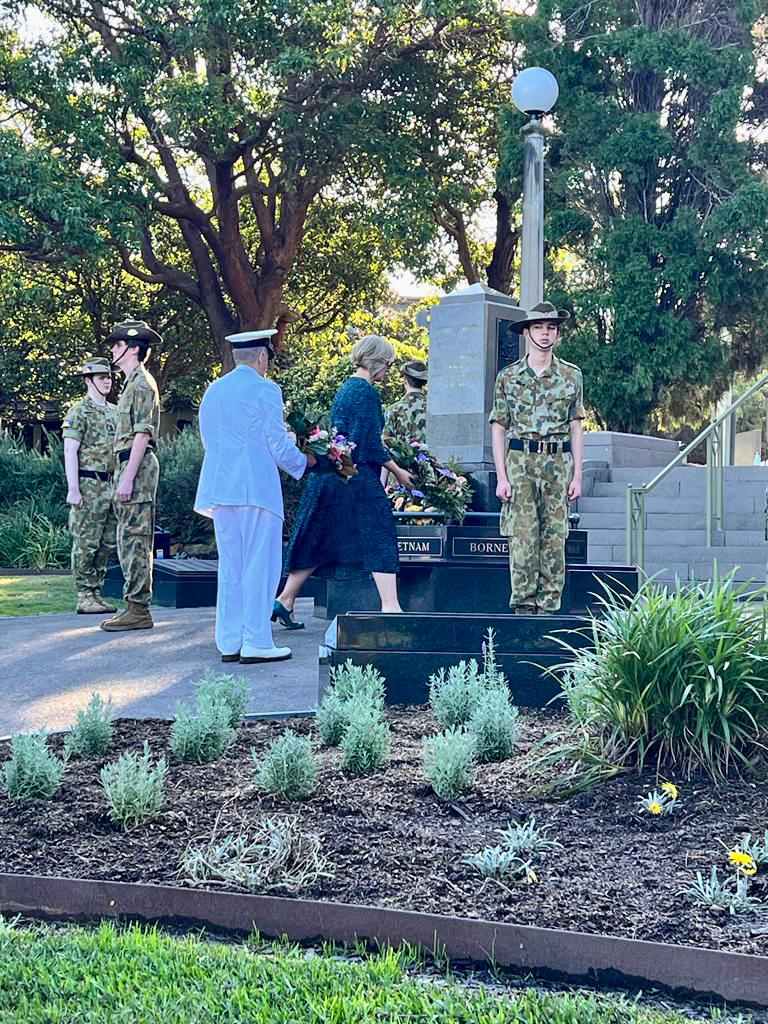 I encourage you to contact your local Council or RSL club to find out about ceremonies taking place on the 25th of April.

You can also phone my office on 9977 6411 to find out what services and events are happening in your neighbourhood. It's important that we take the time to pause and reflect to remember the sacrifice made not only by those who gave their lives but also those who returned home forever changed by their experience of war. Lest We Forget. 

 BUDGET WEEK AT PARLIAMENT
2022-2023 Budget: The final sitting week of the 46th Parliament may have been a short one but it was certainly a busy and important one. The week was obviously dominated by The Federal Government handing down their much anticipated budget but it was all rather disappointing. In my view, the 2022-2023 Budget is extremely short term and geared towards the upcoming federal election with overt pork barrelling in marginal seats. It does not address the structural challenges the economy is facing which include flatlining wages growth, stagnant productivity, growing debt levels, worsening climate change and degradation of the environment. My team and I have provided an analysis of the Government's Budget here.

The day after the budget was handed down I had the opportunity to offer my feedback on it in a speech to Parliament: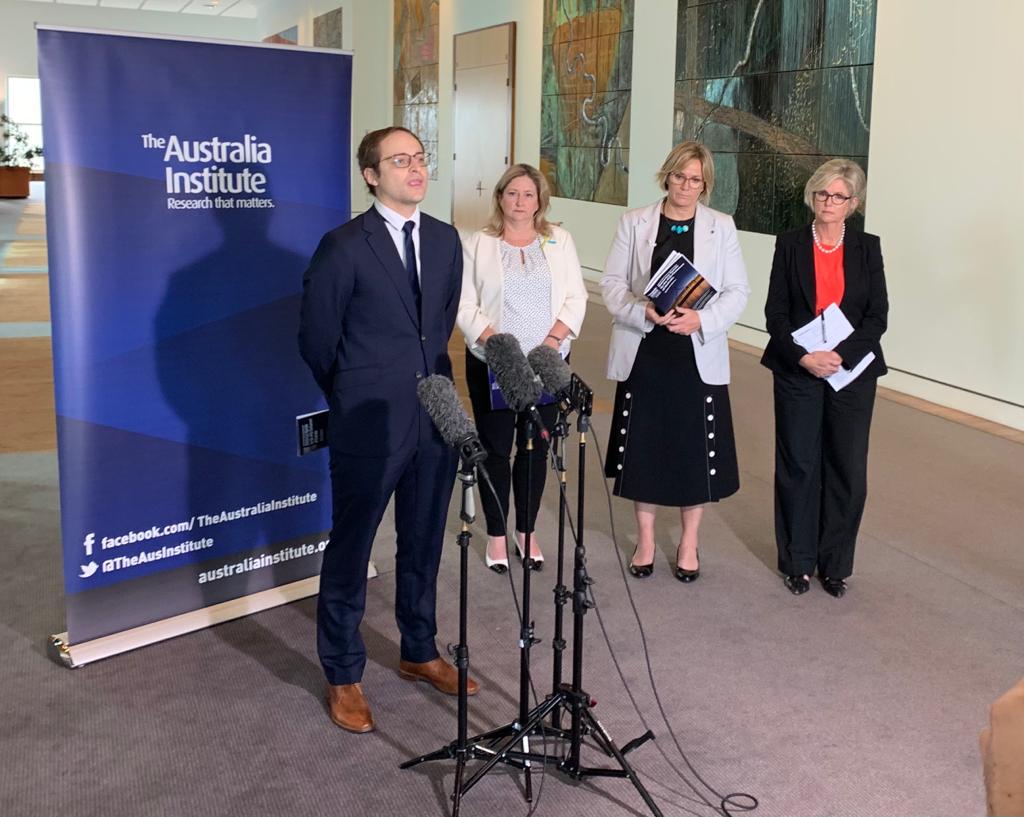 Reform of Parliament: That week in Parliament, I also joined with Rebekha Sharkie and Dr Helen Haines to launch The Australia Institute's report outlining potential democratic reforms for the next parliament, including:
• A federal ICAC with teeth
• Truth in political advertising laws
• Code of Conduct for MPs
• Ministerial diaries to be made public
• Reforms to Question Time
• Private Members' business to be voted on
• A ban on political fundraising events at Parliament House

Throughout my first term in Parliament I have been shocked by Government's reluctance to fix obvious threats to our democracy. Lies in political advertising are still perfectly legal, there is no code of conduct for MPs, and there is still no Federal ICAC – that promise from the Prime Minister is now 3 years old.  I believe in the next Parliament we can and should do better. To view the full reform agenda click here.



 

Q + A Budget Special – It's always interesting being invited onto the ABC's Q + A program, especially when you know the Deputy Prime Minister is also appearing! It was a lively discussion covering a range of important issues from housing affordability, the Government's obsession with fossil fuels, and yes speculation over the future leadership of the Liberal Party! To watch the episode visit ABC's iView.

 
GenZali and David Pocock – My week in Canberra ended on a real high, catching up with some of the GenZali members who are studying at the Australian National University. On a chilly Canberra morning we caught up for coffee and we were joined by one of the independent candidates for the Senate in the ACT, David Pocock. It was great to hear their thoughts, concerns and hopes. I always get so encouraged when I chat with our younger generation and come away feeling our future is in very safe hands!

Good luck to David and to his fellow independent ACT Senate candidate Kim Rubenstein. It would be great to have you both in "the House"!!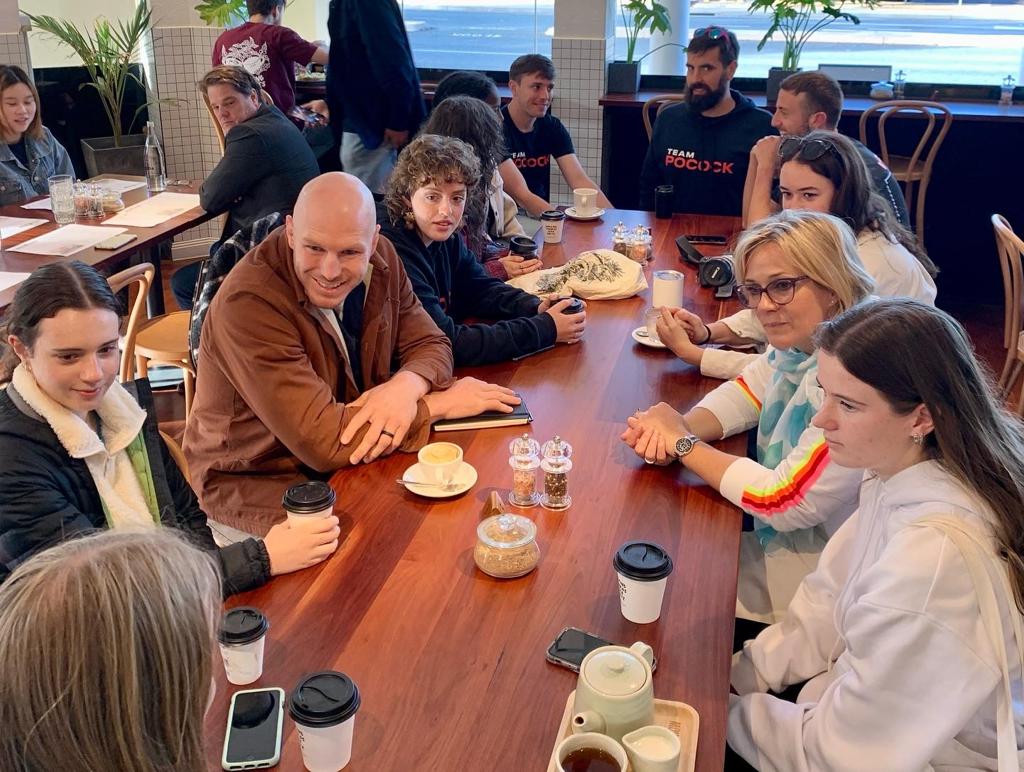 ENVIRONMENT NEWS– PEP11 finally dead
Arriving back home, it was terrific to hear the great news that PEP 11 is officially dead.
In the dying days of this Parliament it was the outcome we were all waiting for. The license to drill for oil and gas off the coast from Manly to Newcastle was finally rejected by NOPTA and it was nice to finally see it in writing: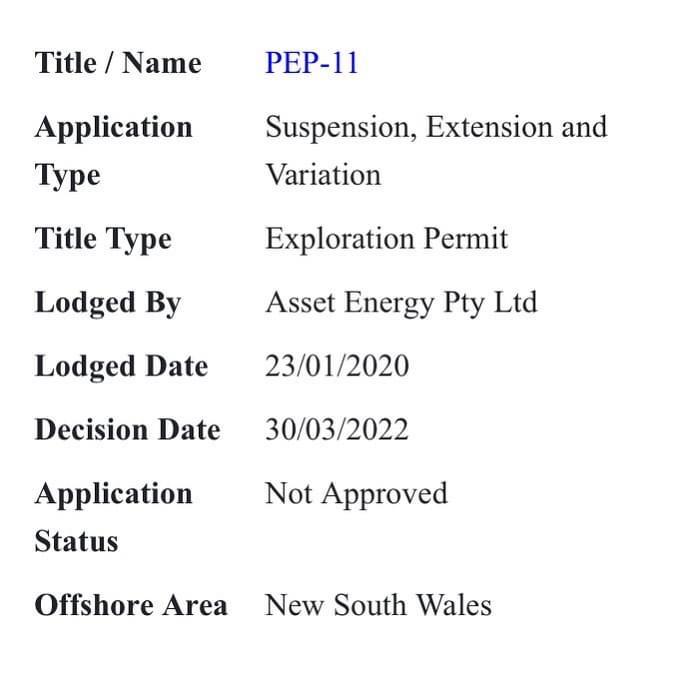 It was an honour to represent many passionate people who care deeply about our environment - to take your signatures to Parliament, and to introduce the Stopping PEP11 Bill at the end of last year. Many voices came together for this result, among them the various Surfrider Foundation groups, Surfers for Climate and of course Save Our Coast.
 
Congratulations all!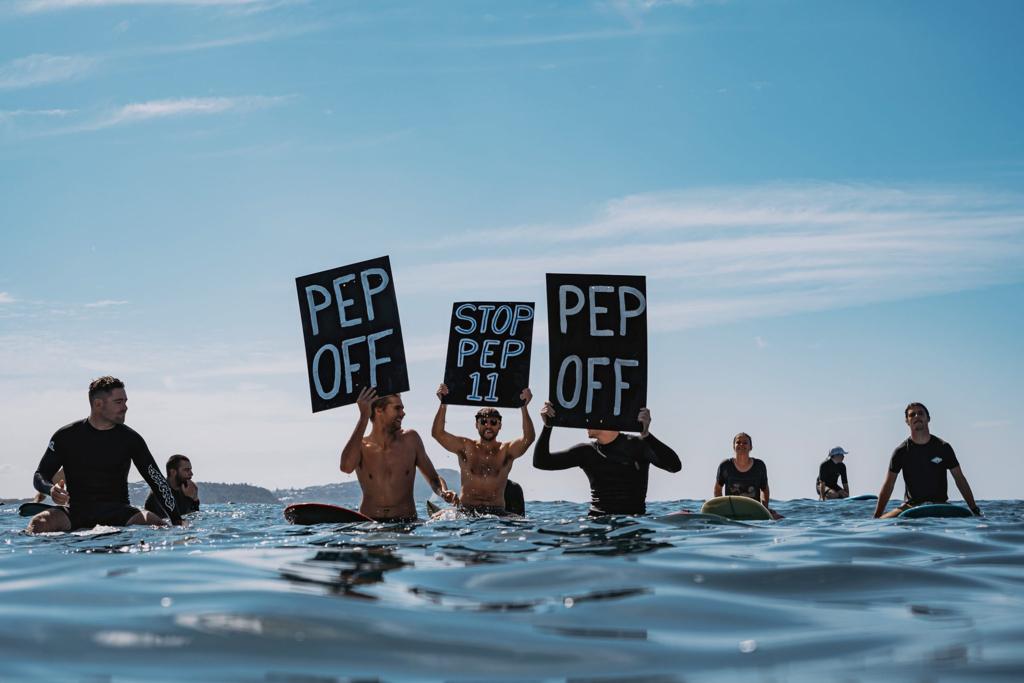 OUT AND ABOUT WITH TEAM ZALI VOLUNTEERS
Over the last three years it's been so disappointing not being able to gather together more regularly but since the beginning of the year, my amazing team of volunteers have been regularly getting together across Warringah. You may have seen them out and about. There is nothing "fake" about Team Zali - these are passionate locals who are determined to see politics done differently and want to keep Warringah strong and independent. They set a cracking pace and over recent weeks I've been catching up with them at Forestville, the Mosman Markets, Allambie, Seaforth, Balgowlah, Freshwater, Manly Vale and of course at Spit Hill the morning after the election was announced. Keep an eye out for your local group. If you'd like to join in the fun and sign up for Team Zali, we'd love to have you onboard, simply click here.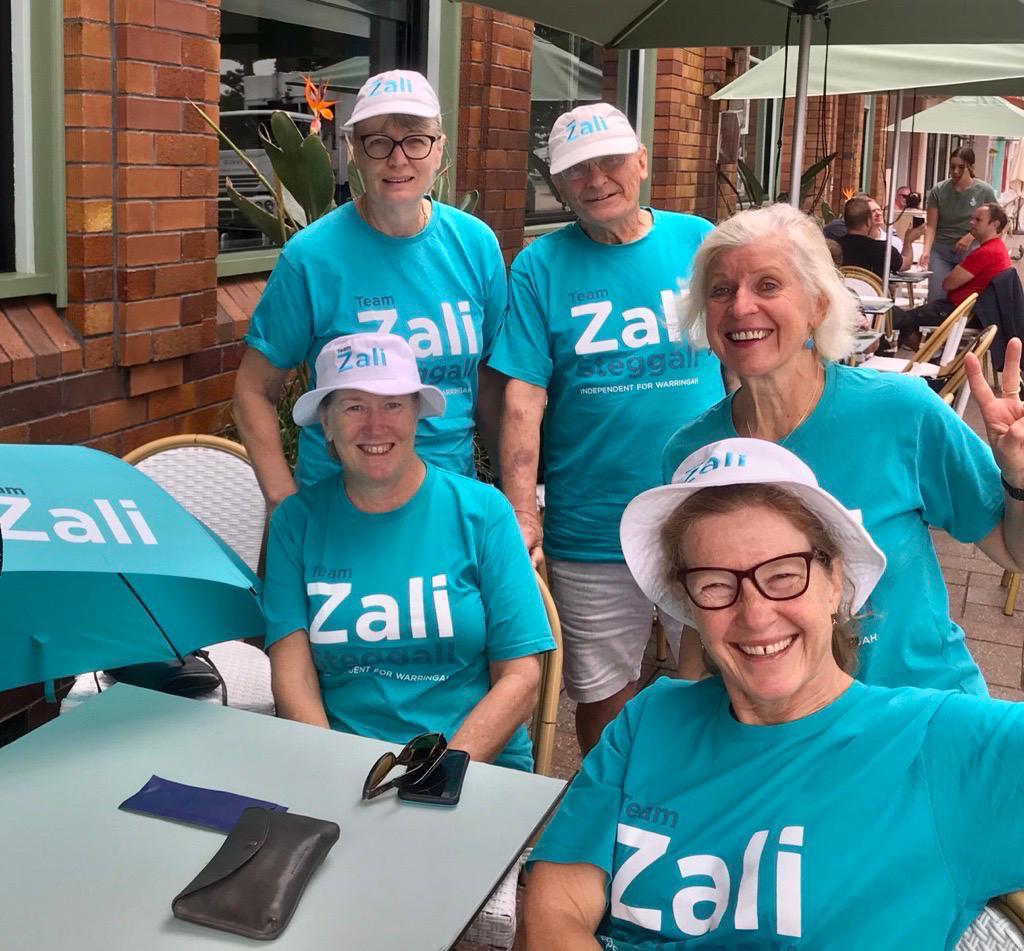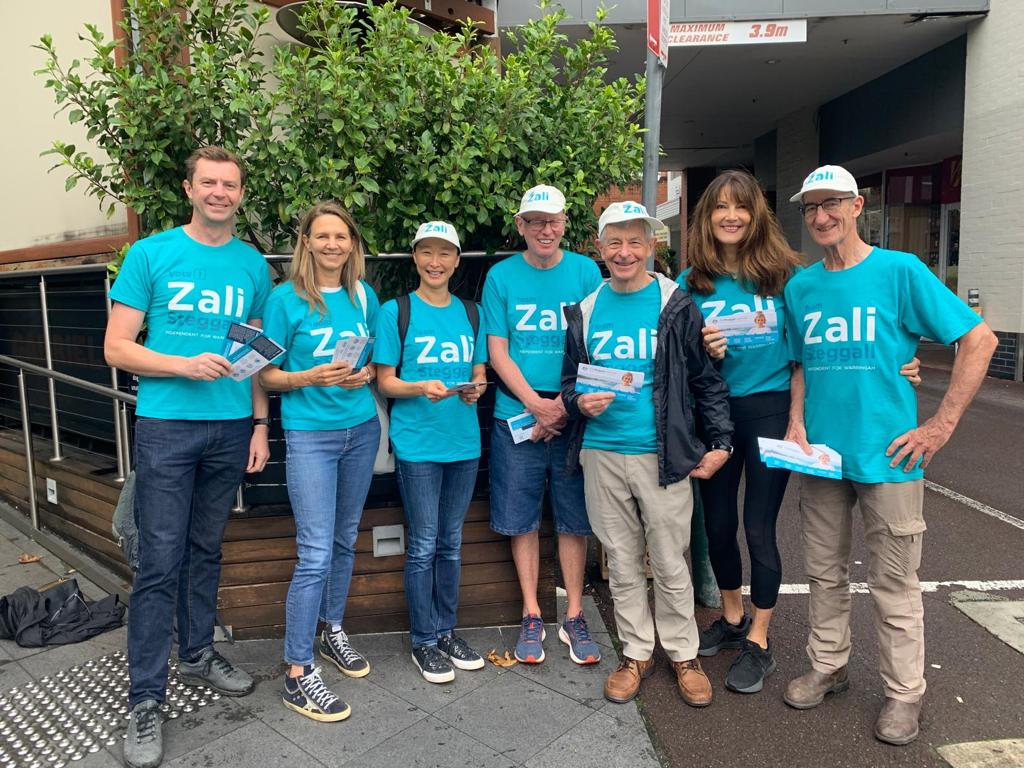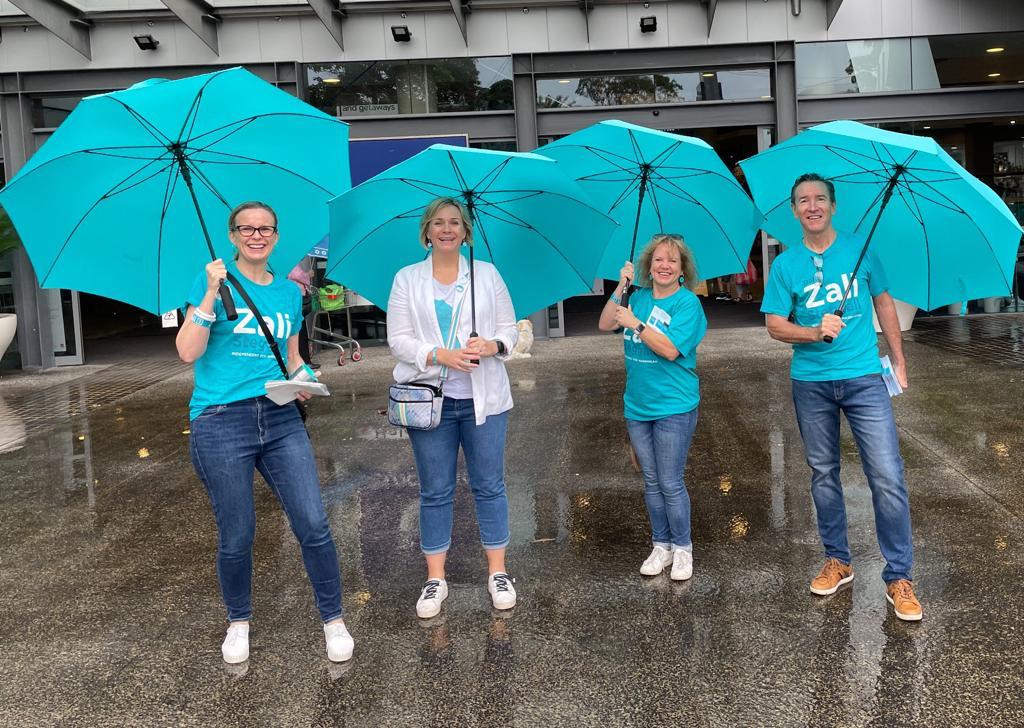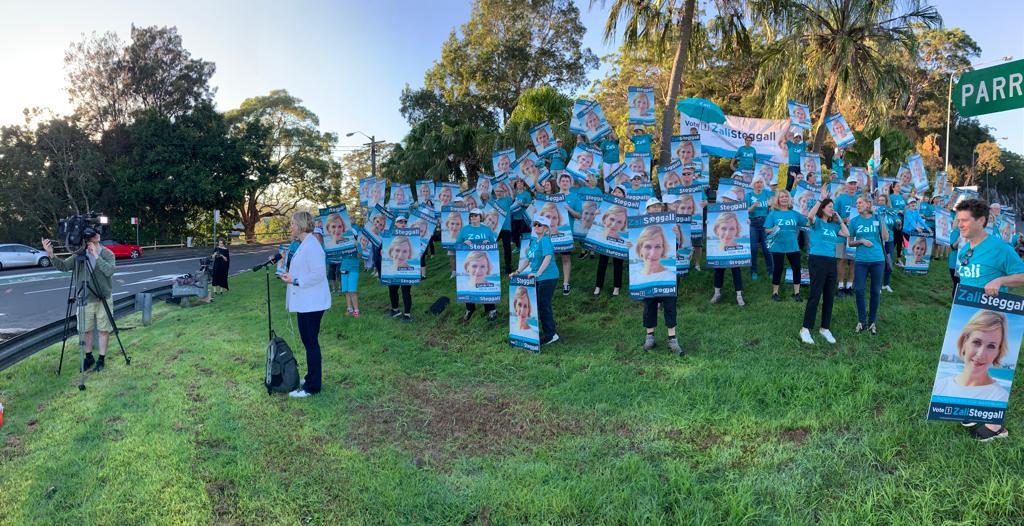 A special shout out to the amazing Team Zali crews who helped out at the postponed "Clean Up Australia" activities at Sirius Cove and North Harbour Reserve!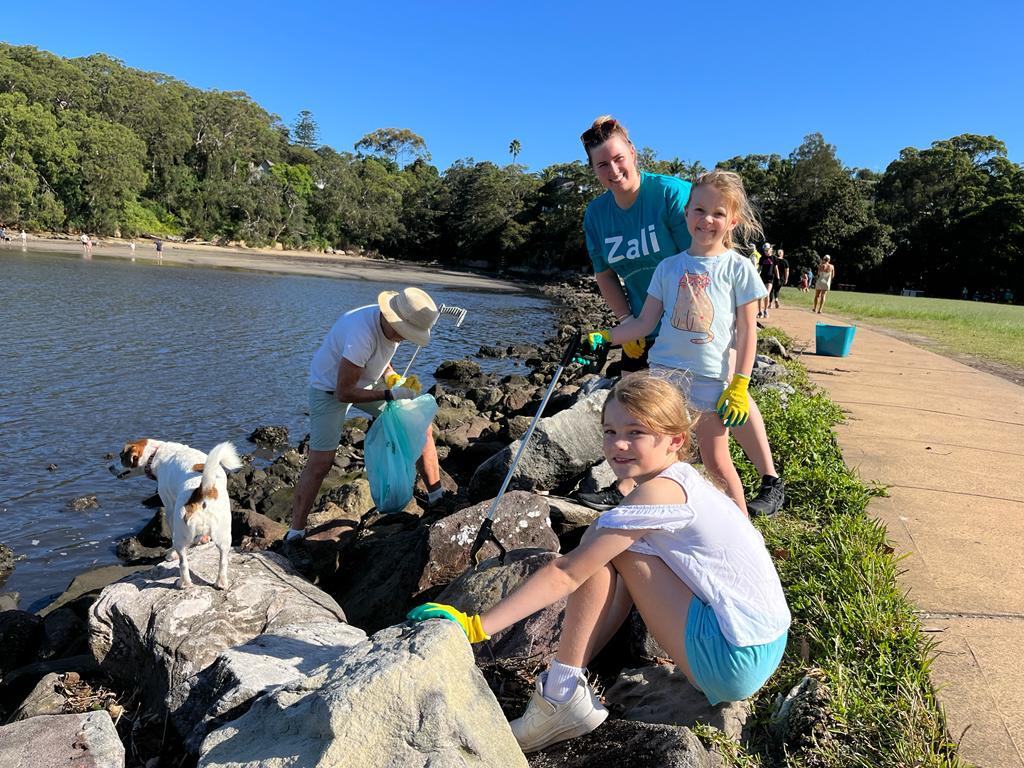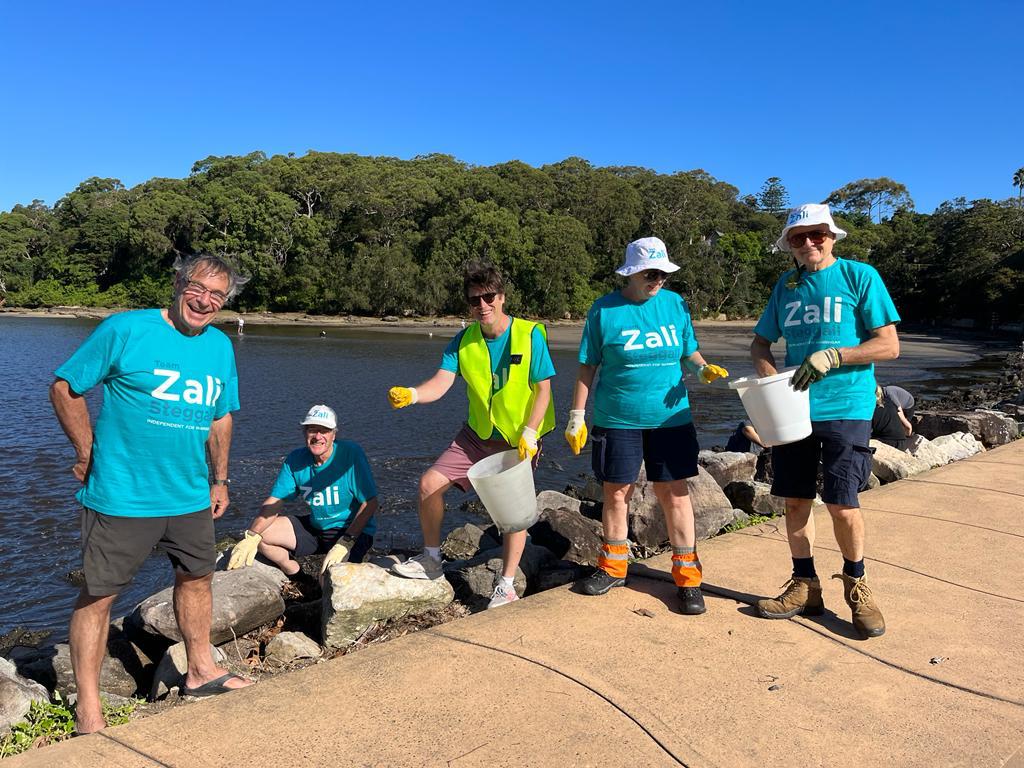 2022 CAMPAIGN LAUNCH 
It was certainly a sea of turquoise that filled The Steyne Hotel on Thursday 7 April when hundreds gathered to officially launch my 2022 re-election campaign. Special thanks to Lana Kelly for the very moving Acknowledgement of Country and Russell Dawson for his didgeridoo performance. And to Rodin Genoff for being our wonderful MC and keeping us all on time. I was so inspired by the speeches from the awesome Layne Beachley AO and Alexia Giannesini – I'll be posting them on my social media over coming days so please keep an eye out for them!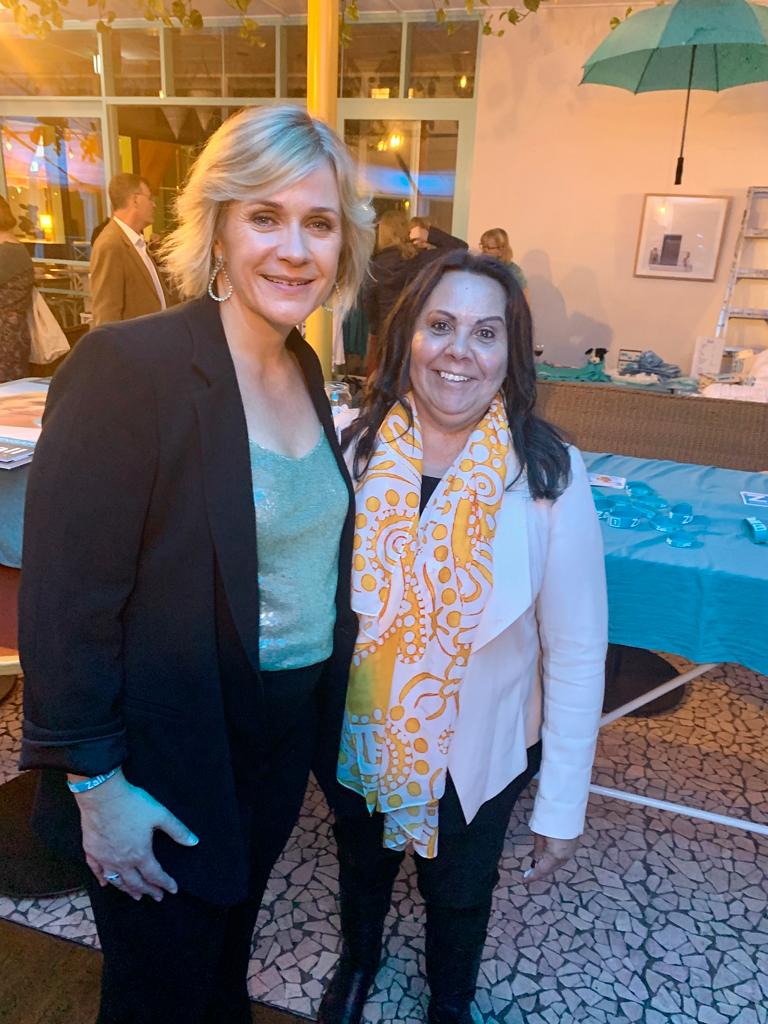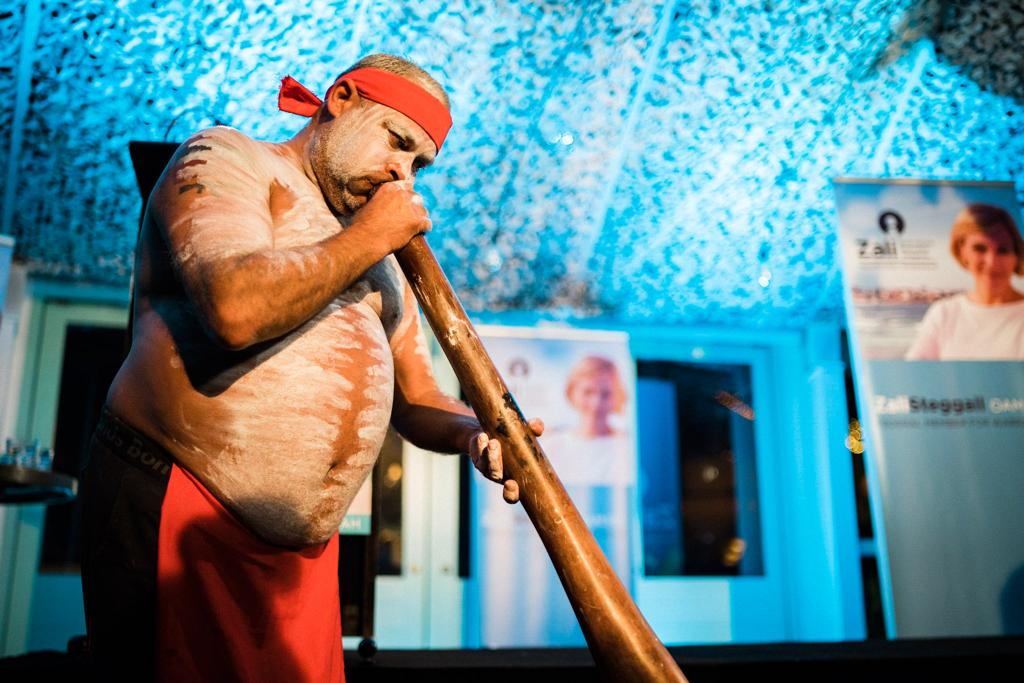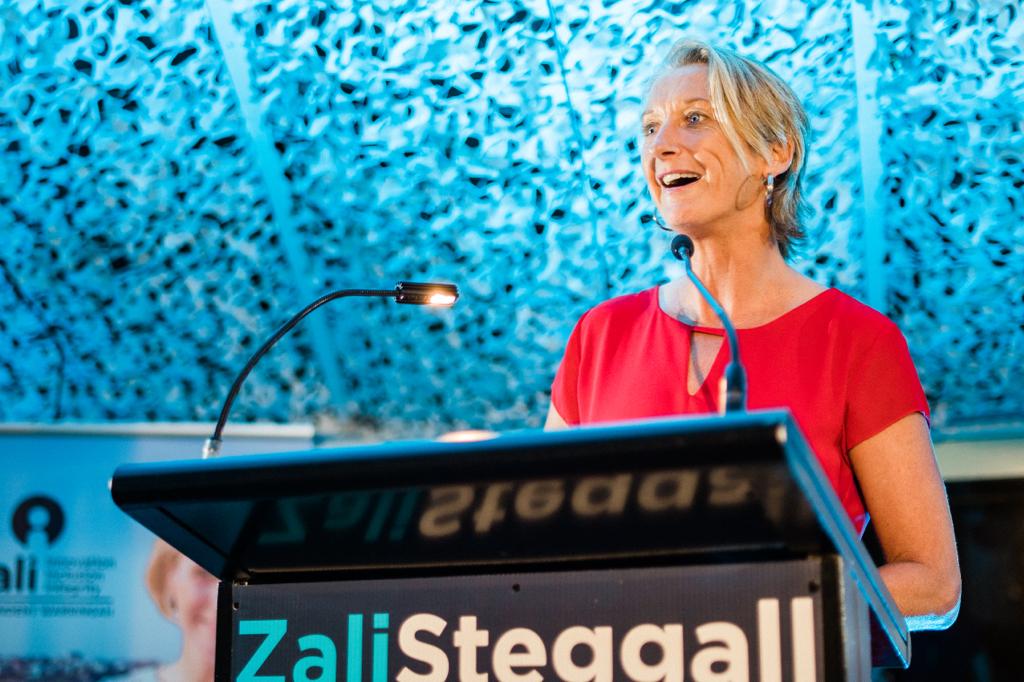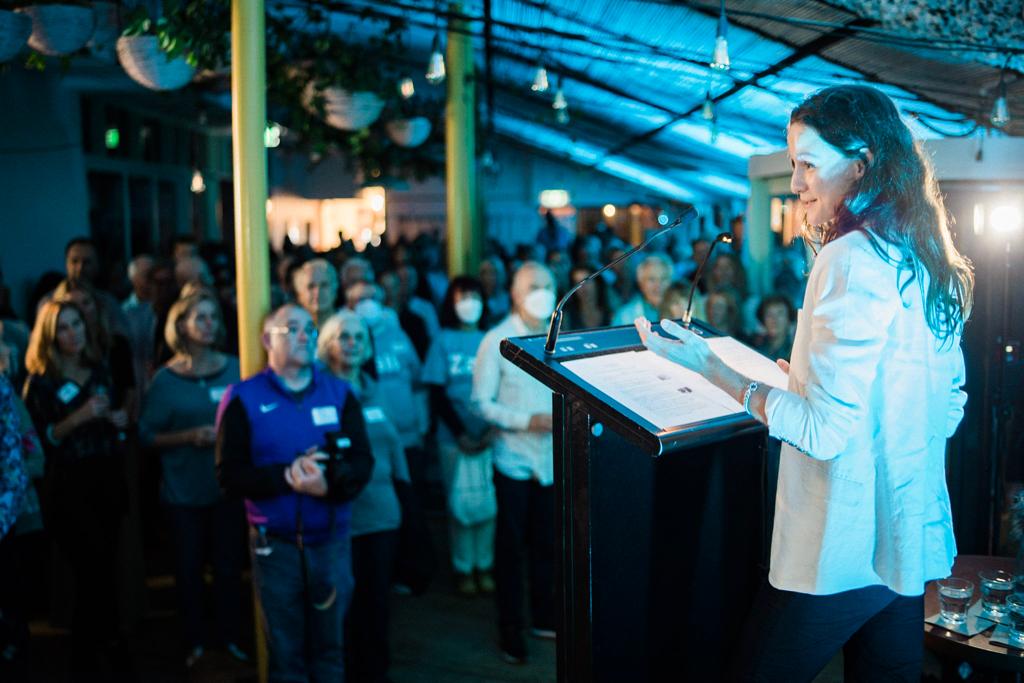 The energy in the room that night was amazing and I feel so excited – even joyful – about the road ahead as we fight to keep Warringah strong and independent.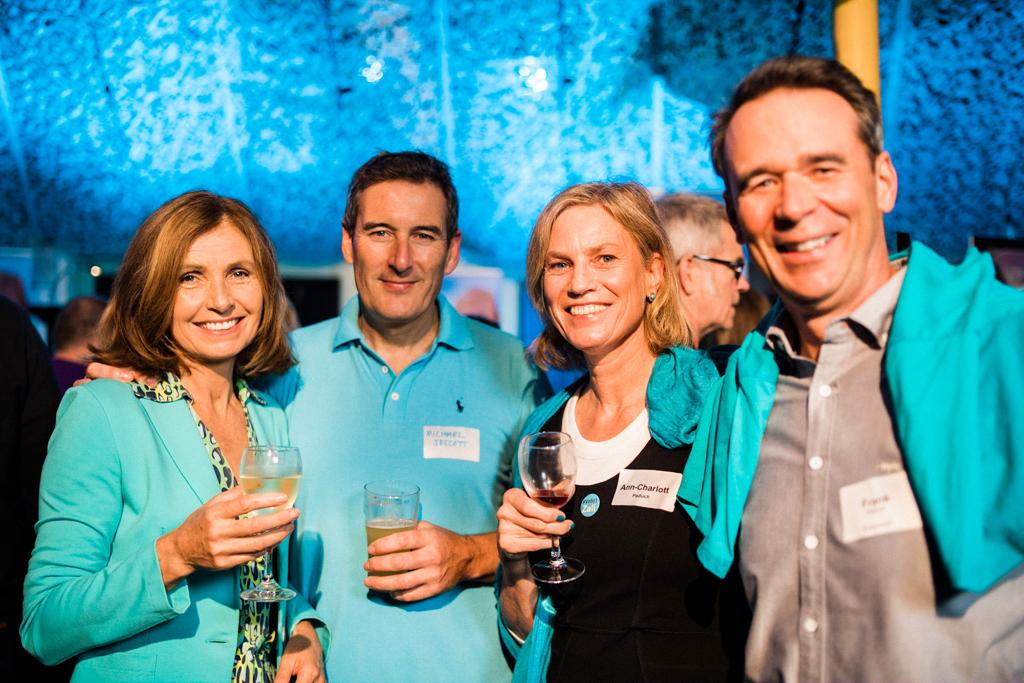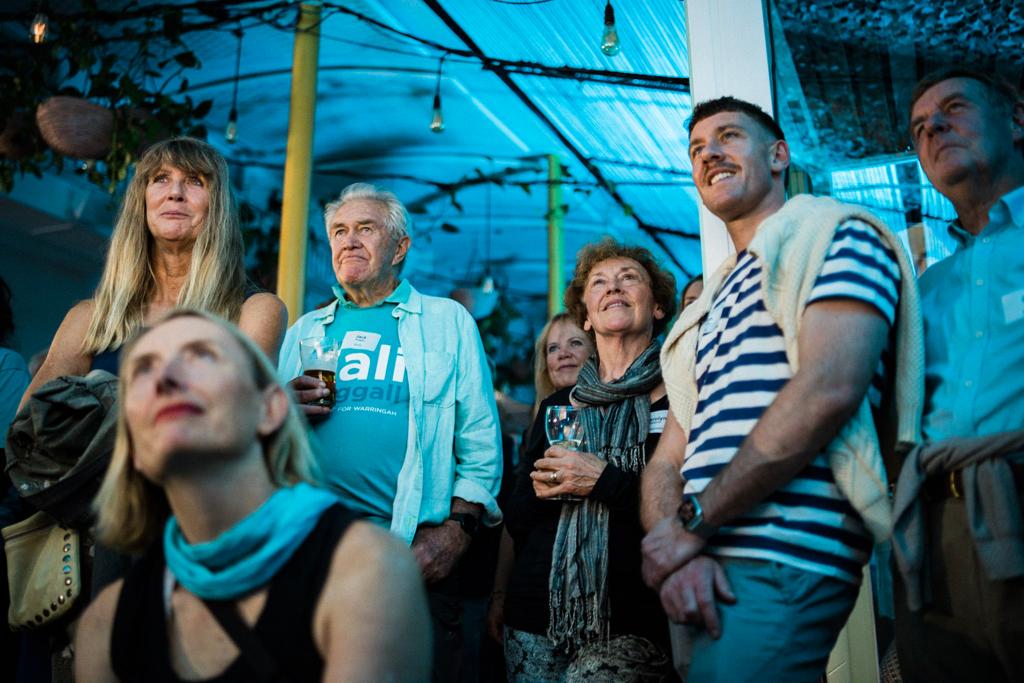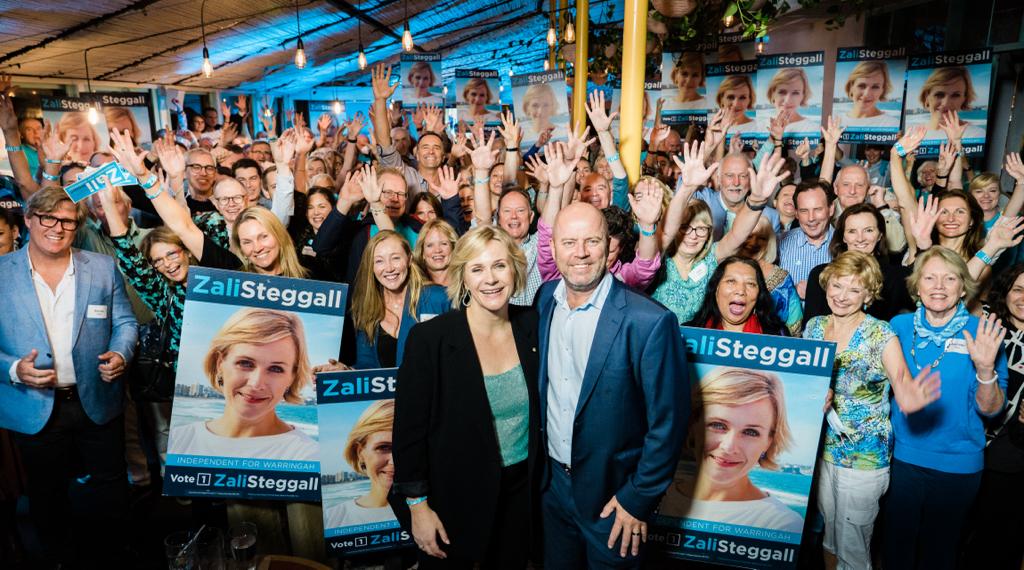 If you haven't seen my campaign video yet, please take a look here – I'd love to hear your feedback so please share it with your networks. 
 
 MY POLICIES
As the election picks up it's good to be informed about what the candidates are offering. My team and I have developed detailed plans across six key policy areas:
 
You can visit my website here for my position on many other issues.
 
It's also good to stay informed about my voting record and to understand how I have represented the views of the Warringah community in Parliament. Some misinformation about my voting record has already been floated around so please visit my website to get the facts and again, feel free to share them widely.
 
The reality is that 2 out of 3 of the votes in this Parliament have been to gag debate – to shut down Members from speaking. I do no not believe that members should be gagged by the Government, so on those occasions I have voted with the non-Government members.
 
It should be noted that the vast majority of legislation passes the House on the voices, uncontested - without coming to a vote.  When it does go to a formal vote, I have voted with Government 51% of the time. Key issues where I have voted against the government include the Medevac legislation for refugees in offshore detention, watering down the environmental protection and biodiversity act and increasing university fees for students of business, law and the arts. 
 
The electorate is choosing to vote for an Independent and that's because they want someone to bring an independent mind to each issue and not just take a party line.
 
The voters of Warringah have consistently shown that their main areas of concern are Climate, Environment, Integrity and the Economy. My actions and voting record are consistent with those priorities.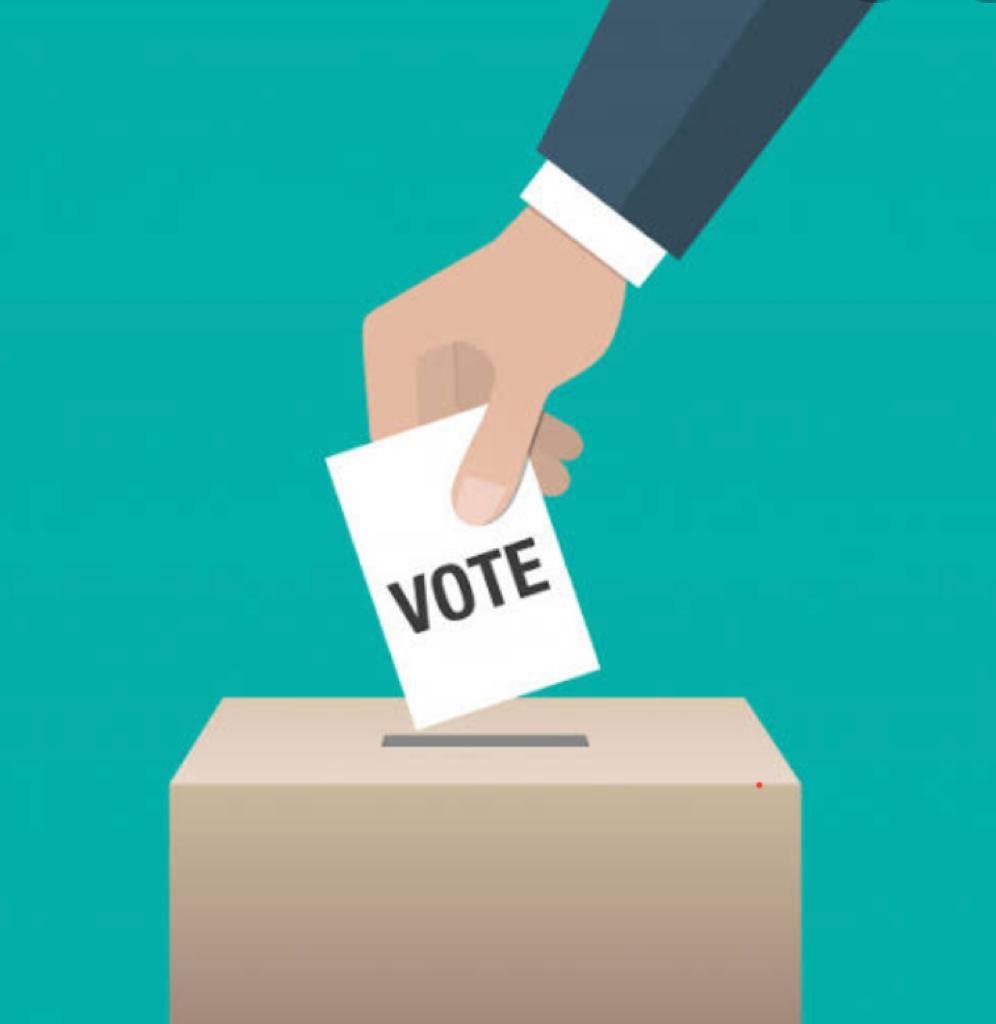 I've been contacted by many of you wanting to know the logistics of how to vote on election day – questions about postal voting, enrolment details, interstate voting, even what COVID safety measures will be in place. My team have done an amazing job bringing together all the helpful information in one spot here.

Noting that many voters would prefer to avoid large crowds, especially with the current health situation, I have sent out postal vote application forms to all letterboxes in Warringah – keep an eye out for yours. If you need extra forms or if yours doesn't arrive, please phone my office on 9977 6411.
 
And don't forget the key dates:
Monday 11 April – Postal Vote Applications open

Monday 18 April – Voter Enrolment closes

Monday 9 May – Prepoll opens

Saturday 21 May – ELECTION DAY
 
Again – feel free to share this important information with your networks.
 
Back to top
 
Round 7 of the Federal Government's Stronger Communities Grant has been finalised and I am pleased to report all 16 of the local community organisations nominated were successful in their applications for grants ranging from $3,500 to $20,000. These grants allow for much needed small capital works and expenditure. In addition, 7 local community groups were nominated for grants totalling $65,000 under the Queen's Jubilee Tree Planting program. I look forward to hearing of the outcome of these applications after the election.

 
Back to top
 
After two years of online community meetings, I'm excited to be hosting in person Town Hall meetings again. Our next two events are coming up so be sure to book your spot:


Thursday 21 April – North Curl Curl Forum – North Curl Curl Surf Life Saving Club from 6pm to 8pm. Register here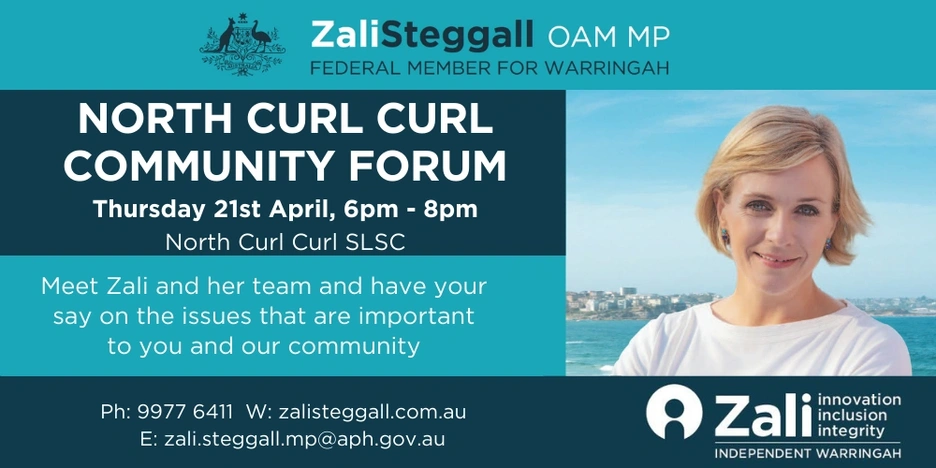 Sunday 1 May – Manly Vale Forum – Manly Vale Community Hall from 2pm to 4pm. Register here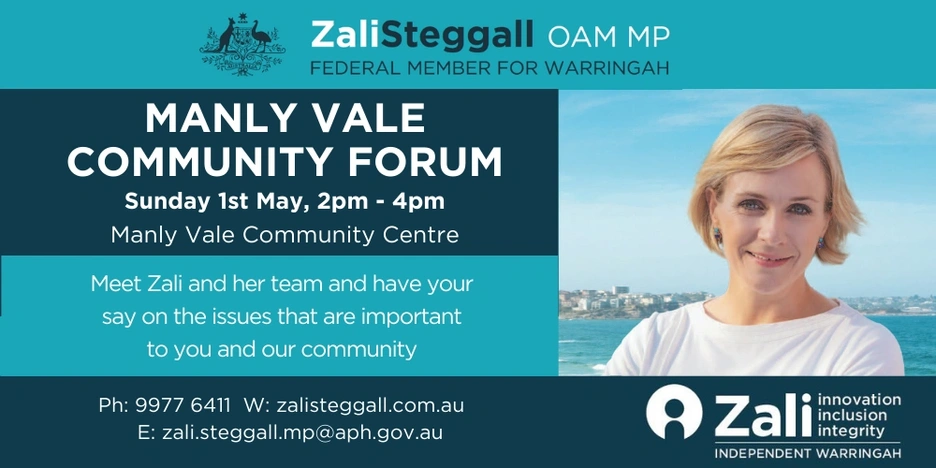 I look forward to seeing you there!
 
Back to top
 
If you can't attend the Town Hall meetings, I'd still love to have your feedback. As your voice in Federal Parliament, I want to continue to hear from you and understand what issues are important to you and the wider community.  Please take a few minutes to answer the questions here, your feedback is important to me.


I've been so humbled by the many offers of help for the upcoming few weeks. If you would like to support the campaign, please visit the website to find out about volunteering, putting up signs, or making a donation.

This is an exciting time for Warringah as we show Australia how committed we are to a new wave of politics – improving standards and ensuring the voice of our community is heard.
 
I wish you all a wonderful Easter break – please take the time to catch up with family and friends. I'll be doing some walks and maybe even a picnic with the family - resting up before a busy month ahead!

Please share this email with your friends and family to keep them updated, or encourage them to sign up on my website at www.zalisteggall.com.au   

Take care. I look forward to seeing you soon.