Community Newsletter
The Race is On - Election May 21
12 April 2022
As you know, Scott Morrison has called the next Federal Election to be held on 21 May. Our long journey together now enters a critical, 6 week sprint, with so much at stake.
 
It's been an honour to serve our community as part of the 46th Parliament but there is still much work to be done, particularly when it comes to action on Climate Change. That's why I need your help.
 
Last month, Mr Morrison delivered a Federal Budget that cut funding for vital clean energy agencies by 35% over the next 4 years (see the table below). Compounding this, there is at least $13.7 billion for fossil fuels but there's no tax relief in sight for electric vehicles.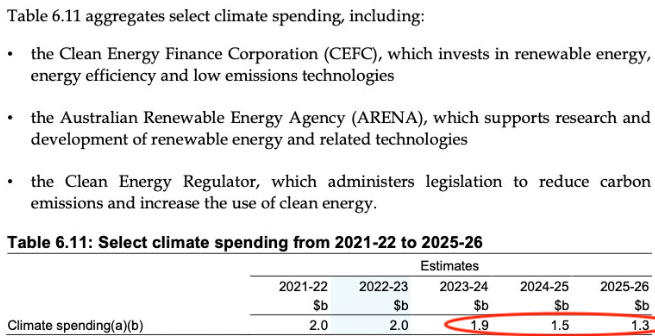 Right when we need to be ramping up climate action to address extreme weather and supercharge our economy, the Morrison Government is doing almost nothing to achieve progress this decade.
 
That tells you what's at stake in this election and why we need every voice and vote possible in Parliament working towards job-creating, economy boosting, clean energy solutions now. 
 
To make that possible, we also need every voice in Warringah supporting our call for action. Can you help fund the campaign, so that together we can get our message seen and heard?
 
Help me return to Parliament and ensure real climate action!
  
Besides fossil fuels, another thing the Morrison Government isn't shy about spending money on is elections. 
 
There's $2b in the Budget for 'decisions taken but not yet announced', which is political speak for 'election cash splashes'. 
 
I have a plan for 5 Steps to Net Zero, with significant action this decade. I have a New Economy Policy for how we can prosper with sustainable, innovative growth. What I don't have is a stash of public money to sway votes in Warringah, because that lack of integrity in government is what I stand against.
 
That is why I need your support to help fund my campaign against party machines and large scale pork barrelling. 
 
Support my federal election campaign so I can help get Australia to Net Zero in ways that create good jobs and grow our economy.
 
People often ask me what it takes to win an election campaign here. It's quite a lot, actually. These are just a few of the things we need to fund:
 
Campaign Display. Corflutes, signs, banners, t-shirts, flyers and how-to-vote cards, so our supporters can display, hand out and wear our campaign message on their sleeves.
Advertising. Advertising in cinemas, on TV and radio, billboards, and print, to keep up with the big ad budgets of the major parties.
Legal. Funding for potential rapid legal response, in case of disinformation or dirty tricks campaigns, which we anticipate.
 
It has been an honour and privilege to be the MP for Warringah for the past 3 years and to be a leader for climate action nationally. I would not be here without your votes and without your support. You have all made this possible. Your passion is a beacon of climate action and civic responsibility.
  
Continue to support my campaign.
 
Thanks for your ongoing support.